News
'Jaitley was that plant of student politics who later became tall tree of Indian politics' : PM Modi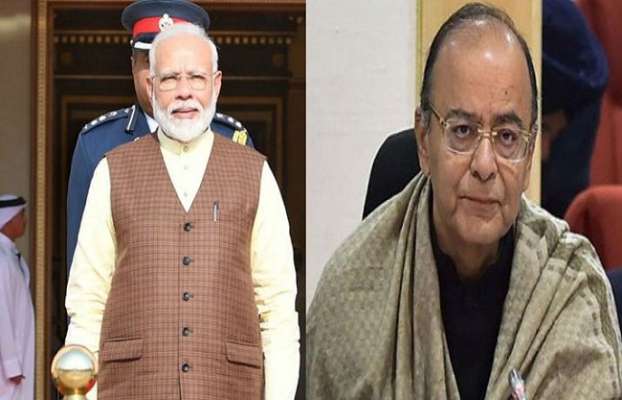 New Delhi, 10 Sept.(HS):Paying his last homage and recalling the late former Finance minister Arun Jaitley, Prime minister Narendra Modi on Tuesday said that Arun Jaitley was a plant of student politics who later went to became the tree of Indian politics.
Jaitley was a popular and all-round leader and was closely associated with different sections of the society, especially the media. He was a very useful source of information for the media.
A journalist took several hours gathering information on an issue, however, Jaitley would make it clear in a few minutes in easy words. By putting talent in a certain direction, he gave new energy and new thought in every work.
The PM said that he never thought, a day would come when he would come to pay tributes to his younger friend.
A tribute meeting was organized in memory of Arun Jaitley at Jawaharlal Nehru Stadium here. Leaders of various parties including the Bharatiya Janata Party (BJP), Congress were present on the occasion where everyone paid floral tributes to Jaitley's photo.
On this occasion, Modi said that Jaitley was a resourceful person, but he often used the facilities provided at party events.
He along with Jaitley used to stay in the same room during party meetings in different regions. Jaitley could have lived comfortably in a five-star hotel on his own, but according to the party's culture, he used only the facilities provided.
Referring to his colleague's legal talent, the Prime Minister said that when a client came to Jaitley, he used to engage in television watching or other work while listening to him.
The client was curious as to how his lawyer would argue in court. But, when there was a hearing in the court, Jaitley used to present legal arguments in such an effective manner that the client was left stunned. Jaitley used to win his client's case.
Modi said that Jaitley had been battling many diseases for a long time, but did not talk to anyone about his illness. He was constantly keen to know what is happening in the country and how it should be done.
Expressing the pain of not attending Jaitley's funeral, Modi said that there was an integral friendship for such a long period and even then, he could not see his friend's last darshan, this burden would always remain on his mind.
He said that Jaitley way was omnipotent, popular and was always useful wherever he could be useful due to his talent and effort.
Defence Minister Rajnath Singh met Arun Ji, when he was naturally convinced of his ability and efficiency in his first meeting with him.
Union Home Minister Amit Shah recalled the former Finance Minister and said that Jaitley's loss to the country, the country's Parliament, BJP, his family as well as a personal loss. The void that had been created in public life by his departure, can never be filled for a long time.
Shah said that Jaitley's speciality in public life was building friendships with a lot of people cutting across party lines. Arun ji had the art of making all the party workers older than him, same age and younger than him. Shah told Jaitley about his relationships always standing as an elder brother like a taller rock. Whether holding talks inside the party or fighting a legal battle.
Hindusthan Samachar/Ajit Pathak/Rahul Khazanchi
Dailyhunt
Disclaimer: This story is auto-aggregated by a computer program and has not been created or edited by Dailyhunt. Publisher: Hindusthan Samachar English