News
Pakistan inflicted atrocities in Karachi, Sind greater than it claims in J&K : MQM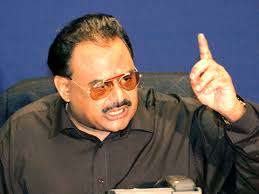 London/ New Delhi, Aug. 25 (HS): The Central Coordination Committee (CCC) of the Muttahida Qaumi Movement (MQM) on Sunday said Pakistan was committing atrocities in Karachi and other cities of Sindh province, which were comparatively greater than it claimed was happening in Jammu & Kashmir.
In a statement, the MQM on Saturday said the institutions in Pakistan are subjecting the innocent Mohajirs, Balochs, Pashtuns, Sindhis and other oppressed people in the country to "vehement torture and agony" and the scale of such atrocities is "enormous".
These atrocities in Karachi and other cities of Pakistan were inflicted by the "demonic military" and Paramilitary troops in Pakistan.
These views were expressed by the CCC Deputy convenor Qasim Ali Raza and committee members Mustafa Azizabadi, Manzoor Ahmed and Arshad Hussain.
Raza said Pakistan's "ghoulish" military was responsible for butchering thousands of innocent Mohajirs in the garb of the crackdown against criminals and many had been kidnapped from their homes and their whereabouts were still unknown.
Since no state institutions in Pakistan failed to listen to the Mohajirs and other persecuted communities, he said the MQM could seek assistance from other democracies in the world against the injustices, atrocities and genocide of Mohajirs.
He repeated that the MQM demands the Pakistan military to stop inflicting atrocities against the Mohajirs and others and should work within the constutional ambit.
At the same time, Raza accused the Pakistan military and civilian leaders with having played with the fate and future of Kashmir.
Mustafa Azizabadi said with what face Pakistan accused India with committing atrocities in Kashmir.
In 1992, Pakistan military launched a crackdown against the Mohajirs in Karachi.
The MQM said the kilings against the community was still in full swing and thousands had been extra-judicially executed and mass disappearances had taken place.
It is noteworthy that, In 1996, Benazir Bhutto government was dismissed under corruption charges and a single person involved in the mass massacre of Mohajirs had never been tried under the law or brought to justice. The MQM men were targeted and extra judicial killings were carried out against them in Karachi.
Hindusthan Samachar / Rahul
Dailyhunt
Disclaimer: This story is auto-aggregated by a computer program and has not been created or edited by Dailyhunt. Publisher: Hindusthan Samachar English