Politics
Congress Mega 'Bharat Bachao Rally' against Modi govt looks to resurrect Rahul Gandhi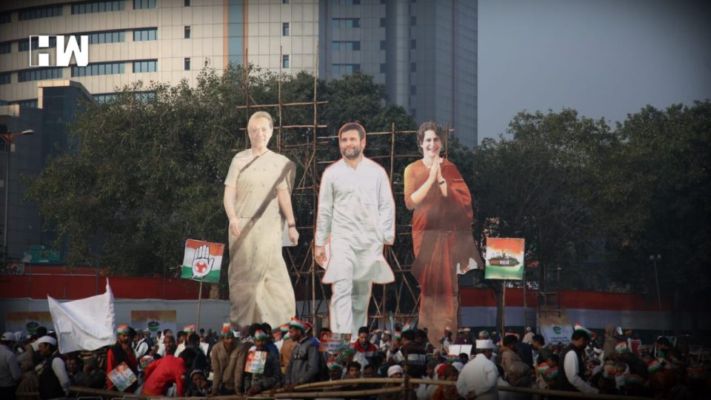 New Delhi| The Congress party has organized a Mega rally named 'Bharat Bachao Rally' (Save India) against the Modi government on Saturday at Ramlila Maidan in Delhi. Congress workers from all over the country have reached the state capital. Sources said that the focus of Congress in the rally will be on Rahul Gandhi. At the same time, efforts will be made to increase pressure on the government by raising issues such as falling economy, rising unemployment and problems of farmers. It is being reported that there are plans to project Rahul Gandhi as the leader of the Congress party in the rally.
Sources said that the rally will be attended by Congress interim president Sonia Gandhi, former party president Rahul Gandhi and Former PM Manmohan Singh. Senior party leaders will target the government's economic policies. The focus of the rally is to strongly attack the policies of the Modi government. According to sources, the slogan of the Congress for the rally would be 'Modi Hai Toh Mandi Hai' (Where there is Modi, there is a recession).
According to sources, Team Rahul is trying to project Rahul Gandhi once again at the rally and create an environment for them. After the defeat of the Congress in the Lok Sabha elections 2019, Rahul Gandhi resigned from the post of party president. There is also a possibility that the rally demanded Rahul Gandhi to become party president again.
आज दिल्ली के ऐतिहासिक रामलीला मैदान में कांग्रेस पार्टी की ओर से आयोजित भाजपा सरकार की तानाशाही, I.C.U में पहुँचा दी गई अर्थव्यवस्था और लोकतंत्र की हत्या के विरोध मे जनसभा को संबोधित करूँगा।
Live: https://t.co/yxwa8xCWqt #BharatBachaoRally pic.twitter.com/DrOBr4ckYu
— Rahul Gandhi (@RahulGandhi)
आज दिल्ली के ऐतिहासिक रामलीला मैदान में कांग्रेस पार्टी की ओर से आयोजित भाजपा सरकार की तानाशाही, I.C.U में पहुँचा दी गई अर्थव्यवस्था और लोकतंत्र की हत्या के विरोध मे जनसभा को संबोधित करूँगा।

Live: https://t.co/yxwa8xCWqt#BharatBachaoRally pic.twitter.com/DrOBr4ckYu

— Rahul Gandhi (@RahulGandhi) December 14, 2019
The party leader told the news agency that a large number of Congress workers will appear in the rally wearing Rahul Gandhi's mask. Youth Congress and NSUI will appear to support Rahul Gandhi in the rally. In the hands of the workers, there will be banners, posters, flags, which will create an atmosphere in favour of Rahul for party leadership.
After resigning from the post of president, Rahul Gandhi is hardly interfering in the affairs of the party. Most of his time is spent in activities involving his parliamentary constituency Wayanad. However, many Congress leaders have made statements that Rahul Gandhi should return.
This is the first opportunity after Sonia Gandhi to become the party's interim president when the Congress is going to organize a mega rally. However, it also aims to show the strength of Team Rahul in the Congress party. The rally was scheduled to take place on November 30, but later in view of the winter session of Parliament, its time was fixed on December 14.
Dailyhunt
Disclaimer: This story is auto-aggregated by a computer program and has not been created or edited by Dailyhunt. Publisher: hwnews.in