Politics
Murshidabad Police Detain Stone Gang Proves to be BJP Worker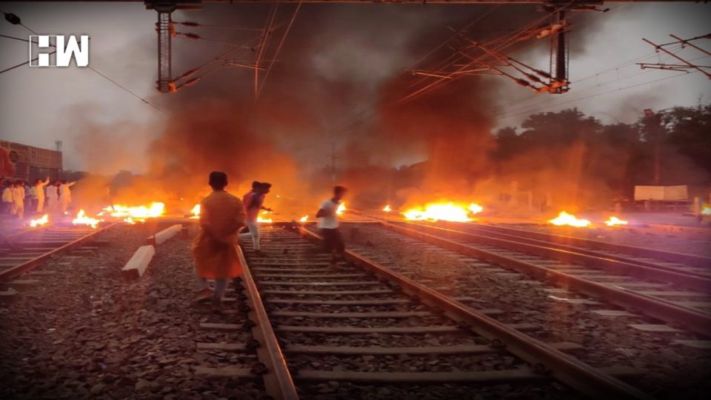 WEST BENGAL| On Wednesday Murshidabad police detained a group of people with lungi and skullcap were said to be the local BJP workers by the people who came to protest and accused them of throwing stones at the train engine.
On Thursday Chief Minister Mamata Banerjee accused BJP party stating that the BJP workers were buying skullcaps to wear while going on the rampage to try and deflect blame on a particular community.
Prime Minister Narendra Modi had on Sunday said the protesters against the Citizenship Amendment Act could be 'identified by their clothes'.
Officers in Murshidabad said that residents of Radhamadhabtala village had caught and handed over the six youths after seeing them throwing stones at a Sealdah-bound trial engine traveling on the Sealdah-Lalgola line. They said the six included Abhishek Sarkar, 21, a local BJP worker.
'The youths claimed they had worn lungis and skullcaps for the sake of a video they were shooting for their YouTube channel. But they could not prove the existence of any such channel,' district police chief Mukesh said.
Radhamadhabtala residents said Abhishek, who lives in neighboring Srinagar, was seen at the forefront of all local BJP rallies.
'We became suspicious when we saw the youths change their clothes near the railway line,' a villager said on Thursday. 'We knew Abhishek as he is very vocal about his views. So we decided to confront them.'
Sources said a seventh member of the group fled after being accosted. The other six were being questioned at Behrampore police station on Thursday.
Local BJP sources confirmed that Sarkar was a party worker but BJP district president Gouri Sankar Ghosh said: 'He is not a member of our party. We don't know anything about the incident in Radhamadhabtala.'
In Calcutta, Mamata told a rally on Rani Rashmoni Avenue: 'On Friday, we have a protest meeting at Park Circus after the prayers. I request everybody to maintain peace.'
Chief Minister said, 'Don't fall into the BJP's trap. They are trying very hard to turn this into a fight between Hindus and Muslims when it's anything but. We have received intelligence that the BJP has been buying skullcaps for its workers. They are wearing them to get photographed and filmed while vandalizing public property to malign a community.
'I urge our younger generation not to believe everything they see on social media. The BJP has been misusing the crores at its disposal to spread fake news and videos to incite violence and hatred.'
Tripura Congress Chief Pradyut Deb Barman resigns from its post
A Radhamadhabtala resident said the Sealdah-Lalgola tracks passing through the village had been a site of tensions last weekend. 'We ensured calm after much struggle this week, and cannot tolerate such negative intentions,' he added, alluding to the six detained youths.
Dailyhunt
Disclaimer: This story is auto-aggregated by a computer program and has not been created or edited by Dailyhunt. Publisher: hwnews.in