Home
Forgetting social distancing, buyers throng wholesale shops amid COVID-19 lockdown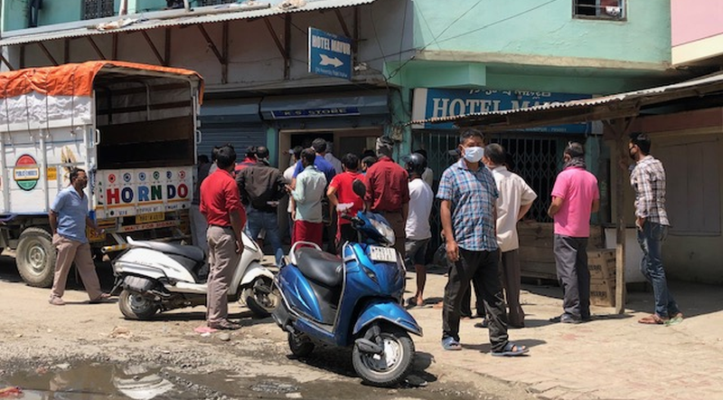 Post March 21 when the government imposed a lockdown across the nation, the public, mainly those below the poverty line and daily wage earners, have been hit hard. This is due to the closure of all institutions and markets, and a complete lockdown/curfew situation.
Foodstock is running out as shops remained closed. Even certain medicines prescribed for serious patients who have undergone kidney or liver transplant are not available and patients are suffering.
As all the main wholesalers have closed down their outlets following the government's lockdown order in Manipur, small grocery shops in the lanes are providing much needed items to the locality, that also by keeping a healthy distance with the customers.
This small shops are the last hope for getting essential items and the rations are running out fast. They have to be replenished only when the wholesalers are allowed to take out their goods from the warehouses.
To this effect, the government, to ensure availability of essential goods, issued special permits to 38 wholesalers on Saturday-allowing them to transport the essential goods from their godowns and to be distributed to retailers.
Shopkeepers thronged Thangal bazaar on Friday mainly at Dharamsala area, old Assembly road, Alu Gali to lift essential items like pulses, flour, edible oils, vegetables, etc.
Despite the repeated warnings to keep a minimum distance of one metre to avoid transmission of the virus, there were no proper measures in place and buyers thronged wholesale shops in the rush to purchase food, forgetting social distancing.
In the frenzy for survival, food seems to be of utmost importance, as if to say we eat to live. But before we eat to live, the coronavirus could kill us. Beware of coronavirus spread and stay safe.
Dailyhunt
Disclaimer: This story is auto-aggregated by a computer program and has not been created or edited by Dailyhunt. Publisher: Imphal Free Press New