Imasi Foundation digitally archives 'Jalakeli' at University of North Texas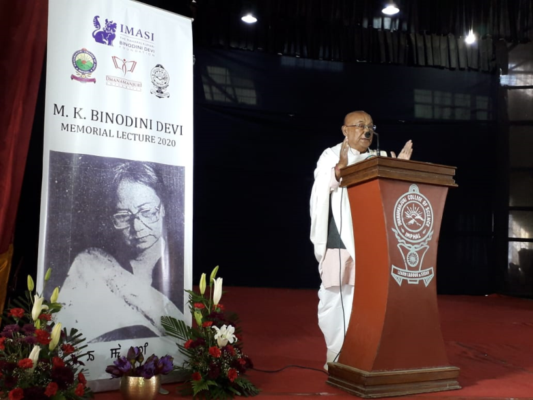 Imasi Foundation's digital collection of royal women's choir 'Jalakeli' was formally archived at University of North Texas, Denton in Texas, United States in connection with the 7th MK Binodini Memorial Lecture held on Wednesday at Central Hall, Dhanamanjuri University.
'Jalakeli Pala' is a form of royal women's choir that was introduced by the then Manipur king Nara Singh in 1845.
Speaking at the event, eminent filmmaker Aribam Syam Sharma, who was closely associated with MK Binodini, recounted that the latter was a magnificent personality.
"Meeting her enabled me to make some good films whose scripts are written by her," he stated.
Syam Sharma further asserted that songs, music and dance have significant importance in Manipuri Vaishnavism. Manipuri Vaishnavism is quite different and unique compared to Vaishnavism followed in other states as proven by UNESCO's recognition for Manipuri Sankirtana as an intangible world heritage, he said.
Taking opportunity of the event, the renowned filmmaker also appealed not to identify him with the title 'Padmashri' as he had returned that title. He also urged the public to give importance to people as persons and not to the titles they achieved.
The 7th MK Binodini Memorial Lecture held on the theme 'Jalakeli' was delivered by Aribam Chitreswar Sharma on the topic 'The Royal Palace and the Tradition of Women's Sankirtan'.
Speaking to the media on the sidelines of the event, founding trustee, Imasi Foundation, L Somi Roy said that the foundation has been organising the memorial lecture every year to mark the birth anniversary of MK Binodini.
'Jalakeli' being one of MK Biodini's favourite institutions, he said, adding the foundation has also taken up 'The Jalakeli Project' to document 'Jalakeli' in the form of oral history to make it survive through the generations. The foundation also aims to digitise and preserve the culture and heritage of Manipur, he added.
In connection with Wednesday's occasion, a book titled 'Ningsinglakpada Jalakeli' written by Thoidingjam Lakshmipriya was also released.
Dailyhunt
Disclaimer: This story is auto-aggregated by a computer program and has not been created or edited by Dailyhunt. Publisher: Imphal Free Press New