Home
Defining, Measuring And Solving Product-Market Fit Puzzle For Startups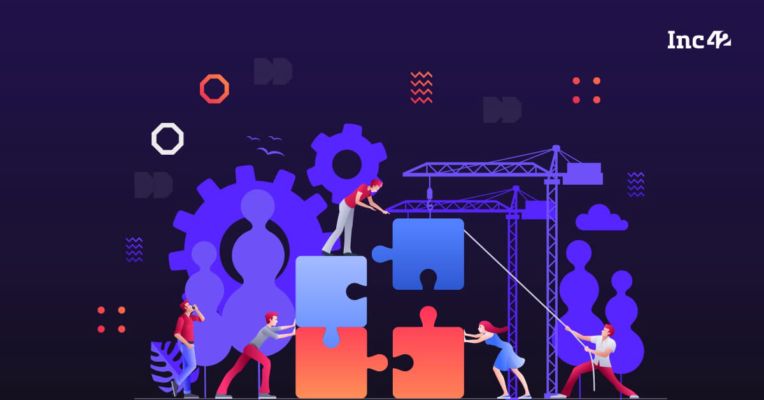 Coined by American entrepreneur Marc Andreesen in 2007, product-market fit essentially means being in a good market with a product that can satisfy the needs of the market
"I would rather prefer to call it MPF (market-product fit) based on the understanding of the 'Who and the Why' (market) followed by the 'What and the How' (product)," said BigBasket's Tejas Vyas
We also spoke to Razorpay's Khilan Haria, Browserstack's Snehal Patel, Instamojo's Aditya Sengupta, Moneytap's Bala Parthasarthy, Locus' Mohneesh Saxena, Moglix's Rahul Garg and TrulyMadly's Snehil Khanor for insights on achieving product-market fit
This article is part of The Product Summit 2020, India's largest virtual product conference, to be held on October 10, 2020. Click here to know more!
---
In the early 2000s, a lot of peer to peer file sharing platforms used to be hotbeds of music piracy and Napster was among the most popular of them all with over 30 Mn users. This led to album sales plunging and music recording companies sued Napster for copyright infringement which ultimately led to its shut down .
This however didn't solve the problem as there were too many such websites. In the mid-2000s, Scandinavian entrepreneur Daniel Ek had an idea - what if even a small percentage of the illegal downloaders are actually willing to pay?
Ek said he "realised that you can never legislate away from piracy. Laws can definitely help, but it doesn't take away the problem. The only way to solve the problem was to create a service that was better than piracy and at the same time compensates the music industry - that gave us Spotify."
Today, Spotify has over 127 Mn paying customers and its growth holds a very important lesson for product leaders and founders - build something that fixes a real problem in the market also known as product-market fit.
Coined by American entrepreneur Marc Andreesen in 2007, product-market fit as a concept has been around since the first businesses came around. Essentially, it's about identifying the need in the market and filling it with a product. Others have tried to define it since Andreesen, but his original definition captures this essence the best - "Product-market fit means being in a good market with a product that can satisfy that market."
Getting The Elusive Product-Market Fit
Product market fit is the holy grail of tech startups - everyone wants to find it but only a minute fraction of them are successful.
One major reason, according to Tejas Vyas, BigBasket's product head, is that they are often too obsessed with the product and take their eyes off what the market wants.
"I would rather prefer to call it MPF (market-product fit) based on the understanding of the 'Who and the Why' (market) followed by the 'What and the How' (product)," said Vyas, who will be speaking at Inc42 and TPF's The Product Summit this October .
The 'Who and Why' entails choosing a market and identifying the pain point, while the 'What and Why' shows the approaches available to businesses, and why one solution would work over the other. It's only at this stage of ideation that a startup should think about the architecture of the product.
But product-market fit is not something that can be achieved in one go - as such it's more art than math. It's akin to a distant target and the only way to increase accuracy is by taking a few shots and see how far one has missed the mark by.
Aditya Sengupta, chief technology officer of fintech platform Instamojo, emphasised this in a conversation with Inc42. "It's far better to iterate frequently and fail on most attempts than build a perfect product and have that fail," he said.
Taking this approach will help a company identify which iterations are sticking with the customer so that it can dissect which are the successful features and double down on those.
Register For The Product Summit
The Right Gauge For PMF
Obviously, measuring the traction and acceptance among customers is one of the most important factors in getting to the PMF. A host of metrics have been invented over the years to gauge it, including many that are simply vanity metrics - top-of-the-funnel numbers such as downloads, registered users and pageviews - which may indicate surging adoption but perhaps not really converting into revenue.
Bala Parthasarthy, CEO and cofounder of fintech startup MoneyTap, believes the first indicator is product adoption. "The number of active users using your product has to be one metric. Usually, 5,000 users is a good number for B2C and 50 is a good benchmark for B2B SaaS."
He went on to caution startups about picking revenue as an indicator for PMF. Though it may appear that having paying customers is a very good metric, this might turn out to be a red herring. A lot of B2B founders fall into the 'service trap', he added, where early adopters pay them to customise the product to their specifications. At times, B2B startups lose focus on the product goals and end up becoming service companies. In such a situation, it will neither have the fat margins of a services company nor the rapid scale of a product company.
"Selecting the right metrics would mean measuring two aspects - the market potential, and the product potential," Mohneesh Saxena, the product head of logistics SaaS startup Locus, said.
This doesn't mean that the market potential should be confused with the size of the entire market - founders should use metrics that also take into account organisational constraints and the execution capability of the company.
Saxena added that traditionally, the product potential was measured using metrics such as net promoter score (NPS), customer satisfaction surveys, churn rate and usage interval or frequency. However, based on the industry and the customer profile, some of these metrics might not work well - for example, some of the biggest tech companies in the world have a poor NPS.
According to him, the most important metrics determine if the customer recommends a product to their peers, affinity to product (are they likely to care if the product shuts down), how many customers stop using the product after a certain period and other attrition related metrics.
Why Most Products Fail to Achieve PMF
The most important task while finding PMF is to identify the key metrics to track and pull the growth levers.
"Startups that fail to embed a data-driven approach in their product teams have much lower chance of finding PMF versus those product teams who know and track their numbers well", said Snehil Khanor, cofounder and CEO of dating app TrulyMadly.
But running purely on data can be bad. For dating platforms, happy customers might end up not using the platform - meaning they have found a good match and are no longer using the app. However, this 'conversion' can also have a positive impact among the user's social circles and tracking how these relationships play out is important.
According to Razorpay product lead Khilan Haria, the biggest reason for a product's failure to achieve PMF is missing such nuances of the discovery phase, building and launch phases of the life cycle.
"In most failed product launches, the discovery phase of a product is often non-existent or is gut-driven or idea-first," he said.
In the product building phase, not defining the minimum viable product is a big mistake. Further, product managers often rush through the conceptualisation and design phases to launch as soon as possible and end up delivering an unusable product.
"Great products have the least possible minimal viable product scope, but the best possible solution for that scope," Haria said.
But that doesn't mean that a startup can take its own sweet time. Rahul Garg, CEO and founder of Moglix, said "The quicker the MVP goes live for the users, the faster you see adoption and the better PMF you will be able to achieve due to the iterative feedback loop."
Register For The Product Summit
What Next After PMF?
Like we indicated earlier, getting the PMF is like shooting at a distant target. Sometimes you are really close to the bulls-eye and one may even hit the centre in the first attempt. But product leaders need to recognise that the battle is only half-won even with the right PMF since the market keeps evolving and the addressable base is likely to grow and make the original hypothesis irrelevant.
Like Haria said, "After finding the PMF, it's essential for product people to double down and scale the offering by adding more capabilities or bettering existing capabilities in the existing segment or cohort as the immediate next thing."
A B2B startup might focus on SMEs during the early stages of the product, but once it achieves the PMF in SMEs, it might start exploring startups or mid-cap companies.
Snehal Patel, product head for cloud web and mobile testing platform Browserstack, said "In the case of SaaS, after getting the PMF you ideally want to accelerate the product growth as you have identified the product you have built has value."
At this stage, the revenue-focussed marketing and sales teams should enter the picture to drive conversions and the product team should help in building whatever these teams need to achieve growth, said Patel.
In parallel, the product team should be either focusing on increasing user engagement and adoption by new customers, he emphasised.
TrulyMadly's Khanor believes that at this stage startups should start measuring what is driving engagement and at what is pushing users to leave. "All of this will help build the next iterations of the product and eventually turn an MVP into a fully-baked product," he said.
---
Tejas Vyas, Khilan Haria and Snehal Patel will be speaking at Inc42 & TPF's The Product Summit - India's First And Largest Virtual Product Conference, supported by Amplitude and AWS. Register Now.
Dailyhunt
Disclaimer: This story is auto-aggregated by a computer program and has not been created or edited by Dailyhunt. Publisher: Inc42