Home
Reading Between The Lines Of The Mega Facebook-Reliance Jio Deal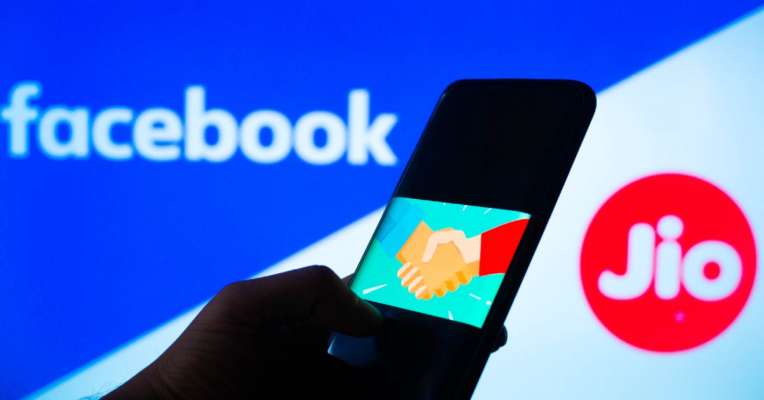 What kind of data-sharing deals will follow in the future after Facebook's investment in Jio?
Will the Jio-Facebook deal make it harder for India's startups in the social commerce, ecommerce and payments sectors?
IAN Fund's Padmaja Ruparel said it will open up a huge market for innovations in emerging technologies
As speculation around Facebook investing in Reliance is over with the social media giant announcing an investment of $5.7 Bn in Jio Platforms, there are fresh murmurs in the market about how the deal will reshape the market equations.
While this is Facebook's second-largest investment after WhatsApp which Facebook acquired for around $22 Bn in 2014, the investment falls in line with Facebook's grand aspirations to rise beyond social media and messaging platforms, and into big tech and telecom.
The investment has also resulted in a commercial partnership between Reliance Retail and WhatsApp, to help accelerate the grand launch of Jio's ecommerce platform JioMart. This Is part of the plan, according to Mark Zuckerberg.
However, considering the fact that both the companies have a slew of products and services around digital, there is a lot of scope and opportunity for both the parties, beyond WhatsApp payments and JioMart.
Facebook-RelianceJio: Terms Of The Deal
Facebook has announced an investment of INR 43,574 Cr or $5.7Bn in Reliance Industries Limited's (RIL) Jio Platforms, which runs a slew of digital ventures including Reliance Jio Infocom. This investment by Facebook values Jio Platforms at INR 4.62 Lakh Cr pre-money enterprise value and translates Facebook's investment to roughly 9.99% equity stake in Jio Platforms. The investment values privately-held Jio Platforms among the top five listed companies in India by market capitalization, within just three and a half years of the launch of commercial services
"The moment you cross the 10% share, it would have given you certain additional rights such as the rights of a significant stakeholder," said a lawyer, close to the development.
The market seems to have welcomed the oil and data giants coming together as the shares of RIL rose up 103 points or 8.33% to INR 1,339 against the previous close of INR 1,236 after the news.
While for Facebook, it's an investment, Jio has not clarified the nature of disinvestment of shares, whether it will be done through the share transfer or share issue. The investment has been done through the automatic route under Foreign Exchange Management Act, 1999 and hence won't need the approval of the Indian government, but clearance from Competition Commission of India is still a hurdle.
What's In It For Facebook
Right from the failed launching of Free Basics, Facebook's smartphone to Facebook's Libra (yet to be launched), Facebook has time and again failed to expand the brand recognition beyond its social media platform. The company has currently 2.4 Bn users on its Facebook platform, 1.5 Bn users on WhatsApp and 1 Bn users on Instagram.
Despite having the largest user base in the world, the company, in contrast to its internal assessments, has not been able to use this to build a larger ecosystem around, it wants to. Its involvement with Cambridge Analytica attracted worldwide criticism and legal actions across the countries.
As the Chinese market has been a disappointment for the US giants including Facebook, Google, Amazon and others, India, having the largest user base has been a natural choice for as the overseas markets, for these companies.
However, despite Mark Zuckerberg's multiple visits to India, Facebook has not been able to leverage and monetise the large Indian userbase for varied applications. Free Basics drew a lot of criticism from privacy experts and was termed illegal by the Indian telecom authority TRAI.
At the core of Free Basics, which Zuckerberg wanted to market as a philanthropic project, was the idea of bringing 700-800 Mn Indians online. According to the company's internal analysis then, 30% of its new customers would come from India.
Launched in partnership with Reliance Communications in 2015, with Free Basics, a.k.a. Internet.org, Facebook wanted to be an internet enabler for average Indian, However, the free internet apps that were being provided by the company were largely monetised and pre-approved by Facebook, and hence clearly were against the ethics of net neutrality. It only gave access to apps and websites approved by Facebook.
Facebook's other big project a Facebook smartphone which was launched in partnership with HTC too fell flat in the market. Indians refused to buy the phone which was powered by a special Facebook interface.
A larger stake in India's digital market beyond social media still remains an elusive dream for Facebook, which recently got approval for UPI-enabled WhatsApp Payments, but only for 10 Mn users.
Meanwhile, what Facebook could not do, Mukesh Ambani's Reliance Industries did with Jio.
Since its launch on 27 December 2015, Reliance Jio has been selling 4G internet services across India at a highly competitive price and in a short span of four years, it has become the largest internet service provider in India, acquiring 34% of the market share and over 388 Mn subscribers.
With 9.99% stake in Jio Platforms, Facebook wants to leverage this huge user base to have an easy opening for its services at a large scale. This is also due to the fact that despite India being its largest user base (260 Mn for Facebook, WhatsApp with 400 Mn and Instagram with nearly 200 Mn) Facebook's revenue in India is very low compared to the global ones. For instance, the revenue per user in North America at $41.41 is 11.6x the average user revenue in the Asia-Pacific, including India.
Making the announcement, Zuckerberg said, "This is especially important right now, because small businesses are the core of every economy and they need our support. India has more than 60 Mn small businesses and millions of people rely on them for jobs. With communities around the world in lockdown, many of these entrepreneurs need digital tools they can rely on to find and communicate with customers and grow their businesses. This is something we can help with - and that's why we're partnering with Jio to help people and businesses in India create new opportunities."
The announcement must also be seen in the context of recent developments where US giants including Amazon's Jeff Bezos and Walmart's Doug McMillon were cold-shouldered by the Indian prime minister Narendra Modi, amid increasing 'nation first' narrative by the Indian stakeholders. With Reliance which assumed to be in the good books of both the two major national parties of India, Zuckerberg saw the opportunity as the safest bet to maximise its great Indian plan by investing in Reliance.
What's In It For Reliance
With Jio Platforms, Reliance Industries, primarily known for petrochemicals, has fast become the face of digital India. Jio Platforms in the last four years have added dozens of products and services around their 4G services including JioSaavn, JioTV, JioCinema, JioMoney, JioNews and so on.
Jio Platforms: Identified growth areas and Services | Image: Jio
Like Facebook's Libra, the company has also been exploring a slew of blockchain projects for payments and other services and hence found a natural ally in Facebook to meet its increasing tech demands surrounding data.
There are other equally important reasons. The deal with Facebook is not RIL's biggest. According to Business Today, in 2011, the UK petroleum company BP Plc had bought a 30% stake in oil and gas exploration blocks operated by RIL for $7.2 Bn in cash. But BP had to write off a part of its investments later because of the heavy losses from exploration and production business.
Speaking to Inc42 , Prof Davinder Singh, assistant dean, SoM, BML Munjal University decoded it further, "Reliance needs an infusion of large amounts of cash to reduce its debt of close to $40 Bn. The 20% stake in RIL to be picked up by Aramco has been behind schedule due to multiple reasons. The crude oil price war between Saudi and Russia has been on even prior to the current situation due to COVID 19. An arbitration with Indian Government related to accounting practices of certain fields is another."
The $5.7 Bn will not only ease the debt, but it will also position RIL to offset the financial impact of the strong decline in the oil economy worldwide due to Covid-19, he said.
How Should The Indian Startup Ecosystem See This Deal?
At the outset, "The deal reinstates India's significance on the global map. It clearly demonstrates that there is money and there is a huge investment opportunity in the country. I don't see it merely a transaction but a platform creation between Jio and Facebook. This makes the investment very interesting as it suddenly opens a huge market for innovations in the emerging technologies," Padmaja Ruparel, founding partner of IAN Fund, told Inc42.
Seconding Ruparel, Singh said that technology is one sector which will benefit hugely from the partnership. However, combining technology and mobile platforms allow for synergies and convergence which will be hard to compete against for the companies in pure technology or pure mobile telephony, he added.
By bringing the power of Jio as 4G network provider, WhatsApp as a communication system and Facebook for social commerce and JioMart for ecommerce, duo would tap the largest untapped market of India, i.e. the semi-rural and rural markets through kiranas, what's been the dream of Future Group's founder Kishore Biyani and many others.
Singh said that while the last-mile connectivity continues to be a challenge and expensive, the expected extended periods of restricted movement due to Covid-19 will encourage the users to prefer giving their business to with smaller stores closer to them than large e-tailers who might be cheaper but have the challenge of delivery.
In its 2019 annual general meeting, Reliance had marked the new growth areas for the Jio Platforms in NB-IoT, blockchain, edge compute, mixed reality, education, healthcare, agriculture, with a major chunk of users already on Facebook and WhatsApp, they are undoubtedly the most effective vehicle for Jio Platforms to deliver services
For instance, Reliance Jio has been working on the blockchain project for the last two years, yet has not been able to announce a single product to launch officially. Facebook, having deployed the world's top blockchain minds on Libra which is due to launch in June, this year can be a potential help for Jio. On the other hand, will Reliance be a member of the Libra Association? The question remains unanswered for the time being.
As Amazon and Walmart have eaten over 70% of the Indian ecommerce market, is there a possibility that Facebook and Jio together will also eliminate the competition in their areas?
Ruparel disagreed with the argument, Flipkart or Walmart and Amazon have a niche customer profile, they have not been able to penetrate the rural or semi-rural market of India in a great way. If one looks at the user base of Facebook and WhatsApp, it has already penetrated the this audience to a large extent. So, this is where Reliance could see the real benefits of the potential partnership.
"It's more about exploring the unexplored. With the penetration of Jio, and increasing userbase of Facebook, the deal will result in higher penetration in the markets beyond Tier 1 and Tier 2 cities. So, this will be penetration to Bharat. It will be interesting to track the investment opportunities around this space now."
But, how it would impact the payments ecosystem? To this, "Payments ecosystem is still in the evolving phase. And, looking at the vast Indian market size, the competition must be welcomed, let the best man win."
Where Do Facebook And Jio Stand On Data Privacy?
Once fueled by Facebook's Free Basics, data localisation and privacy has taken the centre stage of national debates in India. The Indian government has already introduced the Personal Data Protection Bill in the Lok Sabha which has further referred it to a joint parliamentary committee for the review.
While PDP advocates for data localisation, the bill has also introduced a provision that will empower the government to ask companies including Facebook, Google and others for anonymised personal data and also non-personal data. It also allows the government to seek user-personal data in specific cases. And in some cases, law enforcement can collect data without express consent.
The Information Technology Industry (ITI) Council, a US-based global lobby body for technology companies including Facebook, Google and Accenture has already opposed some of the provisions of the PDP.
In a press statement, it had earlier stated, "When forced data localisation is implemented it can cost companies 30-60% more. A lot of big global companies can probably absorb that but can Indian startups afford that? It's likely that start-ups and small businesses will struggle to absorb the increased costs for data services when data is forced to be stored locally." The lobbying body also opposed India's move to force social media platforms such as WhatsApp on traceability, which would end encryption, or helping law enforcement agencies trace the origin of messages.
However, in this entire debate of data localisation and privacy, Reliance has been standing with the government. In a statement, RIL chairman had earlier stated,
"India's data must be controlled and owned by Indian people - and not by corporates, especially global corporations. For India to succeed in this data-driven revolution, we will have to migrate the control and ownership of Indian data back to India - in other words, Indian wealth back to every Indian."
Will the partnership help find a common ground between the two on data localisation and privacy? Be it WhatsApp Payments or other services, will Jio allow Facebook to store or process data outside India while serving for Jio consumers?
Those are the really big questions and until we get a firm answer from either company, there's still a bit of mud in the water when it comes to this deal.
Dailyhunt
Disclaimer: This story is auto-aggregated by a computer program and has not been created or edited by Dailyhunt. Publisher: Inc42