Home
India and UAE begin FTA talks, hope to sign a trade pact by 2022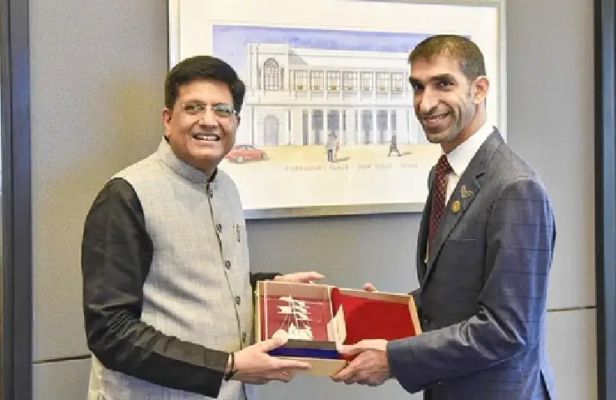 Partners in the extended neighbourhood, India and the United Arab Emirates (UAE) have formally launched talks for a free trade agreement (FTA), on Thursday-a move that flows from the Comprehensive Strategic Partnership that the two countries had signed in 2017.
The talks hold significance as the UAE is currently India's third-largest trading partner with bilateral trade in 2019-2020 at $59 billion. The UAE is also India's second-largest export destination after the US, with exports valued at approximately $29 billion in 2019-2020.

Union Minister of Commerce and Industry Piyush Goyal, is holding the talks with Thani bin Ahmed Al Zeyoudi-UAE's Minister of State for Foreign Trade. The two countries are hopeful of completing the talks by the end of the year to be able to sign a Comprehensive Economic Partnership Agreement (CEPA) by March 2022.

According to a statement by the PIB, both ministers expressed a desire to reach a mutually beneficial economic deal. "Both Ministers emphasized that CEPA will create new jobs, raise living standards, and provide wider social and economic opportunities in both nations. A new strategic economic agreement is expected to increase bilateral trade in goods to $100 billion within five years of the signed agreement and increase trade in services to $15 billion", said the statement.

India's major exports to the UAE include petroleum products, precious metals, stones, gems and jewellery, minerals, food items such as cereals, sugar, fruits and vegetables, tea, meat, and seafood, textiles, engineering and machinery products, and chemicals. India's top imports from the UAE include petroleum and petroleum products, precious metals, stones, gems and jewellery, minerals, chemicals and wood and wood products. India imported $10.9 billion of crude oil from the UAE in 2019-2020.

Goyal thanked the UAE for its support during the Covid-19 pandemic, over supplying liquid medical oxygen and medicines. Al Zeyoudi too thanked India for its support during the pandemic, which included keeping supply chains open.

The UAE is also the eighth-largest investor in India, having invested around $11 billion between April 2000 and March 2021, while the investment made by Indian companies in the UAE is estimated to be over $85 billion.
Dailyhunt
Disclaimer: This story is auto-aggregated by a computer program and has not been created or edited by Dailyhunt. Publisher: India Narrative English