Home
Oppn instigating people against CAA, says Modi at rally in Delhi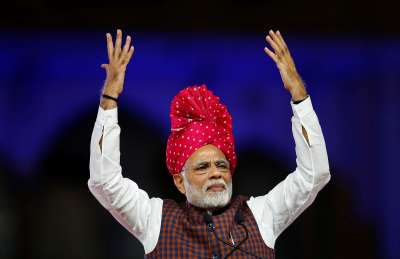 In a hard-hitting attack against the Opposition, including the Congress, Prime Minister Narendra Modi on Sunday accused it of lying and instigating violence by spreading rumours through social media for political gains and vote-bank politics.
Some parties are lying to Muslims, he said, referring to the Citizenship Amendment Act that was passed by Parliament with thumping majority. The NRC rules has not yet been formulated/drafted or cleared by the Cabinet and still lies are being spread about it, the Prime Minister said.
"The Congress and urban Naxals are spreading lies that Muslims will be sent to detention centres. At least, read CAA to see if NRC is part of it," he said.
"There is no connection between CAA and NRC, they are lying," he said, slamming the Opposition.
The advantage of the National Capital Territory of Delhi (Recognition of Property Rights of Residents in Unauthorised Colonies) Bill, 2019, is that it seeks to grant ownership rights to residents of Delhi's unauthorised colonies, which was cleared in the same session as CAA, for all religions, Modi said.
Can we bring an Act in the same session that will discriminate on basis of religious, he questioned.
"When we never asked religion or origin of any person while launching our pro-poor policies, then why the Opposition is lying," he said, slamming "fear-mongers" and adding that "aim of such false allegations is to belittle India in the World"
"Hate me, abuse me... burn my effigies, not India's property...," he said also extending support to the police
"Does the police need your respect or not," he said, paying homage to martyrs of the force.
He also asked people to "stand up and show your respect for the Parliament of India and its MPs", adding that he too would like to thank the two Houses of Parliament for clearing the Bill.
"Does the Bill giving right to home to all the communities divisive," he questioned, giving a list of all the policy decisions benefitting all communities.
"Did we ask religion or certificates while doing so, he said, accusing the Opposition of "telling lies and misleading people".
"Vividhta main ekta, Bharat ki visheshta (unity in diversity, the uniqueness of India)," he gave slogan right at the beginning of his speech at the iconic Ramlila Maidan near Old Delhi area, adjacent to Dariya Ganj and Delhi Gate areas which saw massive protests against the contentious Citizenship Amendment Act.
Several speakers, including party's Lok Sabha MPs Manoj Tewari and Meenakshi Lekhi and senior BJP leader Vijay Goel, sought to ally people's apprehensions on the issue.
Accusing the Opposition of spreading misinformation and fomenting trouble, they said the turnout at the rally was the proof of endorsement of people's support. On one side is truth and on the other lies, they claimed.
They also highlighted other steps taken by the Narendra Modi government, including removal of special status to Jammu and Kashmir, Ram Temple, 'triple talaq' at the "dhanyavad/abhaar' rally.
The speakers, including Union ministers Prakash Javadekar and Harshvardhan, also slammed Delhi CM Arvind Kejriwal and his party for not doing sufficient to combat air pollution and other issues before the National Capital.
The rally was aimed to showcase to Delhi the National Capital Territory of Delhi (Recognition of Property Rights of Residents in Unauthorised Colonies) Bill, 2019, that seeks to grant ownership rights to residents of Delhi's unauthorised colonies and launch the BJP's campaign for the upcoming Delhi Assembly.
Pushed by his government and passed by the Parliament earlier this month, the BJP believes it will be the ultimate game changer in Delhi, which has been out of its reach since late 1990s.
The Bill is expected to benefit 40 lakh people in the Capital
Prime Minister Narendra Modi was presented 11 lakh signatures from the residents of 1,731 unauthorised colonies to thank him for this "historic decision and for proving their full trust in the BJP".
Modi called it the beginning of a new dawn in the lives of people in unauthorised colonies, sounding the poll bugle for the elections to the Delhi Assembly.
Here is a world of difference between a refugee and intruder, he said, adding that CAA is not meant to wrest citizenship of anyone but grant citizenship to those who deserve.
Indian Muslims don't need to worry, he added.
PM Modi also quoted Mahatma Gandhi to those using "Gandhi surname". "We are fulfilling promises made decades ago," he said, adding that Gandhi said those who wanted to come to India later could do so
He also quoted former PM Manmohan Singh to stress his point. "Is Modi guilty if he delivers what Manmohan Singh wanted," Modi said.
He also attacked West Bengal CM Mamata Banerjee "who till a few years back was demanding in Parliament that infiltrators from Bangladesh" be stopped".
"Why have you changed Mamata didi? Why are you spreading rumours? Why are you so scared? Are elections so important that you have stopped believing in people of West Bengal? The entire country knows who Mamata is supporting," Modi said, attacking Banerjee.
Educated youth will soon realise what is the truth, he said in an address aimed at allaying all fears regarding CAA and NRC.
"Some CMs are saying they will not implement CAA. You are holding important Constitutional positions and are saying such things. At least ask legal experts, advocate generals of your respective States, is it possible?" Modi said.
"Despite all their conspiracies your sevak will never step back from his responsibilities," Modi said. "For past two decades I have been targeted with names like 'maut ka saudagar'," he said
"Even if they lynch me like a 'gidh' (vulture), I will continue working for you. The more they target me, the more love I will get from the people," he said
He ended his marathon speech with a promise from people to maintain cleanliness in Delhi.
"We should welcome the new year with cleaner Delhi. We must stay away from violence, this country is ours, its people our ours," he said, asking people to stay away from violent protests in the marathon speech focused on dispelling notions about CAA and NRC, which Home Minister Amit Shah said would also be implemented
Clearly the government has been forced to take a step back from the NRC after the violent protests.
Dailyhunt
Disclaimer: This story is auto-aggregated by a computer program and has not been created or edited by Dailyhunt. Publisher: InstaNews 24x7 English