Home
Pollution in NCR: SC slams authorities, says people left to die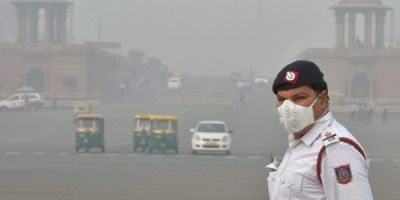 As air pollution in the national capital assumed alarming proportions, the Supreme Court on Monday summoned chief secretaries of Punjab, Haryana and Uttar Pradesh to appear before it in person on Wednesday to explain why the three states failed to tackle stubble burning.
A Bench of Justice Arun Mishra and Justice Deepak Gupta - which issued a series of directions to governments of Punjab, Haryana, Uttar Pradesh and Delhi-warned that it would hold the top bureaucrats starting from chief secretaries accountable for ensuring total ban on stubble burning which is said to be the main cause of air pollution in Delhi-NCR.
The Bench ordered ban on all construction and demolition activities and garbage burning in Delhi-NCR till further orders and directed the Centre and states to take measures for garbage disposal on a war footing. It also directed authorities concerned to do regular sprinkling of water to prevent dust pollution. Rs 1 lakh penalty will be imposed for construction or demolition activity in Delhi-NCR and Rs 5,000 for garbage burning, it said.
As some advocates raised the issue of generators being used in NCR during power cuts despite a ban, the top court asked authorities concerned to ensure uninterrupted power supply in Punjab, Haryana, Delhi and western Uttar Pradesh to dissuade people from using diesel generators.
Expressing grave concern at the worsening air quality in Delhi-NCR, it said that even though the city was choking, the Centre and state governments of Punjab, Haryana and Delhi were passing the buck.
"People are losing precious years of their lives due to pollution.This is happening every year. The air quality even inside rooms is very bad... people are dying...no civilised country can allow it to go on," said the Bench, adding, it would hold the state officials and 'sarpanchs' liable for it as it amounted to "tort" i.e. a civil wrong.
"People are being advised not to come to Delhi. Who is responsible for this? The state governments are responsible. They are only interested in electioneering. They do not take any responsibility. We will not tolerate this," it said.
As Haryana government counsel sought exemption for the state's Chief Secretary and requested the Bench to allow an additional chief secretary to be present before it on Wednesday, Justice Mishra said, "Let Chief Secretary be here. be here. be here.... We will postpone your assembly otherwise."
Describing the air pollution in Delhi-NCR as "shocking state of affairs" and "worse than Emergency", the top court said the state governments were squarely responsible for the situation. "We are going to fix liability on the state governments and sarpanches," it said.
The Bench directed the Delhi government municipal corporations to work in tandem to ensure that garbage - a major reason for pollution - was tackled immediately.
Additional Solicitor General ANS Nadkarni told the bench that stubble burning has gone up in Punjab by 7 per cent while it has come down by 17 per cent in Haryana. He said four districts of Punjab - Tarn Taran, Sangrur, Ferozepur and Patiala - accounted for 44 per cent of pollution due to stubble burning.
As the bench asked about the situation in western Uttar Pradesh, Nadkarni said, "We are collecting details."
The bench repeatedly said, "Every year this is happening, and this continues for 10-15 days, this can't be done in civilised countries. Right to life is most important. It's not the way we can live. This is too much. No room is safe to live in this city, even in homes. We are losing precious years of their life due to this," it said.
"The air quality index (AQI) level in bedrooms is above 500-600. This is the figure in Lutyens Delhi. Can we survive in this? This is not the way we can survive. People are losing precious years of their life in Delhi due to this," the Bench said.
Amicus Curiae and senior advocate Aparajita Singh said the court had in 2018 passed a detailed order, and the Centre had agreed to provide machinery needed by farmers to wean them away from stubble burning.
Individual farmers were to get it at 50 per cent subsidy while co-operatives were to be provided machinery at 75 per cent subsidy, she told the Bench. Noting that stubble burning has been showing a downward trend in Punjab for last two-three years; she wondered how it was up this crop season.
At one stage, the Bench asked the Punjab counsel to explain why stubble burning was going up in the state. "You are asking people to die. Your states (Punjab, Haryana) are also badly affected. Is this the administration left in Punjab and Haryana? Every year this is happening. We will fasten the liability on states and panchayats also," the Bench said.
Senior advocate Ranjit Kumar said farmers in Bihar and Uttar Pradesh didn't burn stubble and the same could be replicated in NCR. He suggested that like in Beijing and Shanghai, Delhi and NCR would do cloud seeding for rains that could alleviate the situation.
Earlier, the Bench deferred the hearing for 30 minutes and summoned experts from IIT Delhi and the Ministry of Environment and Forests to seek their advice on short term and long term measures to deal with the health emergency.
The experts, including an MoEF Joint Secretary and Bhure Lal of the Environment Pollution Control Authority (EPCA) told the Bench that besides other measures strict enforcement of the court's order banning stubble burning was a must.
Dailyhunt
Disclaimer: This story is auto-aggregated by a computer program and has not been created or edited by Dailyhunt. Publisher: InstaNews 24x7 English