Home
SC orders Rs 100 per quintal for paddy growers not burning stubble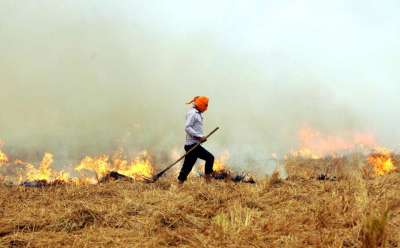 The Supreme Court on Wednesday ordered governments of Punjab, Haryana and Uttar Pradesh to give Rs 100 per quintal for non-Basmati paddy as incentive within a week to farmers who have not burnt stubble.
A Bench of Justice Arun Mishra and Justice Deepak Gupta-which pulled up chief secretaries of Punjab, Haryana and Uttar Pradesh for the failure of the three states in stopping stubble burning-ordered the three states to bear the operational cost of hiring of machines for handling of agricultural residue on behalf of marginal and small farmers with land holding of 2.5 acre and 5 acre respectively.
Rejecting Attorney General KK Venugopal's suggestion to allow farmers burn stubble on a rotational basis region- or district-wise, the Bench asked central ministries of Agriculture and Environment and Forests and governments of Punjab, Haryana, UP and Delhi to chalk out a long-term strategy to deal with stubble burning keeping in view interests of marginal and small farmers. It sought a report in three months. In case of Uttar Pradesh, the order is applicable to only to western Uttar Pradesh.
"To punish farmers is not the ultimate solution. Provide them with the basic facilities and amenities. Farmers are to be equipped; not punished. Why the government can't collect and purchase stubble from farmers?" it said during the hearing that went on till 10 past 6 in the evening.
The Bench-which is seized of a PIL on air pollution-directed Delhi Government and municipal corporations of Delhi to sit together and prepare an effective plan to deal with pollution caused by sources other than stubble-burning, including construction and demolition, dust and garbage waste. It also asked the NCT Government to ensure that all pits and potholes on capital roads were filled in three weeks.
The top court pulled up chief secretaries of Punjab, Haryana and UP - who were earlier asked to appear in person before it-for failing to take steps to stop stubble burning. "We will send you back suspended," the Bench angrily told the Punjab chief secretary, who tried to reason with the court it can't take financial burden as the state's coffers were empty.
To Haryana chief secretary, the court said: "You are worse than Punjab". The remark came as she was telling the court of the steps taken by her state to check stubble burning. She told the court that stubble burning had come down in Haryana.
The court also pulled up Uttar Pradesh for stubble burning in the western parts of the state.
As the UP Chief Secretary tried to introduce himself, the Bench said, "We are not interested in knowing your name. We know you are the Chief Secretary of UP. Just tell us what you have done to stop stubble burning. Why farmers are burning stubble in western UP?"
The Delhi Chief Secretary too was pulled up for failing to stop pollution caused by sources other than stubble-burning.
Earlier, advocate Charanpal Singh Bagri, representing Punjab farmers, told the Bench that farmer needed to be supported by governments as they were not in a position to handle stubble and were forced to burn it.
The Bench transferred to top court two cases on the issue pending in Punjab and Haryana HC after Bagri and Punjab Chief Secretary agreed to it.
Amicus Curiae Aparajita Singh told the Bench that even yesterday there were more than 4,800 incidents of stubble burning in Punjab.
The court will now take up the matter on November 15 to consider further directions.
Dailyhunt
Disclaimer: This story is auto-aggregated by a computer program and has not been created or edited by Dailyhunt. Publisher: InstaNews 24x7 English