Jagannath Rath Yatra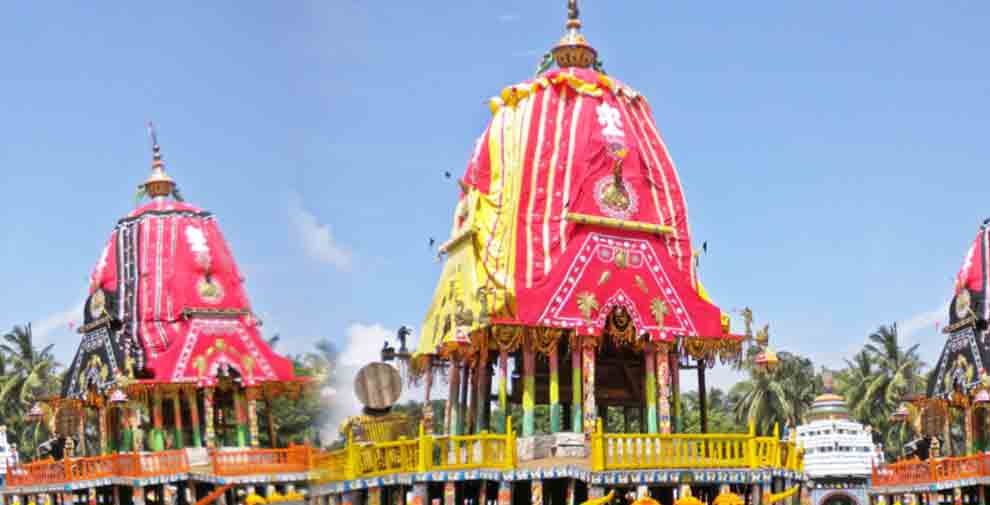 Jagannath Rath Yatra
Home

Jagannath Rath yatra a huge public procession which held every year in the month of Asadha ( Usually in the month of June or July). Bahuda yatra refers to the return journey of threes chariots to Temple. The deities commence their Bahuda Yatra on the 10th day after spending a week inside the Gundicha temple. During the return journey of these chariots, they stop for a...

Rath Yatra

Jagannath Yatra is a festival for devotees of Lord Jagannath. Only three days left for the Jagannath yatra, police forces, including senior officials, on Wednesday reached Puri. They will remain in the town till the end of rath yatra. All the required arrangements have been made for the state's biggest festival. The CCTVs have been installed at all strategic places. The entire...

Lifestyle

Jagannath means the Lord of Universe, Jagannath is the form of Hindi God Lord Vishnu. The place is known as Jagannath Puri. The temple is situated in Orissa. People are worshipping him for years. People believe a Hindu devotee must visit once to the temple to clear all his sins. It is believed that whatever we wish lord Jagannath fulfill all the wishes if we...

Home

To get all latest updates on like us on and follow us on or download

Astrology

City police have geared up to provide smooth passage to Lord Jagannath's 141st Rath Yatra, which will be held on July 14. The chariots of Lord Jagannath, his brother Lord Balabhadra, and their sister Subhadra will start the journey from the 400-year-old Jagannath temple in Jamalpur and pass through Khamasa, Raipur, Kalupur, Prem Darwaza, Dariapur, Delhi Chakla, and Shahpur.The...

Astrology

For the first time, the city police will use an Israeli helium balloon with high resolution camera to keep a vigil during the annual Lord Jagannath rath yatra procession in Ahmedabad on July 14, a senior official said today.Joint Commissioner of Police, Crime Branch, J K Bhatt, said that a helium balloon with a high resolution camera can keep an eye on the area of around...

Astrology

The religious procession from ISKCON temple on Budh Marg will pass through Indira Gandhi Planetarium to Income-Tax roundabout, Dak Bungalow roundabout, Gandhi Maidan, Exhibition Road, Fraser Road on way to the Mahavir temple near Patna Junction. From there, the yatra will return to ISKCON temple via General Post Office roundabout.Addressing a press conference on Sunday, ISKCON-Patna...

Astrology

With just a few hours left for the world famous Rath Yatra festivities to kick off, the pilgrim town is already brimming with lakhs of devotees reaching here for the 'Nabajaubana darshan' - the first glimpse of the deities after their 15 days healing ritual at 'Anasaragruha' of the Puri Srimandir. Jagannath temple is all set to host its 141st Rath Yatra this year.Three...

Astrology

The nine-day annual Jagannath Rath Yatra festival is all set to begin on Saturday, July 14, amid tight security arrangements in Odisha's Puri. The administration is expecting a congregation of about 10 lakh devotees from across the country and abroad.As many as 140 platoons of police force and 1,000 officers will be deployed during the festival. Two units of Rapid Action Force and...

Home

Over a million devotees participated in the religious RathyatrafromJagannath temple to Gundicha temple in Puri that is situated in Odisha. According to Hindi calendar, the Yatra commenced on Asadha Shukla Dwitiya. Deities of God Jagannath (Vishnu avatar), Balabhadra(his brother), and Subhadra (his sister) are carried on the well-embellished chariot...
Loading...