Home
Vazhoor school student stuns American Ex-Naval officer with Thekkan Vadipayattu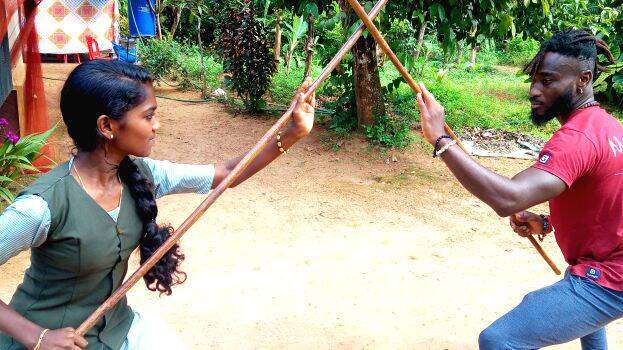 MALA: George Obeg Duro from Texas was overwhelmed by the Thekkan (South) Vadippayattu (fight technique using stick) of a ninth standard girl student of Vazhoor Nair Samajam School.

Seeing her performance using the stick, Geroge was curious to find out whether South Kalari or North Kalari is older. Duro had quit the job of American Navy officer out of his craze for Kalari and flew down to Kadathanadu from Texas to learn Kalari. He got training in North Kalari.

He had the other day gone to Mala to give training to students, George Obeg, till then, knew only fighting using weapons. He is 34; worked for 13 years in American Navy. What changed the life of Duro, who had been a soldier in American war ship during Iraq war, was his meeting with a Malayali called Mohanji.

Mohanji is a social worker and works across the world including America. George happened to hear his speech in Texas two years ago. After the speech he met Mohanji and said that he would also accompany him to India. That changed the life of Duro.

Duro came to India, travelled across the land. Later, Mohanji himself took him to Madhu Gurukal to learn Kalari, as he was passionate about it. Within five months, he learnt techniques that usually take two years to learn.

Duro took training at Putthuppanam Kadathanadu KPCGM Kalari centre. He is now planning to do research in Kalari. Duro's family had migrated from Ghana in Africa to America. His brother is a naval officer and sister is a nurse in Navy.
Dailyhunt
Disclaimer: This story is auto-aggregated by a computer program and has not been created or edited by Dailyhunt. Publisher: kaumudiglobal