Corona in Haryana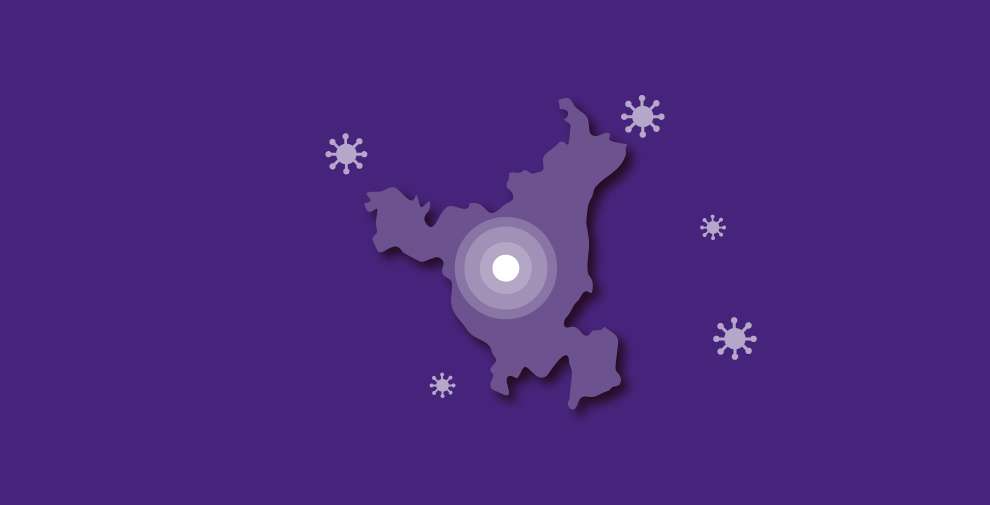 Corona in Haryana
Corona in Punjab

In Punjab 46 fresh cases reported in last 24 hours. Upto yesterday there were 2060 positive cases. The Total ... In Punjab 46 fresh cases reported in last 24 hours. Upto yesterday there were 2060 positive cases. The Total cases in Punjab is now upto 2106 cases with 20 patients cured and no more new deaths in Punjab. State government is taking all precautions and measures to...

Chandigarh

SHIMLA: Himachal Pradesh principal secretary, excise and taxation, Sanjay Kundu said here on Wednesday that despite the lockdown and recession due to the Covid-19 pandemic in the state, retail liquor vends that were left out of the auction earlier in Shimla, Nurpur, Kangra and Sirmaur zones have been sold for Rs 35.52 crore. He said that against the retail liquor...

Corona Chandigarh

In a blow to the state government already struggling with finances, a three-member arbitral tribunal has ordered Haryana State Industrial and Infrastructure Development Corporation (HSIIDC), a government owned public limited company, to pay ₹1,737 crore damages to IDBI Bank. IDBI was the lead banker to have financed the Kundli Manesar Palwal (KMP) expressway project before the...

Chandigarh

A 32-year-old man, a resident of Sector 71, tested positive of Covid-19, taking the count to 107. The patient, who worked as a banker in Delhi, had come to Mohali on May 22. He was admitted to the civil hospital after he exhibited some influenza-like symptoms. His sample was taken on May 24. Mohali civil surgeon Dr Manjit Singh said the patient's contacts will be traced...

Chandigarh

Amid continued deadlock over the ministers' demand for removal of the chief secretary, all eyes will be on the Punjab cabinet meeting scheduled to be held here at 3pm on Wednesday. The meeting has been convened to discuss the post-Lockdown 4.0 strategy, state finances and the hike allowed by the centre in the state's borrowing limit, but the ongoing row between senior cabinet ministers and...

Chandigarh

For decongesting the Madhya Marg and Dakshin Marg, and for improving the connectivity to Panchkula, the widening of two roads in the city's Industrial Area, Phase 1, is slated to begin in a month's time. The ₹10-crore project is scheduled to be completed by year-end. The first road connects the Poultry Farm Chowk (Junction 39 on the Dakshin Marg) to the...

Chandigarh

A man and four family members were booked for dowry death on Tuesday, after his wife was found hanging at their house in Kharar's Chajjumajra colony on Friday. Police have arrested the deceased's husband, Rakesh Kumar, and his father Kuldeep, while his mother, brother and sister-in-law are absconding. The deceased woman has been identified as Shalu, a native of Jagraon in Ludhiana. The case was...

Chandigarh

Residents from various localities of Rupnagar, who said they are facing water shortage for the last two weeks, staged a protest outside the office of Punjab water supply and sewerage board, on Tuesday. They said localities including Ali Mohalla, Chhota Kheda, Mil Mil Nangar, Preet Colony, Nehru Nagar, Bhandari Chowk, Uchha Khera, Mata Rani Mohalla and Malhotra colony were receiving no water. The...

Chandigarh

A decision on the introduction of new courses from the 2020-21 academic session will be taken at the meeting of the Panjab University syndicate On May 30. Proposals for introduction of eight new courses will be tabled for discussion. Usually, the introduction of new courses need approval from respective boards of studies, following which, respective faculties must give their...

Chandigarh

With 94 new cases, Haryana registered its steepest single-day spike in Covid-19 cases on Tuesday and the state's tally reached 1,305. Maximum new cases were detected in Gurugram (33), followed by Faridabad (22). Five more people, including two women, tested positive for the virus in Panipat, taking the number of infected persons to 58 in the district. Chief medical officer (CMO)...
Loading...