Corona in Haryana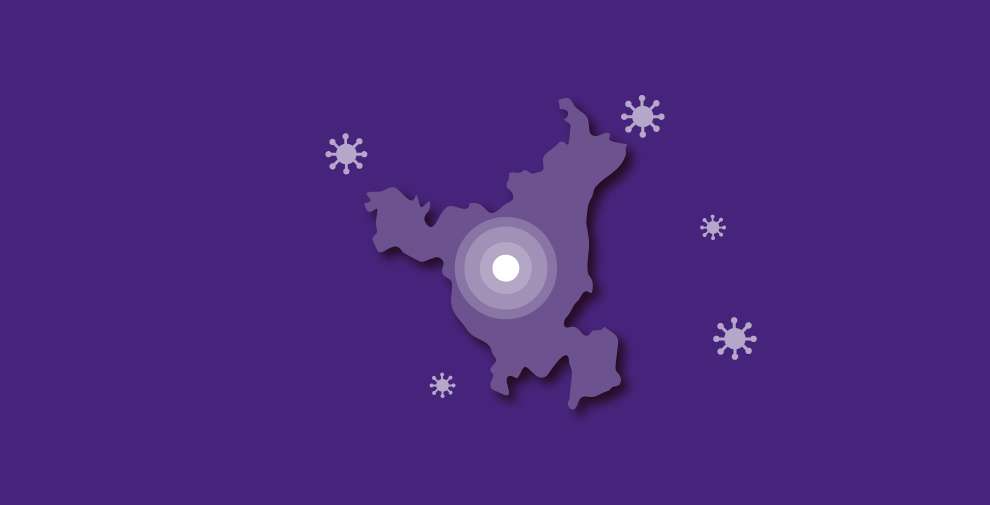 Corona in Haryana
Chandigarh

Shimla: The Himachal Pradesh government on Friday transferred two Indian Administrative Service (IAS) officers. A notification by chief secretary Anil Kumar Khachi said state excise and taxation commissioner Dr Ajay Kumar Sharma was transferred as secretary, state ayurveda and youth services and sports, Shimla. Town and country planning director Rohan Chand Thakur will be the new state excise...

Chandigarh

Chandigarh: Freelance journalist and political ideologue Harcharan Bains has been appointed principal adviser to Shiromani Akali Dal president Sukhbir Singh Badal. In a statement in Chandigarh on Friday, Badal said, 'Bains will have overriding powers to create and implement the perception management strategies on the policies, programmes and profile of the party. He...

Chandigarh

Dharamshala: Himachal Pradesh Bharatiya Janata Party (BJP) president Suresh Kashyap on Friday went into self quarantine as a precautionary measure after state power minister Sukhram Chaudhary with whom he had visited Nahan recently tested positive for Covid-19. It is a precautionary measure despite testing negative for Covid-19, a party spokesperson...

Chandigarh

Hardip Singh Khaira, who owned a construction company in Scotland, was on Thursday banned from acting as a director of a company for nine years after officials found that he knowingly caused the company to submit false tax returns. Khaira, 43, was director of HK Construction incorporated in 2011 to provide groundwork construction services, including drainage and concreting. The company...

Corona Chandigarh

With 179 new Covid-19 cases, the Chandigarh tricity area on Thursday recorded the sharpest spike in a day so far. This last happened only a day before on Wednesday with 143 cases, reflecting no let-up in the spread of infection. Mohali, with 68 fresh cases, also saw the steepest surge within 24 hours, which took the tally to 1,119. This is also the highest number of Covid cases any of...

Chandigarh

Haryana chief minister Manohar Lal Khattar on Thursday appealed the patients who have recovered from Covid-19 infection to donate their plasma and motivate people suffering from the disease to put up a tough fight against this pandemic. 'All such survivors should encourage people not to fear this pandemic, rather ensure that proper precautions are taken,' Khattar said while chairing the meeting...

Chandigarh

Haryana reported 755 new coronavirus infections on Thursday, taking the state's tally to 39,303. Three infected persons — two from Faridabad and one from Ambala — succumbed to the viral infection, pushing the death toll to 458. As per a medical bulletin, 680 patients recovered from the infection on Thursday, taking the total number of recoveries to 32,640. The recovery rate was over...

Chandigarh

For measuring the proportion of population exposed to the coronavirus disease (Covid-19), including the asymptomatic individuals, the Haryana health department will begin a comprehensive statewide sero survey from next week. Additional chief secretary (ACS), health, Rajeev Arora said the survey recommended by the ICMR will begin from Panchkula and Ambala. He said the...

Corona Chandigarh

Unpruned trees in some southern sectors have left the residents concerned for their safety. Residents say trees aren't being pruned and branches in some cases have touched the electricity supply lines, a perfect recipe for mishaps during the monsoons. Residents of southern sectors say this is again an example of 'step-brotherly treatment'. President of the Sector 44-B resident...

Corona Chandigarh

Chandigarh residents can now upload their water meter reading on the e-sampark mobile app/e-sampark web portal to put a check on wrong billing. Mayor Raj Bala Malik and MC commissioner KK Yadav on Thursday launched the application for uploading water meter reading online. Malik said that android/IOS users can download/install the e-sampark app and thereafter, picture of the meter reading can be uploaded...
Loading...