Health and Fitness
5,400 runners participate in the 8th edition of GAVS Dream Runners Half Marathon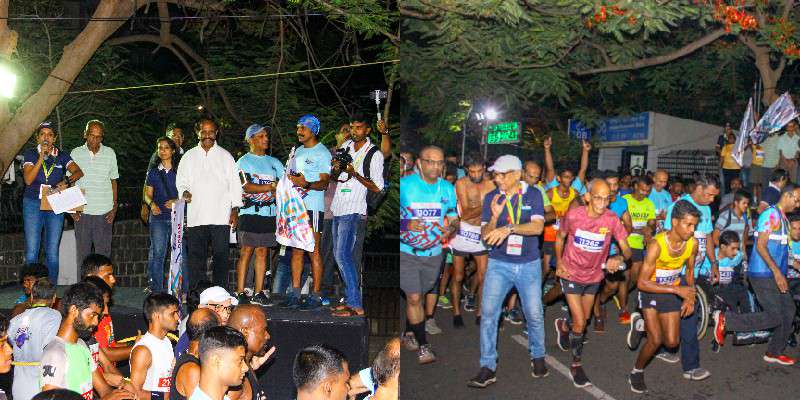 GAVS Dream Runners Half Marathon 2019, witnessed a participation of a record 5400 runners from all over the country. The evet is a fund-raiser for the cause of providing Prosthetic Limbs to the physically and economically challenged sections of the society. This has been done in association with The Freedom Trust a charitable organisation that specializes in offering these services. Over a 150 physically challenged individuals have been provided with Prosthetic Limbs through this marquee event. Around 20 of them are running a short distance of 50 m for the first time in many years on the 21st of July.
The event saw several families running in support of the cause as in the earlier instances, and was flagged off by Shri R Nataraj, Mylapore MLA and former Director General of Police, Tamil Nadu. He was joined by a few other corporate leaders and eminent personalities of the city.
With a modest beginning in 2012, GAVS Dream Runners Half Marathon has now grown to become a signature event on the marathon calendar of Chennai. From a mere 450 runners in the first edition in 2012, GAVS DRHM supported by title sponsor GAVS Technologies Pvt. Ltd. a leading Chennai-based IT firm, has grown admirably year after year to about 5400 runners who participated in 10kms and 21.1kms categories. Participants were from diverse walks of life, are of varied ages and possess wide, unique capabilities. Over 1000 Women runners are part of the event.
Members from 10 established chapters of Dream Runners from across the city made up a large contingent, showcasing the positive influence of Dream Runners on the health and lifestyle landscape of the city. Over 500 trainees, who enrolled for the Dream Runners' 'Free Structured Training Program' over the past 8 weeks, enjoyed their first 'big event' experience. The entire Free Structured Training Program was sponsored by Wells Fargo EGS (India) Pvt. Ltd. who have supported Dream Runners in this wonderful initiative.
"Let us Run, So they can Walk", says the tagline of 8th edition of GAVS Dream Runners Half Marathon. The runners have gone back a happy lot as they have been provided valuable merchandise like runner T-shirts, Jute bags, and stainless steel water bottles sponsored by Butterfly as part of the race kit, in addition to the finishers' medals.
Some of the key features of this year's run are
- Marathons usually generate a large amount of single-use plastic and paper waste. In an attempt to reduce this footprint, runners have been encouraged to carry their own bottles for refills from aid stations; areca plates have been used for breakfast; single-use plastic eliminated.
- Ploggers - While runners are encouraged to not litter during the run by using provided bins, the event had last year introduced 'Ploggers' who are selfless runners who run the course of the event right behind the participants and pick up any litter that they find en route.
Some runner statistics to highlight at GAVS DRHM 2019
80% Men
20% Women
70% - 3700+ for 10K
30% - 1600+ for 21.1K
Senior Veteran - 55 years and above - 200 runners out of which 100 are doing 21.1 k !!!
Oldest runner is 78 years old - Jayaraman - 10K
Oldest lady runner is Santha Narayanan - 66 years old - 10K
All the doctors participating in the event from the Dream Runner Chapters were given a special vest for easy identification should a runner need any medical assistance.
The event also has collaborated with ALERT, a voluntary organisation specializing in training members of the public in first aid and CPR. ALERT Volunteers were also positioned along the route at strategic locations to act as first responders for any medical emergency till the ambulance arrived.
The runners were also given the option to not take a T shirt and donate Rs 250 for the cause and around 500 runners have decided to donote instead of taking the T Shirt.
The Organizers also thank Twin Birds and Polyhose for their support in organizing GAVS DRHM 2019
Dailyhunt
Disclaimer: This story is auto-aggregated by a computer program and has not been created or edited by Dailyhunt. Publisher: Life and Trendz