Food and Drink
DIRTY MARTINI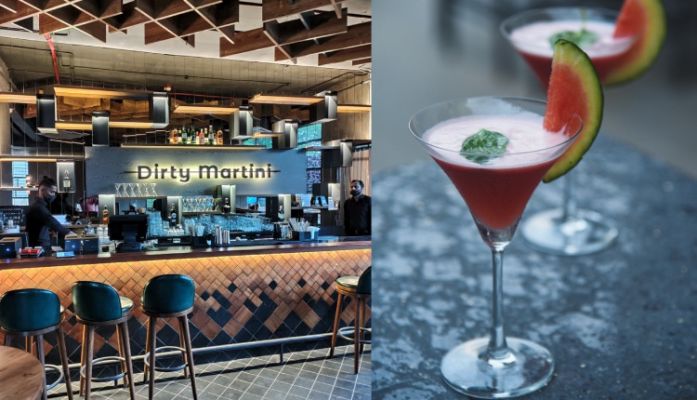 Dirty Martini is the newest slick cocktail bar in Bandra West that opens its doors this September. Tucked away in Bandra reclamation, Dirty Martini serves as an ideal new spot for an exciting evening out with friends or even a celebration outdoors. With 2 large beautiful sections, this 3300 square foot bar is not too stiff, not too casual, just like a good old martini.
As you walk into Dirty Martini, expect to discover a space that unfolds into a main indoor area featuring an exquisite wooden 22-foot long bar lending the entire resto-bar an international feel. Natural wood, natural slate floor and Balinese stone-clad add to the grandeur of the indoors. Corten metal and natural burgundy plants in the outdoor section give it an urbane elegance that one can often see in the neighbourhood of Bandra.
Designed by the award-winning architecture firm 23 Degree Design Shift, Dirty Martini shifts from a communal bright airy day space to an evening drinking spot with the most buzzing house music. Richness and vibrance are felt in its floorings, furniture and landscaping, almost like an instant mood enhancer. The visual connection from indoor to outdoors, and multiple large windows, not just multiplies the 120 seater space, it also superimposes visuals to create a surreal experience.
Once here, start at the bar! The beverage menu is no short of expansive, just like everything else at Dirty Martini. It features a selection of over 20 martinis and 50 shooters along with a variety of other cocktails to choose from. Some must try martinis are the Mafia Martini, Pornstar Martini, the Gibson Martini and of course the namesake Dirty Martini.
For those looking for fresh ingredients to go with their spirits, the Watermelon & Basil Martini, Lemongrass & Lychee Martini, and the Cucumber & Basil Martini are ideal choices. The city's most extensive cocktail menu also boasts of these highly recommended shooters like the Pickleback, the Seven Deadly Sins and the Tequila Vs Wasabi.
This cocktail bar has something for everyone- the city's best cocktails, elegant spaces, lush green outdoor, and delicious food. With 16 years of experience under his belt, renowned chef Makarand Samant has run the kitchens at various eateries in India and abroad, and now heads the kitchen team at Dirty Martini. Some of the dishes one must try here are the Saffron Quinoa Salad, Avocado and Goat Cheese Crostini, the Five Herb Tofu, Grilled Lamb Orbs for the lamb lovers, ShisTaouk, the Three Cheese Swiss Charred Ravioli and a selection of mouth-watering wood-fired oven pizzas. Not to miss the Classic Tiramisu and the Baked Vanilla Cheesecake to satiate your sweet tooth.
The Bandra Dirty Martini is run by Dheeraj Melwani with his partner, restauranteur Mir Aga. Dirty Martini Mumbai is a part of a larger expansion plan, and Dheeraj says "The eclectic and evolved crowds in Mumbai have made the place ripe for a cocktail bar concept like ours to make its way here." Restauranteur Dheeraj Melwani launched the first Dirty Martini in his home city, Hyderabad, a swanky massive space which he has been running successfully for the last 3 years. Being in the corporate space in Singapore gave Melwani many opportunities to travel all around the world, and everywhere he went, his passion to try out the best cocktail bars in the city inspired him. His favourite drink being a Martini, Dheeraj has tried several martinis at over 125 cocktail bars around the world.
"Enhancing the going out experience and making drinking more versatile and enjoyable is what we want to give to our patrons at Dirty Martini," says Mir. Mir Aga's 8 year-long experience in the Mumbai hospitality industry and passion for food combined with Dheeraj's passion for cocktails enables them to create a vibe that will keep you coming back for more.
Dailyhunt
Disclaimer: This story is auto-aggregated by a computer program and has not been created or edited by Dailyhunt. Publisher: Life and Trendz