Health
Ways to Prevent Freckles!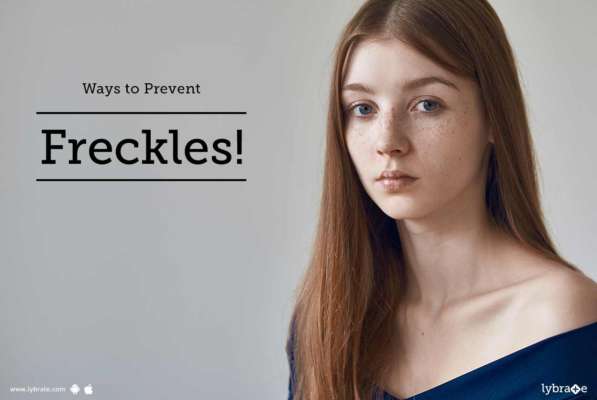 Freckles are those flat and tanned circular spots which are normally the size of the head of nail. There can be numerous spots and may develop on the areas that are repeatedly exposed to sunlight. People with a fair complexion on the upper portions of the body are more prone to develop freckles on areas like the nose, arms, cheeks and upper shoulders. Infants too can also be affected by this skin condition. What causes freckles? Normally, freckles are uniform in colour though they may vary among different people. Some people may have reddish yellow patches on the skin while others may develop a tan or bright yellow or black and typically darker than the color of the surrounding skin. Sun exposure is the primary cause behind freckles and thus, the condition worsens right after you are exposed to sunlight. These patches get lightened during winter months and are also caused due to a splurge in the amount of melanin pigment and not due to any sort of increase in the number of pigment producing cells called melanocytes. Probable ways of preventing freckles There are several safe and preventive methods of lightening and reducing freckles and in most cases multiple treatments are combined to get the best results. It is important to remember that the condition of the freckles is not always alleviated with treatments and it may recur with repeated exposure to the sun.
Therefore, it is best to prevent them from the very before they develop instead of seek for some cure when they arrive. Apply sunscreen: You are advised to apply sunscreen every time you go out in the sun. It is important to check whether your sunscreen offers blockage from both the UVA and UVB rays. You will have to reapply the sunscreen after every two hours under normal conditions and also after sweating and swimming.
Wear a hat while going out: Get a hold of a good quality hat that doesn t have a weave or mesh through which light may enter. It will offer you shade and protection against the sun at all places. In case it is possible, you must avoid going out in the sun from 10 a.m. to 4 p.m. as the sunrays are most intense during this time. In case you are already affected with freckles, you must stay away from tanning beds and check your medications, as there are some medicines like birth control pills and certain antibiotics which may further aggravate the condition.
Dailyhunt
Disclaimer: This story is auto-aggregated by a computer program and has not been created or edited by Dailyhunt. Publisher: Lybrate English