Home
Baghel attacks Modi for not supporting pro-farmer plans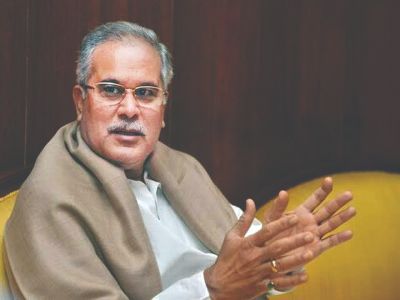 Team MP
New Delhi: Hitting out at the government led by Prime Minister Narendra Modi, Chhattisgarh Chief Minister Bhupesh Baghel said on Saturday that Modi is not bothered about the welfare of the farmers and traders.

The anti-farmer government at the Centre has brought out many roadblocks in the implementation of farmer-friendly policies by the Chhattisgarh government, Baghel while addressing a massive Bharat Bachao rally of his party in Delhi's Ramlila Maidan.
Taking a jibe at Prime Minister Narendra Modi, Baghel said, "It seems the razor has come in the hand of the monkey. The Modi government only knows how to escalate violence in the country."
"When the government had launched demonetization, about 125 people were killed while being in queue to get their own money. When GST was launched, many traders had committed suicide. The Modi government scrapped Article 370 and 35A, whole Kashmir witnessed total shutdown. Now, the government has brought Constitutional (Amendment) Bill which has resulted into unrest in all Northeastern states,"
Baghel said.
He added that the Modi government wants to implement NRC and divide the country.
"The Chhattisgarh government is working hard to improve the living standards of farmers and for that the state government is planning to give Rs 2,500 as minimum support price of crops, but the Central government is creating roadblocks in its implementation," he said, Chhattisgarh is the only state where farmers have received Rs 2,500 as MSP of their produce.
"We are Congressmen and we only know to sacrifice our lives for the country. Mahatma Gandhi was killed for the country. Similarly, Indira Gandhi and Rajiv Gandhi were also assassinated for keeping country united," he said, adding that it's also a moment of proud for Chhattisgarh that no farmer has committed suicide in the state in the last one year.
Dailyhunt
Disclaimer: This story is auto-aggregated by a computer program and has not been created or edited by Dailyhunt. Publisher: Millennium Post