News
COVID-19 origin report to be published around March 15: WHO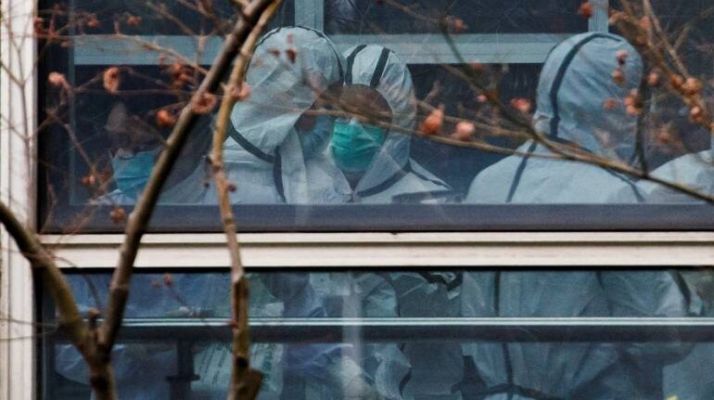 Members of the World Health Organization (WHO) team, tasked with investigating the origins of the coronavirus disease (COVID-19), don personal protection suits during a visit at the Hubei Animal Epidemic Disease Prevention and Control Center in Wuhan, Hubei province, China, February 2. (Image: Reuters)
The international investigation into the COVID-19 pandemic's origins in China will publish its report in the week of March 15, the World Health Organization's chief has said.
The report was originally due to be published in two stages: an initial summary in February followed by the full text. However, they will both now be released at the same time, said WHO director-general Tedros Adhanom Ghebreyesus.
"I know that many member states are eager to see the report of the joint WHO-led study on the origins of the SARS-CoV-2 virus -- and of course so am I," Tedros said in a speech to the UN health agency's member countries on March 4.
"The team is working on its final report as well as an accompanying summary report, which we understand will be issued simultaneously in the week of the 15th of March.
"Rest assured that when the reports are ready, we will ask the expert team to share the reports with member states ahead of their release, and to brief you on the findings."
Close
COVID-19 Vaccine
Frequently Asked Questions
How does a vaccine work?
A vaccine works by mimicking a natural infection. A vaccine not only induces immune response to protect people from any future COVID-19 infection, but also helps quickly build herd immunity to put an end to the pandemic. Herd immunity occurs when a sufficient percentage of a population becomes immune to a disease, making the spread of disease from person to person unlikely. The good news is that SARS-CoV-2 virus has been fairly stable, which increases the viability of a vaccine.
How many types of vaccines are there?
There are broadly four types of vaccine - one, a vaccine based on the whole virus (this could be either inactivated, or an attenuated [weakened] virus vaccine); two, a non-replicating viral vector vaccine that uses a benign virus as vector that carries the antigen of SARS-CoV; three, nucleic-acid vaccines that have genetic material like DNA and RNA of antigens like spike protein given to a person, helping human cells decode genetic material and produce the vaccine; and four, protein subunit vaccine wherein the recombinant proteins of SARS-COV-2 along with an adjuvant (booster) is given as a vaccine.
What does it take to develop a vaccine of this kind?
Vaccine development is a long, complex process. Unlike drugs that are given to people with a diseased, vaccines are given to healthy people and also vulnerable sections such as children, pregnant women and the elderly. So rigorous tests are compulsory. History says that the fastest time it took to develop a vaccine is five years, but it usually takes double or sometimes triple that time.
View more Show
The first COVID-19 cases were reported in the Chinese city of Wuhan in December 2019. The international investigation in the city only began in January 2021 and wrapped up last month.
A team of international scientific experts spent four weeks in Wuhan visiting sites linked to early cases. Experts believe the disease originated in bats and could have been transmitted to humans via another mammal.
Although the mission to Wuhan failed to identify the source of the virus, the experts were dismissive of the theory that it leaked from a virology laboratory in the city at a press conference before leaving China. However, when the team leadership returned to Geneva, Tedros said that, "all hypotheses remain open".
Dailyhunt
Disclaimer: This story is auto-aggregated by a computer program and has not been created or edited by Dailyhunt. Publisher: Money Control English