Civic
Jaslok Hospital and Research Centre Launches Its Second Cardiac Catheterization Lab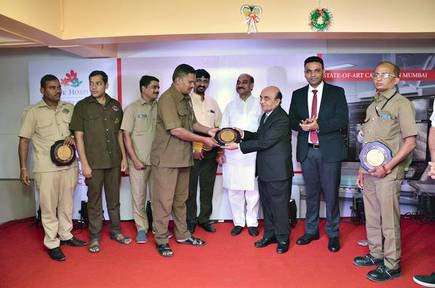 In order to cater to the increasing number of patients with heart-related issues in the city, Jaslok Hospital and Research Center recently launched its second Cardiac Catheterization Lab. This facility will provide assistance in various heart-related procedures like Angioplasty, Angiography, Rota ablation, intravascular ultrasound, TAVI and other structural heart diseases, Pacemaker, amongst many other procedures.
The facility will also help doctors to avoid complications as they will have an image-guided visualisation of the patient's heart, automatically segmented according to the type of procedure recommended.
Jaslok Hospital Organizes First 'Infection Outbreak Containment' Symposium - INFECON 2019
Speaking at the launch, CEO of Jaslok Hospital Jitendra Haryan said,
We have seen a steady increase in the number of cardiovascular cases that the hospital receives and thus adding another advanced Cath Lab will benefit us in treating more number of patients. There is a growing demand for image-guided therapy and increasingly complex procedures, so hospitals are looking for ways to treat more patients in less time without compromising the quality of care. Our Cath Lab will not only increase the number of procedures done at Jaslok, but doctors would also be able to perform more elective or planned procedures on patients.
Jaslok Hospital To Add 50,000 Sq. Ft. To Its Current Space As Takeover Rumours Have Been Dismissed
Adding to this, Dr. A B Mehta, Head of Cardiology at Jaslok Hospital said,
Cath Lab facility will directly benefit patient outcomes and experience because it enables clinicians to provide superior care in the interventional lab and provides high productivity at a lower cost of the procedure. Specialised facility significantly reduces the patient preparation time by 12 per cent, expedites procedure time by 17 per cent and post-procedure lab time by 28 per cent while also reduce the scope of delay in providing the planned treatment as per schedule. The facility is specifically designed to provide both high performances for real-time multitasking and outstanding user experience where interventional team members can work parallelly at flexible work spots without interrupting each other.
Another key highlight of the event was the felicitation of five Brihanmumbai Electricity Supply and Transport (BEST) drivers who went beyond their duty to save the lives of patrons in the city. The BEST association conducts CPR training for the drivers and support staff as part of their community outreach initiative. These five drivers who had received CPR training could identify the commuter under stress as a cause of heart attack and immediately performed CPR on them. This stabilised the patient until they could reach the hospital and thus saved their lives.
Jaslok Hospital And Research Centre Launches Breast Cancer Clinic
Dailyhunt
Disclaimer: This story is auto-aggregated by a computer program and has not been created or edited by Dailyhunt. Publisher: Mumbai Live English