Home
LIVE News Updates: Govt reduces onion stock holding limit for retailers, wholesalers amid rising prices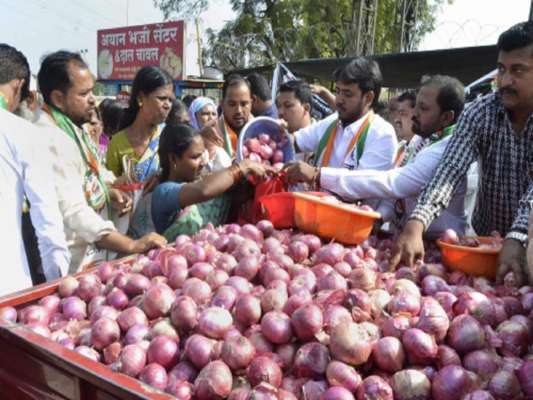 Govt reduces onion stock holding limit for retailers, wholesalers amid rising prices
Amid soaring onion prices, the government on Tuesday reduced the stock holding limit for retailers to 5 tonnes and for wholesalers to 25 tonnes.
Earlier, retailers were allowed to hold onion stock up to 10 tonnes and wholesalers up to 50 tonnes. Now, they can hold half of it, as per an order issued by the Consumer Affairs Ministry.
The revised stock holding limit would not be applicable for imported onion.
JNU students' protest over fee hike spread to IIMC
The protest against hostel fee hike at Delhi's Jawaharlal Nehru University (JNU) spread to the neighbouring IIMC on Tuesday, where students protested against the "unaffordable fee structure".
Indian Institute of Mass Communication students staged a strike in the campus against the high tuition fee and "unruly" hostel and mess charges, they said.
JNU has been seeing a strike by students for close to four weeks against hostel fee hike.
SC order on Chidambaram's bail plea tomorrow
The Supreme Court will pronounce its order on Wednesday on Congress leader P. Chidambaram's plea seeking bail in INX Media alleged money laundering case.
DM sends Junior Engineer to police lockup over 5-minute power cut
The District Magistrate of Bulandshahr in Uttar Pradesh sent a Junior Engineer to police lockup after a power cut during one of his meetings. The power was reportedly restored "in five minutes".
The Electricity Board Employees Union held a protest against the DM.
Bulandshahr: District Magistrate sent Junior Engineer to Police lockup after a 5-minute electricity cut happened during his meeting. Electricity Board Employees Union holds protest against the DM. pic.twitter.com/YL7fpPh1ij

— ANI UP (@ANINewsUP) December 3, 2019
Security breach at Priyanka's residence shows PM Modi, HM Shah putting lives at risk: Cong
The Congress attacked the government on Tuesday over the security breach at party leader Priyanka Gandhi Vadra's residence, alleging that the incident showed that Prime Minister Narendra Modi and Home Minister Amit Shah had put the lives of its leaders at risk.
The opposition party also said it wanted to protest inside Parliament over the issue as the home minister had told the Lok Sabha that adequate security will be provided to the Gandhi family, despite the withdrawal of the SPG (Special Protection Group) cover.
Congress leader in the Lok Sabha Adhir Ranjan Chowdhury alleged that they wanted to protest, but all "dissenting" voices were being "throttled".
All India Congress Committee (AICC) general secretary (organisation) K C Venugopal said the government should not put someone's life in danger for "settling cheap political scores".
"The massive security breach at the residence of Priyanka Gandhi Vadra proves that with the withdrawal of SPG protection, Modi and Shah together have put the lives of our leaders at risk," he said in a tweet.
10 students fall ill after dead rat found in mid-day meal in Muzaffarnagar
At least 10 children were hospitalized on Tuesday after they were fed 'dal' which had a dead rat in it during the midday meal in a government school.
The meal, meant for students between Class 6 and 8, had been prepared by an NGO called Jan Kalyan Sanstha Committee which is based in Hapur.
A teacher who consumed the food along with the children has also been hospitalized.
All the students and the teacher were later discharged from the hospital.
According to reports, the dead rat was found at the bottom of the vessel in which the 'urad dal' had been cooked.
"By that time, many of the students had already eaten the food and had started vomiting," said a student.
Talking to reporters after the incident Ram Sagar Tripathi, a local education official, called the shocking incident an example of "carelessness".
He said, "The Jan Kalyan Sanstha Vikas Committee prepares the food for the mid-day meal scheme. Today, there was a dead rat in the dal. We stopped serving it as soon as it was detected. Nine children had already consumed the dal and were taken to hospital."
The official said action would be initiated against the NGO concerned.
In recent weeks the UP government has made headlines, for all the wrong reasons, with its mid-day meal scheme.
Last week, a video from the Sonebhadra district showed a cook at a mid-day meal kitchen mixing one litre of milk with a bucket of water for 81 children in the school.
In September, students of a government school in Mirzapur district were seen in a video being served roti with salt during the midday meal.
The website of the Uttar Pradesh Mid-Day Meal Authority, the overseeing body for these meals in the state, describes an elaborate menu that is supposed to be served to the children at the state-run primary schools. It includes pulses, rice, rotis and vegetables. Fruits and milk are included on certain days, according to the meal chart.
These meals are supposed to provide a minimum of 450 calories to each child every day and must include at least 12 grams of protein and should be served to every child at least 200 days a year.
According to the state government, it has provided mid-day meals in more than 1.5 lakh primary and middle schools across the state and more than one crore children are supposed to benefit from the scheme.
Ruckus in Delhi Assembly, BJP's Gupta marshalled out
The last day of the last session of the Delhi Assembly on Tuesday witnessed a ruckus over onion prices, after Speaker Ram Niwas Goel accused BJP MLAs of bringing women in the House for holding a protest and marshalled out Leader of Opposition Vijender Gupta.
Goel said he felt very sad and added this is the "limit of hooliganism" as the "opposition is taking help of women to hold protest inside the Assembly".
The BJP MLAs were demanding a discussion on surging onion prices in the city.
Rural poverty has shot up, NSO data shows
Consumption expenditure numbers reported by the National Statistical Office (NSO) in suggests that rural poverty rose nearly 4 percentage points between 2011-12 and 2017-18 to 30 percent even as urban poverty fell 5 percentage points over the same period to 9 percent. Given the higher weight of the rural population, the estimated overall poverty rate went up nearly a percentage point to 23 percent in 2017-18. The rise implies that 30 million people fell below India's official poverty line and joined the ranks of the poor over the past half a decade.
1 militant arrested with arms and ammunition in Jammu and Kashmir's Kishtwar district: Police
Media asked to stop showing pics of Hyderabad rape accused
Cyberabad police investigating the gruesome gang-rape and murder of a woman veterinarian, said on Tuesday that it might intervene to stop the media from telecasting video clippings and photographs of the accused and related documents, adding it was hampering the probe.
The police have taken serious note of "some print and electronic media giving wide publicity and identity of accused and the documents related to the investigations by telecasting continuously in TV news channels and in newspapers and social media".
Investigating officer in the case said this was hampering the investigation in terms of diminishing the value of crucial evidence which is vital for proving the guilt of the accused.
Congress attacks Modi govt over Railways 'sell out', budget cuts
The Congress party on Tuesday trained its guns on the government over the state of the economy and its disinvestment plans with two top leaders joining in.
Congress General Secretary Priyanka Gandhi Vadra took to Twitter to lash out at the alleged privatisation of Indian Railways.
She said: "Indian Railway is the lifeline of the country. Now, the BJP government has put the Indian Railways in its worst condition. After a few days, like other government undertakings, the BJP government will start selling railways." She went on to add, "BJPs talent is not in making but in selling."
On the other hand, the party's media head Randeep Singh Surjewala hit out at the centre for cuts in the budgetary allotments.
Citing a new report, Surjewala claimed: "Duping of India's Farmers, Food Procurement, Youth & Sports & Minorities by 'Budget Cuts' in by BJP Govt stands exposed! Agriculture allocation slashed to 72% , Food & Public Distribution to 61%, Minority Affairs slashed to 76%, Youth & Sports slashed to 86%."
Just a day before, Priyanka Gandhi had raised the issue of rising tariffs on phone calls and internet as announced by telecom companies
Delhi chokes again as air quality level deteriorates
Delhi chokes again as air quality level deteriorates

Read @ANI story | https://t.co/76kxxbuzQR pic.twitter.com/vej70gDvT1

— ANI Digital (@ani_digital) December 3, 2019
Sri Lankan President prorogues parliament for a month
Sri Lankan President Gotabaya Rajapaksa has prorogued the parliament for one month and fixed January 3, 2020 for the commencement of the next session.
The parliament should have met on Tuesday, according to the schedule.
President Gotabaya Rajapaksa issued a special gazette notification effective at midnight Monday noticing that parliament would be reconvened on January 3.
"The President is constitutionally empowered to do so," officials said.
God save India's economy: Chidambaram on BJP MP's GDP remark
Senior Congress leader and former finance minister P Chidambarm on Tuesday took a dig at the BJP over its MP Nishikant Dubey's remarks that the GDP has no relevance, saying "God save India's economy".
Participating in a discussion in Lok Sabha on the Taxation Law Amendment Bill and a statutory resolution disapproving the ordinance on the same legislation, Dubey had said that the Gross Domestic Product (GDP) has no relevance and it should not be treated as 'Bible, Ramayan and Mahabharat'.
"GDP numbers are irrelevant, personal tax will be cut, import duties will be increased. These are BJP's ideas of reforms. God save India's economy," Chidambaram, who is in jail in connection with cases of corruption and money laundering, said in a tweet.
Congress' chief spokesperson Randeep Surjewala on Monday had also taken a swipe at Dubey over his remarks, saying God save the people from "New India's novice economists".
Will hanging convicts decrease rate of rape cases: Aparna Sen
As the outrage over the Hyderabad rape-murder case continues to grow in the country, with common people and politicians seeking death for the accused, eminent filmmaker Aparna Sen wondered if hanging the perpetrators would lead to a substantial fall in number of such crimes.
Sen's comments were made in the wake of Rajya Sabha MPs demanding death penalty, lynching and castration as punishment for the four accused in the case.
"The perpetrators of (Hyderabad woman's) rape and murder will probably be hanged. The whole country is baying for their blood, and with due cause.
"It is the most horrific of crimes. But then what? There won't be any more rapes? The rate of rape will substantially decrease?" she tweeted on Monday.
On Facebook and Twitter, netizens have also sought public hanging, mutilation and castration for rape-murder convicts. A section of women suggested that polls be boycotted, if swift punishment was not meted out to rapists.
The charred body of a 25-year old woman, who worked as an assistant veterinarian at a state-run hospital, was found under a culvert in Shadnagar in Hyderabad on November 28, a day after she went missing.
Four men, aged between 20 and 24, were arrested on November 29 on charges of raping and killing the woman and had been sent to judicial custody for 14 days.
Prime Minister Narendra Modi to address public rallies in Jharkhand's Khunti & Jamshedpur today
Prime Minister Narendra Modi to address public rallies in Jharkhand's Khunti & Jamshedpur today. #JharkhandAssemblyPolls (file pic) pic.twitter.com/gM7DxPKq81

— ANI (@ANI) December 3, 2019
Muslim counsel Rajeev Dhawan removed from Babri case, 'Arshad Madni lying', says Dhawan
Just been sacked from Babri case by advocate-on-record Ejaz Maqbool who was representing Jamiat. Have sent formal letter accepting the 'sacking' without demur, writes Advocate Rajeev Dhawan on social media.
"No longer involved in the review or the case. I have been informed that Mr Madani has indicated that I was removed from the case because I was unwell. This is total nonsense."
Advocate Rajeev Dhawan (who appeared for Sunni Waqf Board & other Muslim parties in Ayodhya case) writes on social media: Just been sacked from Babri case by advocate-on-record Ejaz Maqbool who was representing Jamiat. Have sent formal letter accepting the 'sacking' without demur pic.twitter.com/pUNrhBmup5

— ANI (@ANI) December 3, 2019
Dailyhunt
Disclaimer: This story is auto-aggregated by a computer program and has not been created or edited by Dailyhunt. Publisher: National Herald India