Home
Maternity benefits still inaccessible for most Indian women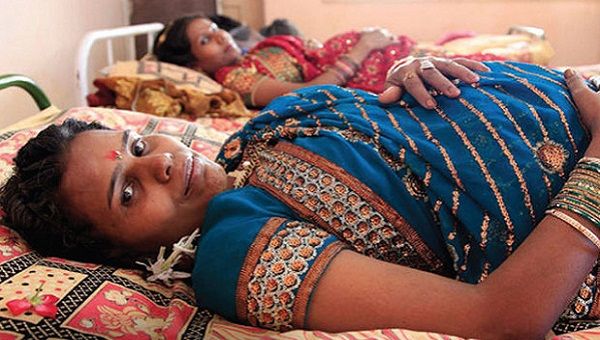 Slamming the government over meagre maternity benefits for those working in the unorganised sector, several women's activists say that maternal and child health have been grossly neglected for far too long.
"Maternity benefits, irrespective of whether they are in the formal or informal sector, engaged in paid or unpaid work, must be given to all women. This would translate into maternity entitlements which would protect current wages for a period of six to nine months, with the amount being at least equivalent to the minimum wages for women in self-employment, unpaid work, working for less than minimum wages and so on," demanded Jashodhara Das Gupta, Senior Adviser, SAHAYOG. She was joined by activists of the Right to Food campaign, women's organisations and trade unions.
According to the National Food Security Act, every pregnant woman in the country is supposed to receive ₹6000 in cash as support for her health and nutrition. "The scheme to implement this, Pradhan Mantri Matrutva Vandana Yojana (PMMVY), was notified only in May 2017. The PMMVY truncated the legal entitlement by reducing the amount of benefit to ₹5000 and restricting it only to first birth.
The scheme was supposed to be applicable to all births since 1 st January 2017. The number of births in a year in India is about 2.7 crore. Therefore, the coverage under this scheme currently is of less than 20 per cent of the births in the country," highlighted Annie Raja of National Federation of Indian Women (NFIW).
"Field reports show that even this small amount for few women is difficult to get due to the complicated procedures of application, requirement of documents, Aadhaar-based exclusions and problems related to accessing bank accounts. The woman has to give her Aadhaar details, her husband's and this has to be the first child for both of them. All of this is for ₹5000 and even for this, they have to fill forms thrice. Further, as we go ahead, the principle of wage-linked compensation amount has to be introduced," underscored Dipa Sinha, an economist teaching at Ambedkar University.
"The Social Security Code that has been introduced in Parliament does not address these concerns. The Code must be discussed extensively through parliamentary procedures such as the standing committees, before being put up for vote in the Parliament," said Sinha.
In India, maternity benefits are not uniform in nature. It is provided in the form of paid leaves or wage compensation under multiple labour laws for the formal sector and in the form of arbitrarily decided cash transfer through mandated schemes under National Food Security Act, 2013 and the Unorganised Sector Social Security Act, 2008.
"This leaves out an overwhelming majority of women working as farmers, agricultural workers, self employed women, domestic workers, home-based workers and those working as unpaid helpers in family trade. The Building and Other Construction Workers' Act provides maternity benefits but leaves it to the states to define the amount and the benefit is not wage linked," said Das Gupta.
Highlighting the woes of sex workers, Kusum of All India Network of Sex Workers pointed out, "There is a lack of maternity benefits for sex workers. Most government functionaries and Asha workers do not reach red light areas and as a result, they get no facilities."
Recently, NITI Aayog also admitted that the persistent high stunting figures are mainly due to the intergenerational character of malnutrition where the child is undernourished since conception in the womb of an undernourished, anaemic mother. "In absence of paid leaves, materially deprived women resume their economic activities soon after delivery without taking adequate rest," said Punyavathy of All India Democratic Women's Association.
The activists have demanded that the government must increase the benefit under PM to at least ₹6000 as specified under the Act. Pointing towards Tamil Nadu, Punyavathy said that Tamil Nadu gives ₹18,000 as maternity benefit and this should be seen as a norm.
Dailyhunt
Disclaimer: This story is auto-aggregated by a computer program and has not been created or edited by Dailyhunt. Publisher: National Herald India