Home
Love Jihad- Calling for open and bold debate.. Will the distorted Indian secularism allow it?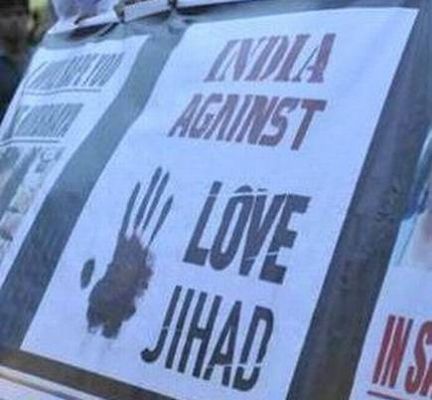 Pune, January 05: When the power of love overcomes the love of power, the world will know peace, they say. With every passing day, it is becoming impossible to ignore the reality surrounding 'Love Jihad'. What we can perhaps dispense with is the pejorative nature of the term, but the phrase has caught on so well with the media that it is equally impossible to ignore its usage.
As the Uttar Pradesh Cabinet this week cleared the draft ordinance against the forceful conversion via marriages, there is a sense that the law would be implemented more vigourously in the state than any other. The issue of Love Jihad had been on UP CM's list even before he became the Chief Minister of Uttar Pradesh. His outfit Hhindu Yuva Vahini had actively worked to check alleged religious conversions in the state.
Opening up the pages on the matter, Swaminathan Gurumurthy, also known as Thuglaq Gurumurthy, Editor, Thuglak, and commentator on economic and political affairs noted that it is no more easy to dismiss the issue of Love Jihad. In his latest article reserached for the New Indian Express, the RSS ideologue said that love unfortunately had become integral to promoting Islam.
Studies, including Islamic ones, show how love marriage has played, and continues to play, a significant part in expanding Islam. In a paper titled 'Demographic Islamization: Non-Muslims in Muslim Countries', Philippe Fargues explains how Islamic nations have been Islamising through love and marriage. Fargues concludes- 'Love was now playing the same role in the continuing process of Islamization that coercion played in the remote past.'
To make it worse, marriage between Muslims and non-Muslims seems one-way traffic, as Islam bans Muslim women marrying non-Muslims and confines them within the religion. Evidence suggests the ban is followed in practice. The situation in India seems no different. In 2012, the Congress chief minister of Kerala, Oommen Chandy, said that during 2009-12, 2,667 young women of other faiths were converted to Islam, against which the number of young Muslim women converted to other faiths was just 81 (India Today, 4.9.2012). The number of non-Muslim women married into Islam is 33 times more than Muslim women married outside Islam", he wrote.
Further, he called for a paradigm shift in thinking in order to solve this volcanic issue. "The perceived death of organised religions is now an outdated wish", he said theorising that science, which would erode away religion and superstition and demystify the world enchanted by both, would not be able to answer all questions of values and morality.
In a world where religiosity is rising, the contemporary liberal ideas seem outdated and incapable of handling dangerous issues like loving for religion, he noted. A different idea more appropriate than contemporary liberalism, a product of rising irreligiosity in the past, is to be found. The emerging situation, he said does call for an honest, open and bold debate. Will the distorted Indian secularism allow it?
.
.
Dailyhunt
Disclaimer: This story is auto-aggregated by a computer program and has not been created or edited by Dailyhunt. Publisher: News Bharati