Home
What should go for- Covaxin or Covishield?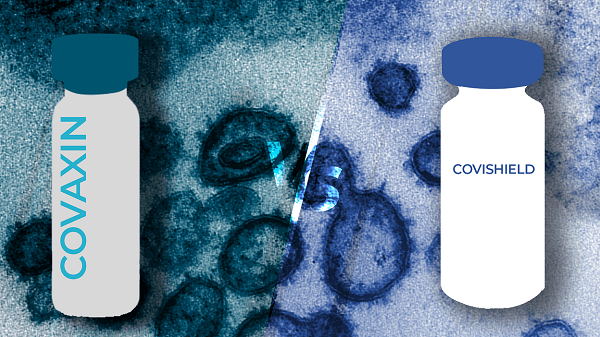 Fourth consecutive day of the COVID-19 vaccine drive and India still is seen in confused state mind for which vaccine to go for Covishield or Covaxin.. its side effects.. allergies and more. India launched the world's biggest vaccination drive with two 'Made in India vaccines- Covishield and Covaxin- against the coronavirus disease which has claimed more than 1 lakh 50 thousand people in the country. Covishield is made by Serum Institute of India (SII) and Covaxin is manufactured by Bharat Biotech.
Three days after India kick-started mass inoculation against COVID-19, Bharat Biotech and the Serum have come out with a fact sheet about the process involved and who should avoid taking the vaccine. According to the fact sheet posted by Bharat Biotech, it is advisable not to take Covaxin if a person has allergies, fever or bleeding disorder, weaker immunity or are on a medicine that affects their immune system.
The factsheet lists side effects that include pain, swelling or itching, fever, malaise, weakness, rashes, nausea and vomiting. With this the recipients are warned of severe allergic reaction that may include difficulty in breathing, swelling of the face and throat, fast heart-beat, rashes all over the body, dizziness and weakness. Earlier, the govt had said that someone who had an adverse reaction to a previous COVID vaccine dose or allergic to any other vaccine, pregnant women and lactating mothers should not take COVID jabs.
Further, individuals who are prioritised under the public health program of the ministry of health and family welfare will be covered under this endeavour. "Informing the individuals about the offer for a vaccination with Covaxin will rest with the respective government program officials. Those offered Covaxin at pre-specified booths will have the options to receive or reject administration of the vaccine," the fact sheet said.
Meanwhile the Serum Institute of India in its factsheet for Covishield said, "People who are severely allergic to any ingredient of COVID-19 vaccine 'Covishield' are advised not to take it."
What more did SII's factsheet say?
Person who has suffered severe allergic reaction after a previous dose of this vaccine should not go for the Covishield. The ingredients of Covishield vaccine are L-Histidine, L-Histidine hydrochloride monohydrate, Magnesium chloride hexahydrate, Polysorbate 80, Ethanol, Sucrose, Sodium chloride, Disodium edetate dihydrate (EDTA), Water for injection, it pointed out. The vaccine recipient should also tell the healthcare provider about all the medical conditions before getting the Covishield vaccine including, if you have ever had a severe allergic reaction (anaphylaxis) after any drug, food, any vaccine or any ingredients of Covishield vaccine.
The recipients should also mention to the healthcare provider, if they have fever, if they have a bleeding disorder or are on a blood thinner and also if they are immuno-compromised or are on a medicine that affects your immune system, it added. Like Bharat Biotech, SII factsheet also says that if a person is pregnant or plans to become pregnant or is breastfeeding she should tell the healthcare provider before taking the jab. The vaccine recipient should also mention to the healthcare provider if you have received another COVID-19 vaccine, Serum Institute said.
So far, a total of 3,81,305 beneficiaries have been vaccinated for COVID-19 in cumulative 7,704 sessions. At least 580 persons so far have reported Adverse Event Following Immunization (AEFI) with majority complaining of fever, headache and nausea, according to the provisional data of ongoing vaccination drive. On Monday, the government had said that no case of serious or severe AEFI attributable to vaccination till date.
Dailyhunt
Disclaimer: This story is auto-aggregated by a computer program and has not been created or edited by Dailyhunt. Publisher: News Bharati