Home
World's largest vaccination drive gets momentum! Over 6.31 lakh people given the COVID-19 vaccine so far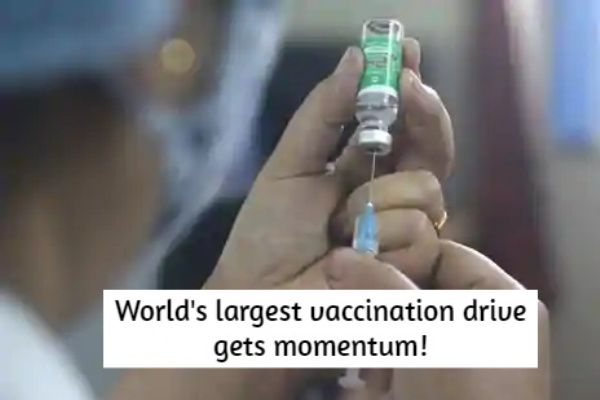 New Delhi, January 19: India's inoculation driver has gained momentum, as India has vaccinated 6.31 lakh healthcare workers since the massive nation-wide vaccination drive has started on January 16. According to the Health Ministry, over 1.77 lakh, people were vaccinated against the coronavirus on the fourth day of the inoculation drive.
Of the 1,77,368 beneficiaries who were administered the vaccine on Tuesday, 80,686 were from Karnataka, 69,405 from Telangana, 58,495 from Andhra Pradesh, 55,138 from Odisha, 42,093 from West Bengal, and 42,085 from Bihar.
"Cumulative total number of vaccinated healthcare workers across the country more than 6.31 lakh. No case of severe or serious AEFI reported in any state today," the ministry added in a statement.
The ministry said so far only nine cases of AEFI (adverse event following immunisation) required hospitalisation. "Only 0.18 percent of beneficiaries developed adverse events following immunisation, while 0.002 percent were hospitalized. The adverse events following immunisation are fairly low. These are the lowest in the world in the first three days," said Union Health Secretary Rajesh Bhushan.
In Delhi, three cases have been discharged whereas one case is under observation at Rajiv Gandhi, Hospital Shahdara. One more AEFI case from Uttarakhand has been discharged. In Karnataka, one person is discharged and. another person is stable and under observation at District Hospital, Chitradurga. In Chhattisgarh also, one person is discharged. In Rajasthan, one case is of suspected anaphylaxis is fine and under observation at District Hospital, Bangar.
Indian drug regulator DGI has approved two vaccines for emergency use - Oxford-Serum Institute's Covishield and Bharat Biotech's Covaxin.
Dailyhunt
Disclaimer: This story is auto-aggregated by a computer program and has not been created or edited by Dailyhunt. Publisher: News Bharati