Top News
Padmanabhanagar: BJP candidate R Ashok set to achieve hat-trick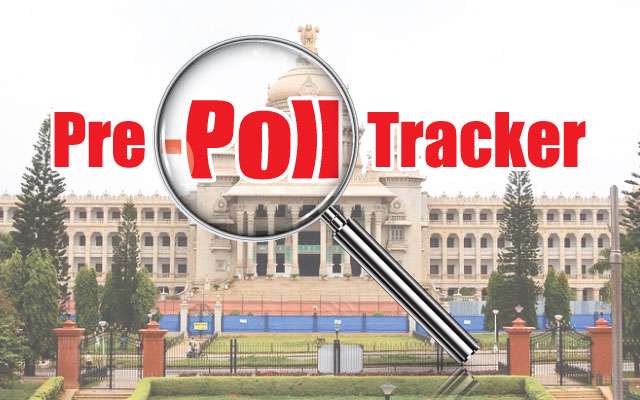 Bengaluru: Padmanabhanagar is one of the important assembly segments in Bengaluru south. At present it is represented by R Ashok of BJP in the State Assembly for the second time. Prior to this, Ashok got elected thrice from the erstwhile Uttarahalli constituency in 1997 (by-election), 1999, and 2004. Padmanabhanagar Assembly constituency is carved out of Uttarahalli constituency.
In 2008, BJP candidate R. Ashok contested from Uttarahalli and defeated Congress candidate Gurappa Naidu with a huge majority of 39,402 votes. While Ashok has got 61,561 votes, Gurappa Naidu has managed to get only 22,159 votes.
Ashok again proved his popularity among the voters of Padmanabhanagar by getting elected to the State Assembly in 2013 too. He defeated Congress candidate Chetan Gowda L.S., the son of veteran politicians L.R. Shivarame Gowda, by a margin of 20,123 votes. Ashok's total number of votes has come down in 2013 at 53,680 votes as against 61,561 in 2008. Congress candidate got 33,557 votes while BJP candidate polled 53,680 votes. The JD(S) candidate Dr. M.R.V. Prasad was in the third place with 26,272 votes.
"The reason for the BJP candidate's success in the Assembly elections is the domination of Brahmin and Vokkaliga voters in this Assembly constituency. There are around 40,000 Brahmins and more than 35,000 Vokkaliga voters here. While the Brahmins are traditional voters of BJP, Vokkaligas support Ashok who is a Vokkaliga,'' says Sreekanth Srinivasa, a resident of Padmanabhanagar.
The other advantage for the BJP is the proactive attitude of Ashok who is always in the news for one reason or the other. "Let it be a BJP state unit meeting or any protest, Ashok will be in the forefront. He interacts with the voters,'' opines Karunesh S, a resident of Banashankari.
This constituency comprises eight Bruhat Bengaluru Mahanagara Palike (BBMP) wards such as Padmanabhanagar, Ganesha Mandira, Yediyur, Hosakerehalli, Karisandra, Banashankari Devasthana, Kumaraswamy Layout, and Chikka Kallasandra.
Among the eight wards, seven are represented by BJP corporators such as Rajeshwari Cholaraja K (Hosakerehalli), D.H. Lakshmi (Ganesh Mandira), Yashoda I (Karisandra), Poornima Ramesh (Yadiyur), L Srinivas (Kumaraswamy Layout), Shobha Anjanappa (Padmanabhanagar), and Supriya Sekhar (Chikka Kallasandra) in the BBMP Council while Congress corporator Ansar Pasha S represents Banashankari Devasthana ward.
The constituency also has many lower middle class and slum areas which are a picture of neglect without even basic amenities and access to healthcare. Places like Katriguppe, Ilyasnagar, Kaverinagar, Hittamandu and Umar Bagh are typical examples of this. Mosquito and dog menace is rampant here.
"We want our elected representative to pressurize the BMBP authorities to fix infrastructure and health-related problems as early as possible,'' complains Krishne Gowda, a resident of Banashankari.
Meanwhile, BJP activists and corporators are confident of their leader romping home again in 2018 State Assembly elections. "It is true our leader Ashok's margin of votes was less compared to the votes he got in 2008. There was a split among Brahmin voters since JD(S) had fielded Dr. M.R.V. Prasad who belongs to Brahmin community. With Prasad has already joining BJP, there will be no stiff competition for Ashok during the next Assembly election,'' said Rajeswari Cholaraj K, corporator of Hosakerehalli ward.
If the above factors any indication, it seems nothing will stop BJP candidate Ashok achieving a hat-trick from Padmanabhanagar in 2018.
Dailyhunt
Disclaimer: This story is auto-aggregated by a computer program and has not been created or edited by Dailyhunt. Publisher: News Karnataka