Top stories
Second COVID wave coming? Health officials ask leaders, party workers to self isolate in Hyderabad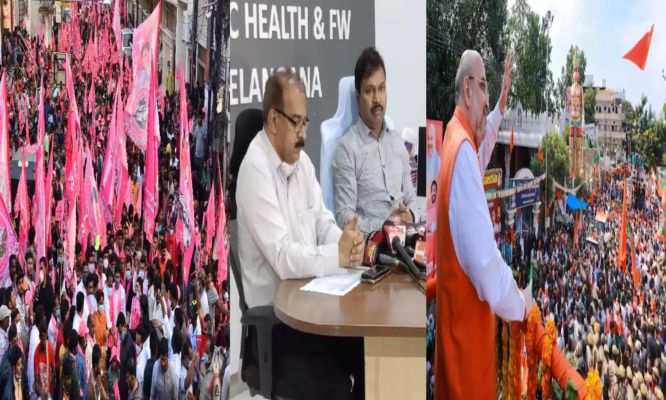 Hyderabad: Telangana Public Health Department had cautioned people of a possible outbreak of the second wave of Covid 19 in the state, especially in Hyderabad city area, in view of the just-completed GHMC elections.

Dr. Srinivasa Rao, Director of Public Health, Telangana, suggested that all the leaders, party workers, who had participated in the GHMC elections, to go into self-isolation for one week. All those having any suspicion or symptoms also need to get tested.
"Do not become a reason for the second wave outbreak," he cautioned.
Though the virus is under complete control in Telangana, its presence should not be ignored given the cold weather conditions and recently concluded GHMC elections.
"During the election, all political parties have campaigned vigorously and people also participated in large numbers. We need to follow the measures more strictly now. All those who took part in the elections in one way or the other are requested to be in isolation for a week. Do not be a reason for the second wave outbreak, unknowingly. Do not step out of the home unless it is an emergency. Any suspicion or symptoms get tested without any delay," urged Dr. Rao.
Citing the example of Jagtial district, which witnessed a sudden spike in the Covid 19 cases due to marriages and large gatherings, Dr Rao urged people not to take pandemic lightly and take all precautions.
"Covid threat is not over yet. Wear a mask covering your nose and mouth completely. Only a mask can give 90 percent protection. Wash hands frequently and follow physical distancing," he said.
He said 65,000 tests are conducted every day in the state. Free testing is being conducted at 1096 Government centers. In addition, 50 more centers would be ready soon. 300 mobile testing vans are also conducting tests. People can contact 104 or 040-24651119 for any queries related to Covid 19.
So far, over 55.21 lakh tests have been conducted in Telangana and over 2.70 lakh have come back positive. Around 1,49,156 tests have been conducted per million. The positivity rate has come down drastically from 23 percent to 1.1 percent.
Director of Medical Education Dr. Ramesh Reddy said that the second wave may hit if SOPs are not followed. "All those who did not follow SOPs during the GHMC elections, are most likely to get infected" he said.
Earlier, there were 900 patients admitted to Gandhi hospital. It has come down to 135 cases at present. The number of cases may rise if precautions are not followed.
"90% of beds are vacant. 62 government hospitals are providing treatment to Covid 19 patients. All PHCs are equipped with Oxygen cylinders and 1600 ventilators are also available. Without cooperation from the public, it is not possible to avoid the second wave. Those infected are coming to hospitals with other health complications even after two months. Those tested positive need to be under doctor's supervision for 3 months. To avoid all these complications, the best way is to protect from getting infected," Ramesh Reddy said.
Arrangements for vaccine underway:
Telangana and Rajasthan have been selected for conducting a dry run of the vaccine. "It has already begun and a central team is conducting the dry run at PHC in Boggulakunta. A list for first phase vaccine distribution has been made. After three weeks of administering the first dose, a second dose will be given. It will have effect for nine months. So it will take time to supply vaccines to everyone," the officials said.
Dailyhunt
Disclaimer: This story is auto-aggregated by a computer program and has not been created or edited by Dailyhunt. Publisher: News Meter English