National
India-China faceoff: Indian Army bolsters deployment in northern Ladakh to counter Chinese moves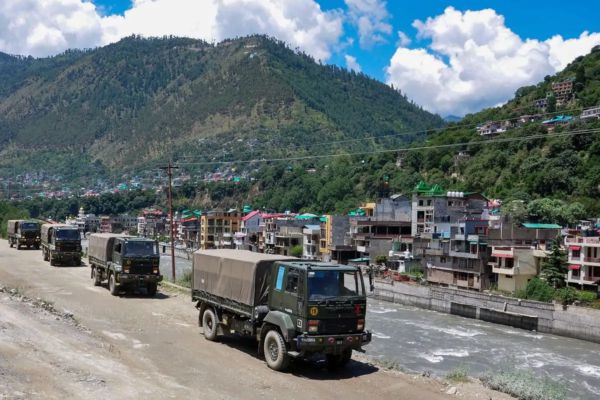 Leh: India has made heavy deployment of tank regiments and troops for countering the buildup by the People Liberation Army (PLA)
opposite Daulat Beg Oldi (DBO) and Depsang plains in northern Ladakh.
China has deployed more than 17,000 troops along with armored unites at Despang Plains and DBO. The Indian Army had deployed a mountain brigade and an armored brigade to guard the entire area before the Chinese started their road construction work opposite the DBO and Depsang area.
"We have done a very heavy deployment of troops and tanks in the DBO and Despang Plains area including the T-90 regiments which are part of an armored division," government sources were quoted as saying by ANI.
India made its deployment from the Patrolling Point 1 in Karakoram Pass to the Depsang Plains. China has amassed almost 17,000 troops in this region since April. They have been blocking Indian patrols from Patrol Point 10 to Patrol Point 13, according to a source as quoted by Economic Times.
The Chinese would find it difficult to operate if they try out any misadventure, said the officials.
With more than 15,000 troops and several tank regiments, the Indian Army is prepared to tackle the threat from China in the area. The Chinese intended to build a road from their TWD battalion headquarters opposite of the DBO sector to the Karakoram pass region in order to connect the PLA units in that region.
The Chinese have had plans to construct this road for a long time, but have failed every time they tried. This road would have helped the Chinese troops to reduce the current 15-hour driving time through the Highway G219 in their territory to the Karakoram pass to just a couple of hours.
Apart from this, the Chinese had also built a small bridge over a mountain stream inside Indian territory near PP-7 and PP-8 which was destroyed by Indian soldiers a few years ago.
Currently, India and China are engaged in military level dialogue over the disengagement from the Finger areas and other frictional points in Depsang Plains along with the DBO areas.
"At present, we are in a position of strength in the Depsang Plains and DPO area now and we are not in a hurry to discuss that with the Chinese. Let the disengagement first take place and then we can talk about de-escalation there too," Economic Times quoted an official as saying.
As of now, the PLA is showing reluctance to withdraw at the Fingers area and they have built an observation post at Finger 5. The Indian side wants the PLA to move back to their original positions beyond Finger 8 while the Chinese are claiming the entire area till Finger 2.
Dailyhunt
Disclaimer: This story is auto-aggregated by a computer program and has not been created or edited by Dailyhunt. Publisher: news24online