Home
Pitru Paksha Shraadh 2021: Start and end dates, everything you need to know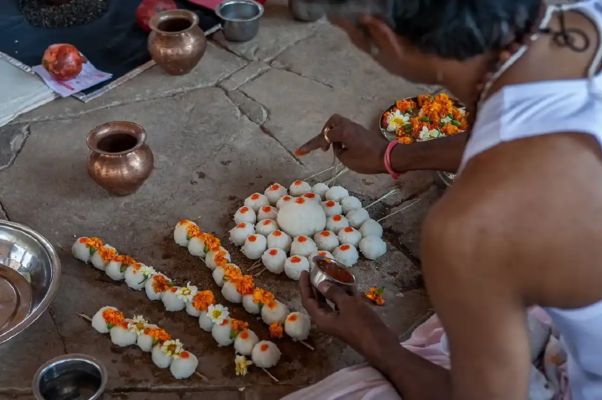 New Delhi: Sixteen days Shraadh starts from the full moon of Bhadrapada Shukla Paksha, this year they will start from 20th September and will end on Wednesday, 6th October, on the new moon of Ashwin month. Shraadh is also known as Mahalaya or Pitru Paksha. According to Acharya Indu Prakash, the word 'Shraddh' is derived from 'Shraddha,' which means reverence for ancestors.
Padhas are the parts of our ancestors in the blood flowing within us, due to which we are indebted to them and to pay off this debt, 'Shraadh Karma' is performed. The sperm of the father, with which the soul enters the mother's womb, has 84 degrees, of which 28 degrees are earned from the man's own food and 56 degrees belong to the former men. Of them also 21 belong to his father, 15 to his grandfather, 10 to his father, 6 to the fourth man, 3 to the fifth man and one to the sixth man. In this way, there is the unity of blood of all the ancestors of the lineage for seven generations, so Shraadh or 'Pind Daan' is mainly given to the ancestors up to three generations. The work done during Pitru Paksha not only gives peace to the soul of the ancestors, but the doer also gets freedom from the debt of the ancestors.
What is Shraadh?
The charity we do for our ancestors during these days is called Shraadh. According to the scriptures, those who have died, all come back to the Earth in their subtle form in these days and accept the love and donations of their families.
START
Pitru Paksha is starting from 20th September 2021 and will end on 6th October.
DATES
First Shraadh- Poornima Shraadh: 20 September 2021, Monday
Second Shraadh- Pratipada Shraadh: 21 September 2021, Tuesday
Third Shraadh- 22 September 2021, Wednesday
Tritiya Shraadh- 23 September 2021, Thursday
Chaturthi Shraadh- 24 September 2021, Friday
Mahabharani Shraadh- 25 September 2021, Friday
Panchami Shraadh- 26 September 2021, Saturday
Shashti Shraadh- 27 September 2021, Monday
Saptami Shraadh- 28 September 2021, Tuesday
Ashtami Shraadh- 29 September 2021, Wednesday
Navami Shraadh (Matrinavami)- 30 September 2021, Thursday
Dashami Shraadh- 01 October 2021, Friday
Ekadashi Shraadh- 02 October 2021, Saturday
Dwadashi Shraadh, Shraadh of monks, yeti, Vaishnavites- 03 October 2021
Trayodashi Shradh- 04 October 2021, Sunday
Chaturdashi Shraadh- 05 October 2021, Monday
Amavasya Shraadh- 06 October 2021, Tuesday
It is said that when Karna died in Mahabharata and his soul reached heaven, he was given gold and ornaments to eat instead of normal food. Frustrated by this, Karna's soul asked Indra Dev the reason for this. Then Indra told Karna that you donated gold ornaments to others throughout your life but never to your ancestors. Then Karna replied that he did not know about his ancestors and after hearing him, Lord Indra allowed him to return to Earth for a period of 15 days so that he could donate food to his ancestors. Since then this period of 15 days is known as Pitru Paksha.
Dailyhunt
Disclaimer: This story is auto-aggregated by a computer program and has not been created or edited by Dailyhunt. Publisher: news24online