Business
Impact Investors Council Hosted Second Edition of Prabhav; Setting the Tone for the Next Wave of Impact Investing in India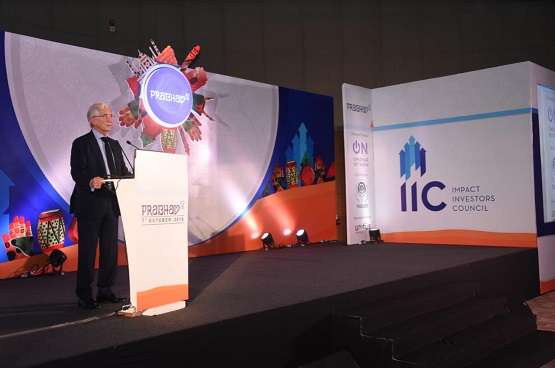 Hosted by the Impact Investors Council, Prabhav 2018 hosted around 150 LP-GP meetings; attended by more 300 delegates from various parts of the world
Sir Ronald Cohen (GSG), Dr. Rajiv Lall (IDFC Bank), Ms. Roopa Kudva (Omidyar Network), Ms. Geeta Goel (Dell Foundation) and Mr. Vivek Pandit (McKinsey) among prominent speakers
India's only impact investing industry body Impact Investors Council (IIC) kicked off its second edition of impact investing conference Prabhav 2018 (7th - 10th October) in New Delhi. Prabhav was attended by more than 300 delegates from India and other countries including over 50 global impact investors.
The conference aimed to showcase how Impact Investing in India goes hand in hand with Sustainable Development Goals (SDGs) of the United Nations. Over 100 meetings were conducted between Limited Partners (LPs) and General Partners (GPs) from India, the US, Japan and Europe.
The inaugural session was chaired by Sir Ronald Cohen, Chairman, Global Social Impact investment Steering Group (GSG), where he spoke of impact investment's crucial role in inclusive growth in India and how it will help achieve the United Nations Sustainable Development Goals (SDGs).
The session was further addressed by key speakers Ms. Geeta Goel, Country Director, Dell Foundation and Chairperson Impact Investors Council, Ms. Roopa Kudva, Partner, and MD, India, Omidyar Network; Mr. Vivek Pandit, Director, McKinsey & Co.; and Dr. Rajiv Lall, Founder Managing Director & Chief Executive Officer, IDFC Bank.
Ms. Geeta Goel, Country Director, Dell Foundation and Chairperson Impact Investors Council said, "Prabhav 2018 have established itself as the largest global platform of LP-GP meetings in Impact investing space, over the course of 2 to 3 days between IIC Prabhav and GSG summit, over 200 LP-GP meetings have been arranged and the feedback we are getting is that the these meetings being held in India actually makes the decision much closer to the ground and much more important."
Ms. Roopa Kudva, Partner, Omidyar Network said, "The growing influence of and attendance at Prabhav is testimony to the appetite of the impact investment community in India to constantly learn from each other and from those around the world. I also hope that as a result at forums like this, we see more partnerships between Indian and global partners to serve and benefit those who have been traditionally underserved, excluded and disempowered."
Dr. Rajiv Lall, Founder Managing Director & Chief Executive Officer, IDFC Bank said, "The sooner we all realize that returns are not just about financial returns but about also making a difference to the society, the sooner we realize the importance of our businesses and the continuation to delivering social returns the better off and more sustainable we will be, specially in India where capitalism, markets still do not have full legital credibility and belief amongst the general public, it is vitally important to those of us who believe in the power of markets to expand the horizon of market participants to think about things other than just pure financial returns that is the importance of Impact investing and that is why it is the future."
Mr. Vivek Pandit, Director, McKinsey & Co. said, "IPCC findings serve as a reminder of the urgency of the climate change agenda. If we are to mobilize our resources at scale to meet the SDGs, we will require a shift to "impact economies" where countries and companies develop impact accounts. It's no longer sufficient to talk about what we need to do more of. It's time to understand what we all need to do less of."
During Prabhav, there were nine parallel sector tracks meetings which focused on the issues of housing, agriculture, education, financial inclusion, energy, affordable health, skilling, sustainable cities, women empowerment and impact measurement. The key topics which was discussed during these meetings were No Poverty through Financial Inclusion, led by Royston Braganza - CEO, Grameen Capital; Zero Hunger and Food Security led by Hemendra Mathr - Venture Partner, Bharat Innovation Fund; Good Health and Wellbeing led by Mr. Krishnan Neelkanthan,​ Senior Director, Ankur Capital;Gender Equality & Women's Economic Empowerment led by Kartik Desai, Executive Director, Asha Impact; Quality Education: Decent work and Economic growth led by Namita Dalmia, Principal - Investments, Omidyar Network; Clean water and Sanitation led by Mark Peters, Water, Sanitation & Hygiene Team Lead, USAID; Affordable and Clean Energy led by Avishek Gupta - Investment Director, Caspian; Sustainable Cities and Communities led by Mr. Ajit Pai, Consultant, Vice Chairman, Niti Aayog and Impact Measurement led by Dr. Emily G Wright - Fellow - Global Economy and Development, Center for Universal Education.
During Prabhav 2018, IIC also organized grassroots immersion tours to social enterprises across New Delhi and Bangalore, where successful impact investing has helped improve the lives of underserved beneficiaries. The international delegates from Brazil, Australia, Germany, Japan, UK and the US had a fabulous time interacting with the real heroes of India, the Social Entrepreneurs. In Bangalore the delegates met Address Health, Milaap, Saahas Zero Waste and Cropin. In Delhi they visited Kamatan, Blowhorn, Avanti and Leapskills Field. The Prabhav'18 delegates represented the following organizations: Edvance Group, Deloitte, Fundacao Tide Setubai, ICE, QBE group investments, Fondazione Rava, TRIODOS, Ernest & Young, Elevar Equity and Lemelson Foundation.
About the Impact Investors Council
Impact Investors Council (IIC) is the industry association of Impact Investors in India. Impact Investors are financial investors who invest in social enterprises to deliver social (and environmental) impact to the poor in sectors such as Agriculture, Financial Inclusion, Affordable Education & Healthcare, Water & Sanitation, Clean Energy, Livelihoods, etc. Impact Investors use the power of both financial markets and social entrepreneurship to deliver such impact. IIC seeks to develop the impact-investing sector in India by focusing on impact measurement & standardization, research & policy support and self-regulation. IIC is a Section 8 company and can be found at http://iiic.in/.
Dailyhunt
Disclaimer: This story is auto-aggregated by a computer program and has not been created or edited by Dailyhunt. Publisher: Newsvoir