World
Bird-attack! Angela Merkel pecked at by parrots on park trip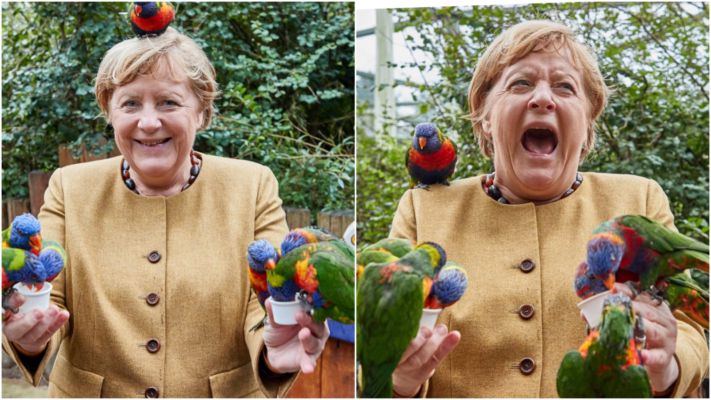 With Germany on the cusp of federal elections, German Chancellor Angela Merkel, who has decided to step down from the top post, is busy having fun. Merkel was on a trip to a bird park in Germany to spend some quality time in the company of nature. But her bird park trip, which started out great, eventually turned into a scare-fest when Merkel, the Germany's leader of 16 years and the European Union's symbol of stability, went to feed the lorikeets.
Angela Merkel's struggle with the birds was caught on camera and the internet has had a field day seeing the stateswoman in a never-before look. Memes and jokes around Merkel's bird park visit have flooded the internet.
Also Read | Floods, books and kids: Highlights of German election campaign
The 67-year-old leader was on a farewell tour of her home constituency in Mecklenburg-Western Pomerania where she was campaigning for the centre-right Union bloc's candidate. It was there that Merkel decided to visit the Vogelpark Marlow bird park. And what happened to the German chancellor at the bird park is for all to see.
At first, everything seemed fine. Merkel clicked a few candid shots with the birds who were seen perched on her hands as well as her head smiling brightly. But soon, things took a turn for the worse. The colourful parrots started eating 'lori nectar' from a paper cup and then one of the birds pecked the leader of Germany. The pictures were captured by George Wendt, a photographer with the DPI news agency.
Also Read | Afghan crisis: Criticising West, Pope misattributes Putin quote to Merkel
Just as the pictures were shared on social media, memes started flowing in. While to some users, Angela Merkel's pictures reminded them of Alfred Hitchcock's 1963 film "The Birds" others said Merkel's pictures with the birds, first happy and then scared, embodies the spirit of the week they had. Memes, of course, flooded the internet.
I feel like Angela Merkel, photographed today in Germany with Australian lorikeets, is embodying the week we've all had. pic.twitter.com/aqXqXUOuQ1

— michelle griffin (@michellegriff) September 24, 2021
"Hope this e-mail finds you well"

How the e-mail finds me...#merkel pic.twitter.com/VIFAlZqAnO

— Maria do Acaso (@fruto_do_caos) September 24, 2021
Me sowing, me reaping. https://t.co/M3UI18pycL

— Fiona Longmuir (@fionalongmuir) September 24, 2021
Germany is going to polls on Sunday, September 26 to elect its next federal government. Following the polls, Angela Merkel is expected to lead the interim government before the newly-elected government can take over charge. Climate change and action against the worst impacts of it have been the mainstay of the German electioneering this time.
Dailyhunt
Disclaimer: This story is auto-aggregated by a computer program and has not been created or edited by Dailyhunt. Publisher: Opoyi English