Promoted
Muhurtham Collection: For the Princess's big day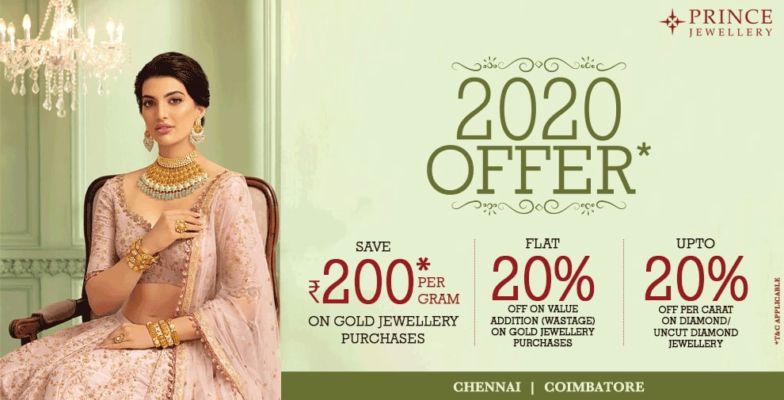 With a jewellery heritage spanning more than 89 years, Prince Jewellery is one of the most trusted names in the jewellery industry. From humble beginnings, in 1933, the brand is a name synonymous with designs, and quality to match, the brand has been part of many lives precious occasions. Like many await the herald of the new festive season , Prince is all set to welcome the spirit of the season with its new collection.
The time when every nook and corner of the town is lit up and the markets are prepped up for the customers. While there are many items on the customers wish list, buying jewellery for the loved ones remains on everyone's list of things to buy this season.
The Bridal Season is here and the new Prince Jewellery Bridal collection is as well. Prince Jewellery unveiled its new Bridal Collection in Gold and Diamond for the season 2019-20. With the onset of the new festive season, it was the right time for the collection to be launched.
Muhurtham Collection: For the Princess's big day
When it comes to Bridal Jewellery, big is this year. Large size rings are in for the Brides. Crafted in gold and adorned with uncut diamonds or plain or with precious stones, Choices galore. Chandelier Jhumkas with a South Indian touch is another of Brides favorite this year. Some studded with uncut diamonds or for Brides who like it plain, there is gold. Prince has the right combination for the modern day bride with a range When it comes to necklaces, long necklaces are back in vogue. So are the multi-layered necklaces with a long Gold chain followed by uncut necklace followed by a choker. The long chains come with big pendants this year, some engraved with pictures of Goddesses. For the sangeeth and engagement, Kundan and uncut diamonds take center stage with pearl necklaces to go with the colorful outfit. Mix it up and add some colour to the festivities with Kundan and precious stone collection. The maang tikka range is worth mentioning, as Prince Jewellery brings back some of the vintage styled yesteryear design for the Brides. In Plain gold and in uncut diamonds, they are the perfect accessory for the bridal hair.
Crafted by in house design team and crafted with care, the new Prince Bridal collection is a blend of what is in vogue this season carefully curated and put together keeping the needs of the modern day Indian Bride.
For those who would want to keep it light and stylish, there is the new lightweight collection in gold and diamond for the modern day bride. In Bangles, necklaces, earrings, chockers and coordinated sets for those who like to keep in classy and understated. Known for its unique designs and new age designs, the lightweight collection is a big hit among the Brides and Bridesmaid. Affordable, chic and elegant, they are the best buy for the season when the gold prices are volatile.
Ancient Secrets ; For the love of tradition: Secrets from a bygone era:
Prince Jewellery was the first in reviving the interest in antique jewellery through its annual event, when it was all but forgotten. ''Ancient Secrets'', since 1999 in Chennai. Sourced from all over and put together by meticulously by Sheeba Prince, the collection is one which will be cherished by generations. From ornaments for the head – to rakodi and chutti, ear and neck pieces, Oodiyanam (waist belt) to bangles and bracelets, from all over India, Prince Jewellery has put together an enviable collection that connoisseurs will recognise for authenticity, intricacy and elegance. The annual festival held every August attracts jewellery connoisseurs young and old alike
Tia: stylish, elegant and affordable:
Not too loud yet hard to ignore;For working women and college students, Prince Jewellery launches its season new Tia collection. Ideal for gifting and easy on the pocket, the Tia collection has small chains, bracelets and earrings and affordably priced. Crafted in-house Tia is crafted to meet the needs of the modern day women.
Silver Collection:
When celebrations are in order, Silver is not far behind. Prince Silver comprising of - Pooja items and décor – be it lamps in varying sizes, silver plates, bowls and more.
No occasion is complete without silver articles. Also in the stores are idols of your favourite Gods and Goddesses!
So if shopping for jewellery is in on the list Prince Jewellery is one destination worth checking out this festive season. 'There is something for everyone this season" says Joseph Prince Director, Prince Jewellery. The kind of jewellery which will complete your look this festive season. New collection and offers to go with it.
Dailyhunt
Disclaimer: This story is auto-aggregated by a computer program and has not been created or edited by Dailyhunt. Publisher: Promoted