India
Despite Fury Over His Movie-watching Amid Bihar's Floods, Deputy CM Sushil Modi Breaks Silence Only To Praise The Film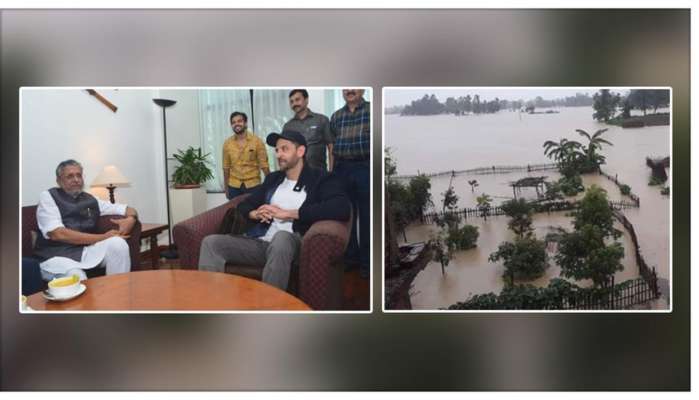 Hack:
67 people have died and lakhs are affected on account of the Bihar floods
Deputy CM Sushil Modi was active on Twitter posting about Super 30
This brazen behavious is continuation of what he did during Encephalitis crisis in Bihar
Even as many as 16 districts of the state of Bihar reels under flood as a result of rise in water levels in rivers and water released from Nepal through the Kosi barrage, Bihar;s Deputy minister Sushil Modi is busy appreciating the acting skills of actors in the Hrithik Roshan starer movie Super 30. Even though movie is about a man from Bihar - Super 30 founder Anand Kumar and the government claims that it will inspire people, the insensitivity of the minister to tweet on everything apart from the disatrous flood situation in the state cannot be overlooked. Moreover ministers of Bihar govt claims that he should not be judged by 2 hours of movie.
In a series of tweet, Deputy CM Sushil Modi on July 18 reiterated that the Super 30 is a must watch movie and it is now tax free in the state.
बिहार सरकार ने सुपर-30 फिल्म को टैक्स फ्री कर दिया है। सुपर-30 फिल्म के अभिनेता ऋत्विक रौशन, पंकज त्रिपाठी समेत सभी कलाकारों ने उम्दा और उत्कृष्ट अभिनय किया है। बिहार के 30 बाल कलाकारों के जीवंत अभिनय ने फिल्म में जान डाल दी है।

- Sushil Kumar Modi (@SushilModi) July 18, 2019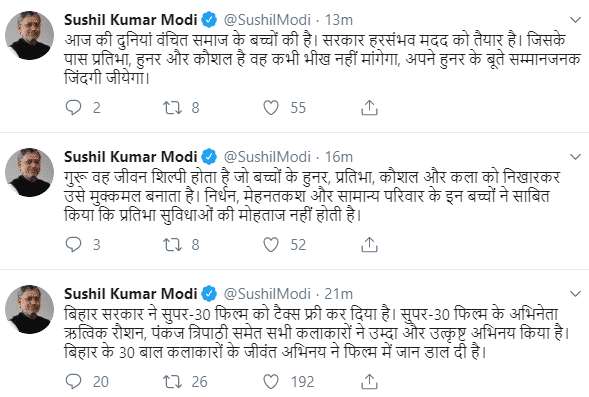 Flood situation in the state:
Around 25 lakh people have been displaced in 16 districts of Bihar that are affected by floods. Extreme rainfall in Nepal, and massive discharge of water from rivers have led to flood situation in the state.
An official report by the Disaster Management Department 13 teams of NDRF and SDRF have been deployed to carry out relief and rescue operations in the affected districts. The authorities have also opened 152 relief camps giving shelter to 45,053 people, while 251 community kitchens have been made functional.
The chief minister held a high-level meeting to review the flood situation. Later, he conducted the aerial survey of flood-affected areas of Darbhanga, Madhubani, Sheohar, Sitamarhi and East Champaran districts.
Water Resources Minister Sanjay Jha, Chief Secretary Deepak Kumar, Additional Chief Secretary (Water Resources department) Arun Kumar and Disaster Management Department Principal Secretary Pratyaya Amrit accompanied Kumar during the aerial survey.The Patna Meteorological Centre has forecast rain with thunderstorm at many places in Bihar in the next four days. Chief minister Nitish Kumar announced that the state government would start disbursing Rs 6,000 as gratuitous relief to each family affected by the deluge through direct benefit transfer (DBT) from Friday onwards. In a shocking incident, a newly constructed bridge collapsed in Darbhanga district of Bihar. Sources said that it happened due to heavy rainfall.
Shameless defence
The Bihar government has dismissed the criticism over Sushil Modi being seen watching the movie. State minister Shyam Rajak said "ing films is a personal matter. The government is working for the people." The RJD, meanwhile was not willing to accept the defence and criticised the Nitish Kumar-led government: "It is clear that despite the dire conditions because of the floods, where people have died, the government is busy watching films. The government doesn't care," an RJD spokesperson said.
Repeat of behaviour after Encephalitis Death
On June 26, Deputy Chief Minister Sushil Kumar Modi meet with Miss India 2019 Suman Rao and posted pictures with her amid the rising death tolls in the state due to Acute Encephalitis Syndrome.
5 देश रत्न मार्ग स्थित कार्यालय में मिस इंडिया यूनाइटेड कॉन्टिनेंट्स 2019 का खिताब जीतने वाली बिहार की श्रेया शंकर ने शिष्टाचार मुलाकात किया। pic.twitter.com/pfql0GCjGR

- Sushil Kumar Modi (@SushilModi) June 25, 2019
On June 19, Deputy CM of Bihar Sushil Modi visited the hospital in Muzaffarpur. However, when reporters asked him to speak on the issue, he maintained his silence and evaded the question. The reporter asked: "Children have died today also, it about the lives of children, what do you want to say, what is the government doing"?
However, Sushil Modi did not respond and later his a minister said that he has taken into account all the situations in the hospital. Later in a press conference, he says to all the reporters that those who want to ask on children's issue, then they can leave the room. "If the reporters want to ask questions on children, please go out and then ask", Deputy CM of Bihar Sushil Modi said.
Dailyhunt
Disclaimer: This story is auto-aggregated by a computer program and has not been created or edited by Dailyhunt. Publisher: Republic TV English