India
Kulbhushan Jadhav Verdict | Congress Pours Water On India's Win over Pakistan At ICJ, Asks 'What If?' Despite Harish Salve Having Already Answered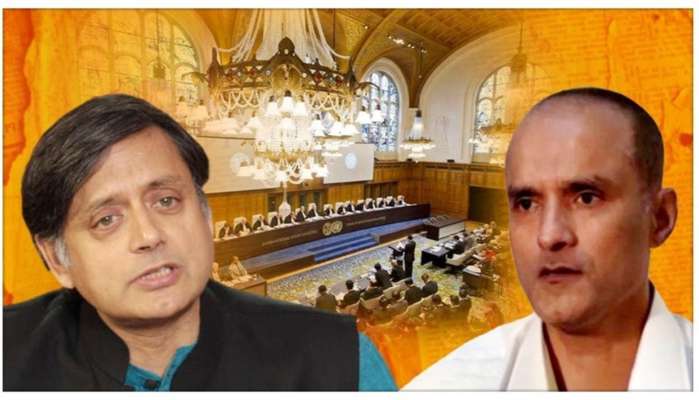 Hack:
Congress MP Shashi Tharoor has questioned the government over the ICJ's judgment in the Kulbhushan Jadhav case
The ICJ announced its verdict in the Kulbhushan Jadhav case on Wednesday, suspending his death sentence and ordering Pakistan to grant India immediate consular access
The Congress on Thursday altered its stance on India's big win in the Kulbhushan Jadhav case at the ICJ, with party MP Shashi Tharoor choosing to question the government over Pakistan's own claim of having got the better of the verdict. Speaking to media outside Parliament on Thursday, Shashi Tharoor echoed Pakistan's Prime Minister Imran Khan in putting forth that Pakistan's conviction of Jadhav wasn't annulled and he hadn't been repatriated.
Citing this, he asked the government on how they would be positioning themselves in case Pakistan reaffirms its original judgement even after the review.
"There has been some unseemingly crowing in Pakistan that on many other key points, the ICJ did not uphold our point of view. For example, the ICJ did not annul the proceedings of the court even though they were unfair. The ICJ did not object to either the verdict or the sentence, it merely stayed the sentence and asked the Pakistanis to review their judgement. This is a question that concerns many people in India and we wanted further clarification from the government as to how they would be in a position to deal with the situation if indeed Pakistan simply reaffirms its original judgement claiming that they have conducted a review or whether there is a possibility of appealing to the ICJ to review these parts of its judgement," Tharoor said.
Further speaking over the decision, Tharoor said his colleagues and his Congress party welcomed the judgement, and said that they are hoping for Jadhav's release. He said:
"My party, my colleagues and the entire Opposition welcomes the news and celebrate the decision which by enlarge upholds the Indian case that the proper consular access was not granted to Kulbhushan Jadhav. And we are really hoping and praying for his release."
However, Tharoor's remarks don't portay what former Home Minister P Chidambaram had said in the immediate aftermath of the verdict:
ICJ delivers 'justice' in the true sense of that word, upholding human rights, due procedure and the rule of law

- P. Chidambaram (@PChidambaram_IN) July 17, 2019
A 15:1 verdict is actually a unanimous verdict

- P. Chidambaram (@PChidambaram_IN) July 17, 2019
'We Call On Pakistan To Release & Repatriate Kulbhushan Jadhav,' Says EAM Jaishankar In Parliament
In a big diplomatic win for India, the International Court of Justice (ICJ) on Wednesday announced its verdict on the Kulbhushan Jadhav case, allowing India's immediate consular access to Jadhav, and demanding Pakistan to review and reconsider its conviction and sentence. In its order, the ICJ 'unanimously' sided with India on eight out of eight counts, ranging from Pakistan's objection to India invoking the world court, to granting India consular access to Jadhav, to upholding the stay on Jadhav's death sentence till a review.
While addressing the press briefing following the verdict, India's senior counsel Harish Salve was asked over the situation if Pakistan's 'effective review and reconsideration' of its conviction leads to the same result, and he said that Pakistan has been told that a repeat of its quasi-judicial antics was unadvisable. He also stressed that the international court had told Pakistan that legislative measures may also be applied to guarantee a fair trial.
"They've said a fair trial in accordance with Pakistan's constitution. If it is back in military court where outside lawyers are not allowed, evidence isn't allowed, then it's not a fair trial," Salve said.
Dailyhunt
Disclaimer: This story is auto-aggregated by a computer program and has not been created or edited by Dailyhunt. Publisher: Republic TV English