Home
Yamuna flows above danger mark, rail traffic over Old Yamuna Bridge temporarily suspended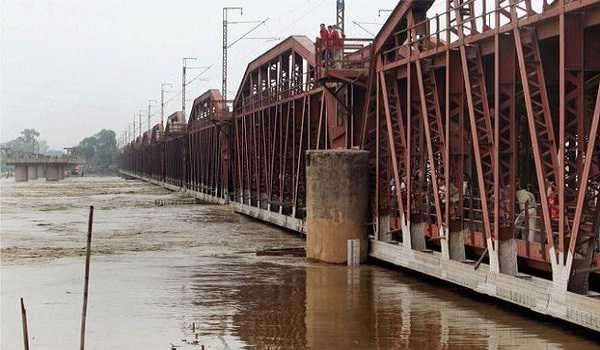 New Delhi: The water in Yamuna reached 206.60 meters on Wednesday morning, crossing the danger mark at 205.3 meters. According to sources, after Haryana released more water from Hathni Kund on Monday, the water level is likely to cross 207 meters, between 1300 hrs to 1700 hrs on Wednesday. According to a Northern Railway spokesperson, the rail traffic over Old Yamuna Bridge ( Loha Pul) has been temporarily suspended. As a result, the 18101 Tatanagar-Jammu Tawi Muri Express and 15483 Alipurduar - Delhi Sikkim Mahananda Express trains journey commencing on 19.08.2019 will be diverted to run via Sahibabad - New Delhi - Delhi Jn. The 19032 Haridwar - Ahmedabad Yoga express, 14555 Bareilly - Delhi express, 14043 Kotdwar - Delhi Garhwal express, 64609 Ghaziabad - New Delhi EMU, 14674 Amritsar -Jay Nagar Shaheed Express, 14218 Chandigarh-Prayag Unchahar Express, 14724 Bhiwani - Kanpur Kalindi Express, 15013 Jaiselmair - Kathgodam Ranikhet Express, 54076 Delhi - Shahjahanpur passenger, 14056 Delhi Jn - Dibrugarh Brahmputra Mail and 14384 Delhi Jn - Malda Town Farakka Express, commencing journey on August 20 have been diverted to run via New Delhi - Sahibabad. Haryana has released the maximum amount of water from the Hathni Kund barrage, in the last 40 years. Evacuation operations are underway along the low-lying areas on the banks of the river.
More than 10,000 people, who were living on the banks of the river, have been moved to the tents and camps, set up by the government. On Monday, the old iron bridge across the river had been closed for rail and road traffic, while trains on the route had been diverted. The Delhi Disaster Management Authority (DDMA) chairperson and other officials were present on different sites of the camps, monitoring the evacuation. More than 30 boats from the boat club have been stationed at sensitive locations.
Dailyhunt
Disclaimer: This story is auto-aggregated by a computer program and has not been created or edited by Dailyhunt. Publisher: Royal Bulletin English