Home
104 Students graduate in IIT Tirupati's First Convocation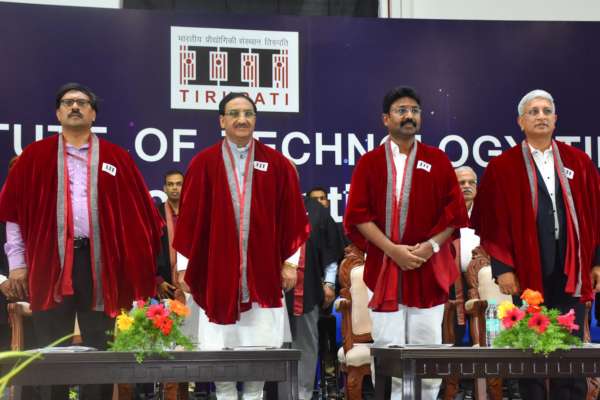 Tirupati, 13th August 2019: A total of 103 B.Tech. Students and One M.S. degree Student graduated in the first Convocation of Indian Institute of Technology Tirupati, Andhra Pradesh, held today (13th August 2019).
This Historic Occasion also witnessed another momentous event as Hon'ble Minister of Human Resource Development (MHRD) Shri. Ramesh Pokhriyal 'Nishank' inaugurated the Stage 1A (Transit) Campus of the Institute in the presence of Dr. Audimulapu Suresh (Hon'ble Education Minister of AP), Shri. Balli Durga Prasada Rao (Hon'ble Member of Parliament, Tirupati Constituency), Shri. B. Madhusudhana Reddy (Hon'ble Member of Legislative Assembly, Srikalahasti Constituency), and Shri R. Subrahmanyam IAS, (Secretary (HE), MHRD, Government of India).
The Stage 1A Transit Campus will be integrated into the Permanent Campus, which spans over 530 acres provided by the Government of Andhra Pradesh in Merlapaka Village on Yerpedu-Venkatagiri Highway. The next stage of construction is expected to be completed by the Year 2021. It will cater to 1,250 students and 120 faculty members. While the masterplan has been done for 12,000 students, the DPR that has been approved envisages construction of a complete campus to cater to 2,500 students, 250 faculty members and 275 staff members and is scheduled for completion by the Year 2024.
Delivering the Convocation Address, Dr. Ramesh Pokhriyal said, "I am sure that all the graduands of today (13th August 2019) will join the glorious IITian tradition of being the leaders in their respective fields. I congratulate you for your success and accomplishments and hope that you will contribute to nation building and do your Alma mater and the country proud."
Further, Dr. Ramesh Pokhriyal said, "It is a known fact that IIT graduates are the forerunners of many of the start-ups in our country and abroad. These start-ups of today will grow into the big corporate houses tomorrow and add immensely to our economy. The visionary initiatives of our Honourable Prime Minister Shri Narendra Modi such as 'Make in India' and 'Startup India' would require the efforts of such young talents. These young innovative minds fostered in such campuses of IITs create larger scope for any enterprise that builds the economy of any country."
Dr. Ramesh Pokhriyal added, "We should also not forget that a large part of the country lives in villages and small towns and their needs of science and technology in everyday lives. I am sure that you all will agree that the booming technologies like automation, Artificial Intelligence, Machine Learning and sustainable technologies in the areas of energy and materials will be meaningful only when we make use of these to improve the social and economic condition of ordinary citizens. I strongly believe that IIT Tirupati will take up this immense social responsibility and serve the larger interest of the country."
Dr. Ramesh Pokhriyal added, "The Detailed Project Report (DPR) of IIT Tirupati to build a campus for 2500 students and the associated faculty and staff has been approved in principle. The cabinet has sanctioned an amount of Rs. 1,074 crore for the period up to 2020. I expect IIT Tirupati to act as a pace setter and provide academic, research and innovation leadership through active networking with all these existing and upcoming institutions."
Dr. Ramesh Pokhriyal said, "I am happy to know that the third generation IITs including IIT Tirupati are growing at a fast pace to stand by the side of other established IITs. I can see that the Institute is very successfully creating the state-of-the-art infrastructure in this beautiful landscape. And, I feel assured looking at the growth made in such a short span of time by these Institutes that they will contribute immensely in strengthening the ideals of the new India," added
The current student strength of 823 students includes 582 B.Tech., 118 M.Tech., 10 M.Sc., 32 MS and 81 PhD research students along with 78 Faculty and 56 Staff members. IIT Tirupati takes pride in mentioning here that the Institute consistently has the highest percentage of female student enrolment (17 per cent) in the B. Tech programme, among all the IITs.
In the graduating batch, 100 per cent of the students secured internship in highly reputed national and international organizations. Around 50 companies visited the campus with more than 75 out of 103 students getting placed in core engineering and R&D Companies besides in Analytics, Consulting and Finance, and Information Technology (IT) sectors. Several other students have chosen to pursue higher education in India and abroad.
Shri R. Subrahmanyam IAS, MHRD Secretary and Chairman Board of Governors, IIT Tirupati, spoke on the occasion.
In spite of the infrastructure constraints of a new Institute, IIT Tirupati faculty members have vigorously been involved in academic and sponsored research. During the last three years, faculty and students have published more than 100 papers in reputed national and international journals.
Presenting the Institute Report, Prof K.N. Satyanarayana, Director, IIT Tirupati, said, "The faculty members have been granted 29 sponsored research projects amounting to Rs. 10.40 crore, and 21 industrial consultancy assignments amounting to Rs. 70 lakh. These projects have been funded by MHRD, Department of Science and Technology (DST), Council for Scientific and Industrial Research (CSIR), Science and Engineering Research Board (SERB), Naval Research Board (NRB), Indian Space Research Organization (ISRO) and Indian Council of Social Science Research (ICSSR), among others. Further, about 20 projects are currently under evaluation with various sponsoring agencies."
Currently, the Institute offers admissions to B.Tech. programme against 203 seats in the branches of Chemical Engineering, Civil Engineering, Computer Science and Engineering, Electrical Engineering, and Mechanical Engineering., M.Tech. and MS programmes are offered in the Engineering Departments. The Institute offers M.Sc. In Mathematics and Statistics. All the nine departments in the Institute including Sciences and Humanities offer PhD programmes.
The Institute has identified the following thrust areas to undertake inter-disciplinary research. These have been identified taking into consideration the national needs, local relevance and global trends:
Smart Infrastructure
Food Technologies and Precision Agriculture
Materials & Manufacturing
Energy
Education Technologies
Design
The permanent campus site is 24 kms away from Tirupati town and is well connected by rail, road and air. The Stage (1A) Campus project has won two prestigious sustainability awards, namely, GRIHA and HUDCO awards for the design and use of sustainable and eco-friendly construction materials and technologies. The buildings in the Transit Campus of the Institute has been constructed adopting fast track and sustainable Eco-Friendly construction technologies such as prefabricated Glass Fibre Reinforced Gypsum (GFRG) panels for the hostels and apartment buildings.
The Salient features of the Master Plan of the Permanent Campus include
The campus is planned as smart, sustainable, and pedestrian friendly campus.
To maintain the ecological features of the campus site, the existing rivulets and water bodies are being retained.
In order to preserve the ecology of the permanent campus site, a detailed Ecological Management Plan (EMP) was prepared.
The locations of the buildings and other facilities are planned to minimize the cuts and fills in the site.
The buildings are oriented to minimise heat gain.
The construction is to be taken up in two stages. The Stage 1 will be completed by 2021which would facilitate 1,250 students and 120 faculty members and all operations will be moved to the permanent campus. Subsequently, the campus will be developed in various phases growing over a period of 25-30 years to cater to a 12,000-student campus.
The buildings and facilities on the transit campus include:
Five hostels with G+3 floors, each to accommodate about 150 students
A G+1 floor classroom complex with a 120 - seater studio type classroom, a 90 -seater class room, a 60 - seater classroom, a 90 - seater Computer Science laboratory, one staff room, and a Health Centre with two medical examination rooms and 4 - bed ward
Two laboratory buildings to house Civil, Electrical, and Mechanical Engineering laboratories and workshop facilities
Residential block with four apartments for essential staff
A maintenance office building
An indoor sports complex along with outdoor sports facilities
A dining-cum-kitchen facility for 300 persons in a batch, equipped with modern and hygienic kitchen.
BT roads with street lighting and 500 kVA sub-station
Convocation Attire
The Convocation Attire of the students and dignitaries have been designed by the National Institute of Fashion Technology (NIFT), Chennai. The design of the stole for the students takes inspiration from local art forms including Kalamkari. Pocahmpalli Ikat, Bock Printing and Cherial Masks. It can be work as a cape during the Convocation and as stole during other occasions.
Dailyhunt
Disclaimer: This story is auto-aggregated by a computer program and has not been created or edited by Dailyhunt. Publisher: Skill Outlook