Face to Face Interview
MSME growth stifled by restricted access to credit, equity: Banka CFO CEO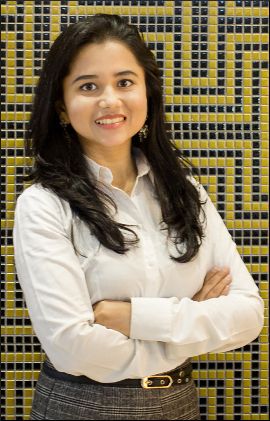 In an exclusive interview with SME Times, Founder Partner and CEO of Banka and Banka CFO Services LLP said that growth of Indian MSMEs are stifled by lack of adequate credit and equity.
Excerpts of the interview.
Please tell our readers about Banka CFO and its entrepreneurial journey.
Shristi Banka: Banka CFO is a firm constituting of young, social entrepreneurs who have recognized immediate social problems and seek to understand the broader context of an issue that crosses disciplines, fields, and theories. We, as young entrepreneurs want modern businesses to devote their precious time only to core business activities and trust our services for the remaining business needs. We structured the consulting services so that our clients will get exemplary accounting and financial services, and maximize the return in their venture by having a specialized expert look after their professional services' needs.
We do this by serving as a value-added chief financial officer ("CFO"), finding hidden revenues, and bringing out best from businesses so that they can have a better market value. A CFO comes in all shapes and sizes, precisely: The Accountant, the Deal Maker and The Advisor. At different points in a company, a need arises for each of these skill sets. We, at Banka CFO excel in all these areas. We want our clients to have adequate commercial support coupled with new ideas, top-notch communication skills, leadership abilities, reliability and varied forms of support. Our primary goal as a trusted advisor is to be readily available and to provide insightful advice to enable our clients to make informed financial decisions through proper planning and money management. We work with a diversified group of professionals having expertise in diverse fields so as to enable us to cater to our clients' needs to help them grow in the ever-changing business environment and promote budding startups. We provide a "one window solution to all their commercial needs."
How does Banka CFO provide financial support to start-ups?
Shristi Banka: Unlike traditional corporate businesses, our social entrepreneurship venture intends to focus on maximizing gains in social satisfaction and creating a positive social impact to boost the overall start-up ecosystem of the nation. We take pride in being a service provider exclusively for start-ups. We help startups recognize and avail many incentives applicable to them, offered to them by the Government of India.
We provide affordable financial solutions to startups that lack access to reliable accounting, legal, taxation and commercial sources and also help organizations gain access to loan facilities and debt syndication requirements.
What are the other services you provide to MSMEs as regards to accounting, taxation, legal, commercial services, etc?
Shristi Banka: We provide a broad array of services to micro, small and medium enterprises ("MSMEs") from their incorporation stage to ongoing operational support to regular evaluation of the business, ensuring compliances with various applicable laws and regulations along with providing advisory services on a case to case basis. For incorporation, we provide services including but not limited to registration of MSMEs and startups with the Department of Industrial Policy and Promotion, registration under the Goods and Service Tax ("GST"), drafting and registration of incorporation documents like partnership deeds, MoA, AoA, etc., formation of companies. Under our operational support umbrella, we provide services such as designing of standardized operating procedures for your businesses, book-keeping, cash flow analysis, payroll management, cost management while under our business evaluation area, we provide services of profitability analysis, preparation of budgets, forecasting, internal control audits, periodic MIS reports for executives. We even provide services to ensure your business is statutorily compliant such as filing of timely income tax returns, liasoning with auditors for statutory audits, filing of GST returns like GSTR-1, GSTR 3B, GSTR 4A, GSTR 9/ GSTR 9C, filing of TDS returns and correction statements thereto, secretarial support like RoC, RBI and Labour Laws related compliances respectively along with reporting on International Financial Reporting Standards ("IFRS") and Indian Accounting Standards. The ambit of our advisory services includes services in relation to corporate restructuring, raising capital, arranging working capital finance, raising project loans and debt, IPO services, securities law regulations, conducting due diligence, facilitating M&A transactions, corporate law advisory and we even offer several litigation support services.
What is the current lending scenario in India, particularly when it comes to MSMEs?
Shristi Banka: Despite the fact that MSMEs are, collectively, the largest employers in certain low-income countries, their growth is often stifled by restricted access to appropriate credit and equity. They have limited access to finances in spite of contributing a significant share of our nation's GDP and employment. Particularly in India, we have Small Industries Development Bank of India ("SIDBI") that offers loans to MSMEs engaged in diverse businesses across remote geographical locations.
However, banks are in general reluctant to provide credit to these MSMEs on account of several factors like inter alia small ticket size, unavailability of sufficient entrepreneurial experience, parameter of being at high risk because of low or no credit rating, high rate of diversions of funds and absence of collaterals, insufficient marketing and low competitiveness due to lack of product branding. The situation is steadily changing as every bank has been making efforts whilst fulfilling their strategic goals, to give great importance to financing the MSMEs because they are rapidly growing, flourishing and contributing immensely to the Indian economy.
Certain targets have been prescribed to the bank for lending to the micro and small enterprises. Any bank's lending to micro and small enterprises engaged in prescribed manufacture or production of goods specified under the Industries (Development and Regulation) Act, 1951 including notifications and amendments thereto, is reckoned for priority sector advances. Additionally, bank loans up to INR five crore per borrower/ unit to micro and small enterprises engaged in providing certain specified services under the MSME Development Act, 2006, are also eligible to be reckoned for priority sector advances, however, lending to medium enterprises is not eligible to be included under aforesaid priority sector lending by banks.
Further, in terms of the recommendations of the PM's Task Force on MSMEs, banks have been advised to achieve a 20 per cent year-on-year growth in credit to micro and small enterprises, a 10 per cent annual growth in the number of micro enterprise accounts along with 60% of their total lending to the micro and small enterprises sector. Additionally, public sector banks have been advised to open at least one specialized branch in each district. Further, the banks have been permitted to categorize their MSME general banking branches having 60% or more of their advances to the MSME sector, as specialized MSME branches for providing better service to this sector as a whole. As per the policy package announced by the GoI for stepping up credit to MSME sector, the public sector banks will ensure specialized MSME branches in identified clusters/centers with preponderance of small enterprises to enable the entrepreneurs to have easy access to the bank credit and to equip bank personnel to develop requisite expertise.
Do you think NBFCs can fill the gap left open by traditional banking? How?
Shristi Banka: Non-banking financial companies ("NBFCs") have been one of the key players in small business financing thereby playing a vital role in India's economic development. The latest entrant in the NBFC basket, peer-to-peer ("P2P") lending platforms, now recognized by RBI as NBFC-P2P have simplified the entire process along with offering attractive rate of interest, thereby making them very popular with small businesses in a short span of time, thus proving to be a better choice to raise funds.
The NBFCs stand supported by many factors such as superior product lines, low cost, broader and effective reach, robust risk management capabilities to check and control bad debts, and proper comprehension of their customer segments. Further, as per the Financial Stability Report dated June 2019 issued by RBI, recent developments in the NBFC sector have brought the sector under greater market discipline as the better-performing companies continued to raise funds while those with asset and liability management and/ or asset quality concerns were subjected to higher borrowing costs. In a retrospective light, the NBFC loans expanded 16.6% annually which was twice as fast as the 8.8% credit growth across the banking sector on an aggregate level, vide the Financial Stability Report dated June 2016 issued by RBI.
Moving forward, the latent credit demand of an emerging India will provide NBFCs with a chance to bridge the gap, particularly in the sectors where traditional banks were hesitant to serve. As the estimates indicate, more than 50 percent of MSMEs are not able to access formalized credit. Additionally, improving macroeconomic conditions, higher credit penetration, enhanced consumption and disruptive digital trends will give enormous opportunities for NBFCs credit to rise at a robust rate of roughly seven to ten percent in the coming years.
Please tell us about the future plans of Banka CFO.
Shristi Banka: We aim to provide a one-stop solution to every need related to commerce and finance which leads to ease of doing business in commercial environment and to be a pioneer in this space. We have a target of catering to 500 startups and building a team of 100 young, motivated individuals.
We would like to build our brand image around that of a specialized firm of young, individuals providing expert services to startups at affordable prices so that whilst the start-up entrepreneurs can focus on their growing their business, we can act as a backbone to look after their financial and commercial needs. By doing so, we believe that we can boost the Indian start-up ecosystem since we believe that, only a start-up organization like us can truly understand the start-up culture and tend to the needs of a new organization.
** Disclaimer: The views and opinions expressed in this article are those of the authors and do not necessarily reflect the official policy or position of any department of the Government of India.
Dailyhunt
Disclaimer: This story is auto-aggregated by a computer program and has not been created or edited by Dailyhunt. Publisher: SME Times English