Sensex At A Glance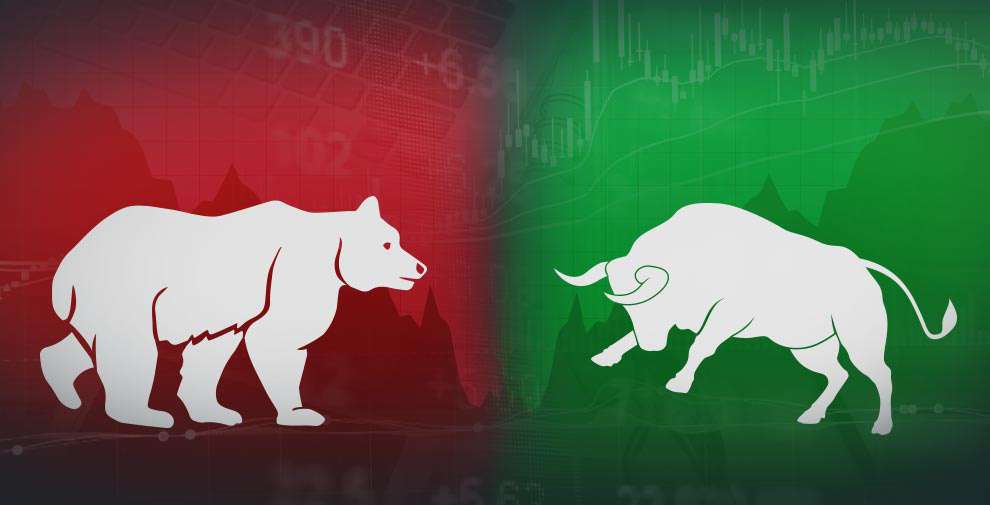 Sensex At A Glance
Business

Key domestic indices on Tuesday, November 24, 2020, zoomed one per cent to hit lifetime highs. Amid gains in global markets, the S&P BSE 30-share index, Sensex achieved 44,500 mark. The NSE Nifty-50 index also ended at a record high as it climbed above 13,000 level. Sensex jumped 445.87 points or 1.01 per cent to settle at 44,523.02. The NSE Nifty 50...

TOP STORIES

Indices end at record closing peaks; Nifty settles above 13,050 level Continuing their gaining streak, Indian equity benchmarks ended at a record close on Tuesday with Nifty crossing the 13,050-mark for the first time ever, following advances in global peers largely because signs of progress on a COVID-19 vaccine which in turn spurred hopes for a faster...

Business

Due to heavy foreign investment and a boom in the global market, the stock market witnessed a great boom on Tuesday, the second trading day of the week. The Bombay Stock Exchange's flagship index Sensex gained 1.01 percent to close at 44523.02, up 445.87 points. At the same time, the National Stock Exchange's Nifty closed...

Home

Equity benchmarks Sensex and Nifty rallied to fresh lifetime highs on Tuesday following heavy buying in banking, financial, realty and auto counters amid persistent foreign capital inflows. A strengthening rupee also boosted market sentiments, traders said. After scaling a record intra-day high of 44,601.63, the 30-share BSE Sensex ended 445.87 points or 1.01...

TOP NEWS

BENGALURU - India's stock benchmarks closed at record highs on Tuesday, with the Nifty 50 topping the 13,000 level for the first time, as signs of progress on a coronavirus vaccine spurred hopes of a faster economic recovery. The Nifty has gained about 12% so far this month on the back of upbeat vaccine trial results and strong inflows from foreign institutional investors (FII). Monthly FII...

Business

Stock markets witnessed a strong day with the Nifty hitting above 13000 marks for the first-ever time. The NSE Nifty closing at 13055, up 128.7 or 1 percent while BSE Sensex stood strong by 445.87 points at 44523. Gainers in today's trade are Adani Ports, Mahindra and Mahindra, Axis Bank, Hindalco and Eicher Motors. On the other hand, losers have been Titan Company, Shree Cements,...

Market Commentary

Domestic indices closed at record high level with strong gains on Tuesday, tracking positive global cues on hopes for imminent coronavirus vaccines. The Nifty managed to close above the 13,050 level on broader buying support. All the sectoral indices on the NSE ended in the green. As per provisional closing data, the barometer index, the S&P BSE Sensex, rose 445.87 points or 1.01% at 44,523.25. The Nifty 50...

TOP STORIES

Markets continue to trade higher; Nifty above 13k mark Indian equity benchmarks continued to trade in high spirit in afternoon on session, both Sensex and Nifty were trading above 44,400 and 13,000 marks, respectively, amid coronavirus vaccine hopes. Most of the sectoral indices were trading firm and auto was the top gainer on BSE, up by 1.92% followed by banking and...

TOP STORIES

Below are Note on NIFTY @13,000 by Mr Hemang Jani, Head - Equity Strategy, Broking & Distribution, Motilal Oswal Financial Services Ltd * Nifty @ 13000 levels: Nifty crosses the 13000 levels for the first time ever and made record highs today. Sensex also rose to a new life time high. Indian indices opened on record-high levels on Tuesday, tracking gains in Asian peers, on the...

News

The market seems to be not in a position to turn cautious for the time being as the benchmark indices hit a fresh record high levels with the Nifty50 crossing much awaited 13,000 mark on November 24. The BSE Sensex jumped 358.27 points to 44,435.42 and the Nifty50 rose 105.40 points to 13,031.90, while the broader markets also reported similar kind of gains....
Loading...