Home
Top 10 Bars in Mumbai
Top 10 Bars in Mumbai
Dhruv
After a long week at work, weekend escapes are a must. If you are looking for some options to explore for a great nightlife experience, you are in the right city, my friend. Mumbai is known for its top-notch nightlife and why not? The city has got some amazing bars and clubs to explore. Let us dig into this article to know some options.
1. ASILO:
Looking for some top of the world options? Look no more, this bar is situated on the floor no. 37 of the St. Regis Hotel. Known for its breath-taking ambience and daunting sunset view, Asilo will fill you up with a killing nightlife experience.
Address:
St. Regis Hotel, 462 Tulsi Pipe Rd,
Phoenix High Street Mall Complex, Lower Parel, Mumbai.
2. KALA GHODA:
Apart from a groovy name, this place has got everything to give you an amazing nightlife experience in Mumbai. Crafty Décor - check, quirky cocktails - check, mini-club house - check! Basically, this place is a heaven for those who get intrigued by fun outdoor activities.
Address:
145, Ropeway Lane,
Kala Ghoda Fort, Mumbai.
3. BONOBO:
If you like bars that are based out of a theme then you are going to simply love this one. For all those of you who don't know what a Bonobo is, it is an endangered wildlife species. Clearly, too many thoughts have been put in for the décor and ambience of this place to give it a pure jungle-like feeling.
Address:
Behind KFC, Off Linking Road,
Bandra West, Mumbai.
4. SKY Lounge:
Located in an upmarket society of Mumbai - Powai, this bar is more of an upscale one thanks to the innovation around! If you want a little break from the hectic city life and want to hit it off with nature while being in the city, SKKY Lounge would be the best place to chill for you.
Address:
Ramada Powai Hotel and Convention Centre,
16/16, Saki Vihar Road, Powai.
5. DOME: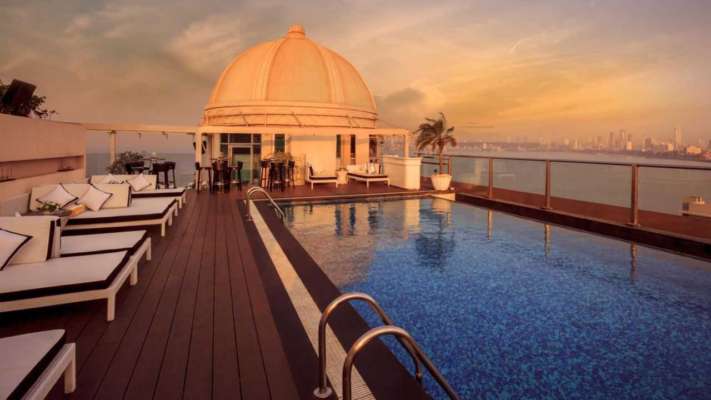 Obsessed with the breath-taking view of the sunset at Marine Drive? Trust me; you are going to love this place to bits. Sit at the roof-top of this bar and take a glance at the beautiful sky above. It is the kind of place which is simply perfect if you want to cut-off from your routine life for a while.
Address:
Level 11, Inter Continental Hotel,
135 Marine Drive, Nariman Point, Mumbai.
6. SAMOVAR CAFE:
This place is no less than a bar. In fact, for most of the Mumbaikars, Samovar Café is one of the first choices when it comes to bars. This place will give you a full fledged feel of the times of 1970's which is kind of great for some people. If you are an art-lover, visit Samovar Café for sure.
Address:
Jehangir Art Gallary,
161-B, MG Road, Mumbai.
7. IVY BAR & BISTRO:
Ivy Bar & Bistro is all about good music and wines. If you are a wine lover, there is no place better to check out in Mumbai for you. In fact, the walls at this place are painted with wine-charts and wine-maps which do not only make a good graffiti but also goes along with the theme.
Address:
3rd Floor, Chembur West,
Ghatkopar, Tilak Nagar, Mumbai.
8. DUBLIN:
The Irish themed pubs have also been getting a great response all over India these days. If you are too a fan of the great ambience of Irish Pubs then you should totally check this place out! By the way, don't forget to try Irish Whisky at this place.
Address:
ITC Grand Central, RK Shirodkar Marg,
Parel, Mumbai.
9. HARD ROCK CAFE:
Can the list be over without mentioning the very famous Hard Rock Café? If you are a fun person who loves the ambience of loud music and a top notch party mood then don't forget to check this place out sometime. This place will please you with good food, good music, and good people around. Need I say more?
Address:
Sharyans Audeu, Off Vera Desai,
Andheri West, Mumbai.
10. WOODSIDE INN:
Last but surely not the least comes the Woodside Inn. This is basically an English Pub with amazing beer! Beer fan? Check this place out and you will not regret going there.
Address:
Indian Mercantile Mansion,
Woodhouse Road, Colaba, Mumbai.
Dailyhunt