Home
Mickey Arthur Recalls The "Homework Gate" Incidence With the Australian Team
Mickey Arthur is regarded as one of the most successful coaches, be it with South Africa or his current side Pakistan. Arthur has had a fantabulous run with both the teams. Arthur helped the Pakistan team win the Champions Trophy earlier this year and then defeat Sri Lanka in the limited overs format.
With the South African team, Arthur had an unparalleled success, going through nine consecutive unbeaten Test series and also achieving the number one ranking in the ODI format.
(Photo by Lee Warren/Gallo Images/Getty Images)
However, before becoming the coach of Pakistan, he headed the Australian team. His stint with the Australian team will always be highlight by the 'Homeworkgate'. Arthur was named the Australian coach after Australia lost the home Ashes in 2010-2012 and had a pretty good time with a rebuilding Australian team until the tour of India in 2013. Having lost the first two Tests in Chennai and Hyderabad in which 34 of their 40 wickets fell to the spinners, Arthur had asked the players to contact him via SMS, Email or hand note following which he would have devised training session accordingly. This led to a complete turnaround in his coaching career with the Australian team. He axed Shane Watson, James Pattinson, Mitchell Johnson and Usman Khawaja, who failed to do the task.
(Photo by Scott Barbour/Getty Images)
However, Arthur feels disappointed that people associate this memory despite his good times with the Australian team.
"It was blown out of proportions. I am disappointed. People forget the good times I had with Australia. They were a rebuilding side. I was so excited to get the job in the first place. In hindsight, it happened too early for me, I had been coaching Western Australia for 18 months when I got the job. People thought and I did as well that culturally the Australians and the South Africans are very similar. But it's not like that. I was still finding that out, coaching Western Australia. I inherited a very young Aussie side."
"There were all sorts of things going on. There was the Argus review. The captain became a selector. The Head Coach became a selector. There was a Director of Cricket. There was a full time selector. At that time, there was some sort of confusion. It was all murky. Job descriptions were not very clear. We had a very good first year and I enjoyed it."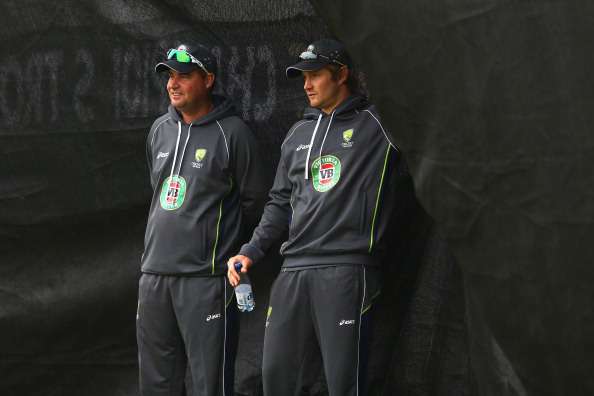 (Photo by Michael Steele/Getty Images)
Recalling the "Homeworkgate" incidence in the Indian series he said:
"The homeworkgate, I hate that word. There was no homeworkgate. For me, I took the brunt of it, but there were lot of other people involved in that decision as well. That was a 'line in the sand' moment for Australian cricket. We lost in Hyderabad and we were 2-0 down. The wickets were turning and we were a young side. Apart from Michael Clarke and Shane Watson, none of the players in our top six hadn't played a Test series in India. It was tough."
"I remember sitting in the dressing room and saying, look if we can win the next two Tests, we can still take home the Border-Gavaskar Trophy. If we do that, this tour will be a success. How we are going to turn it around? All I wanted was them to go and have a look in the mirror and see how they could turn their own individual performance around and see what you think the team can do to become better in those conditions."
Having lost the first two Tests, Arthur spoke to the player in the dressing room and assigned them the task which four players forgot, and Arthur had to take action to improve the culture in the dressing room:
"We had four days off and I said spend half hour and write a couple of suggestions and put them under my door, SMS to me or e-mail to me or whatever. I will take all those suggestions and set up my training session leading into the Mohali Test based on what you guys want. That was the request. There was no homeworkgate or anything. Everybody was outstanding. There were 16 on that tour and 12 were brilliant. I had got some amazing response. Four guys just forgot about it. They didn't avoid doing it, but they just forgot."
"My problem was that I had mentioned that to a couple of people and they asked me so what you are going to do about it. This is the exact culture that we want to get rid of in this Australian team, they said. They were talking about young boys coming in and being disrespectful for physios and masseurs and whatever. That put me under pressure as a leader. Do I take action? If I don't take action, I will lose respect from my support staff. It was going to be blown out of proportion. Should we fine them? But fining really didn't make an impact as they earn so much money anyway.
"One guy suggested that we suspend them for one game. Of course when you are sitting in a group of 12 people, some say, yes that's a great idea. But they don't make the decision, I do. So I went back to my room that night and didn't sleep thinking, if I make this decision, it's going to be an absolute bomb in Australia. I am a South African coach and I was going to accuse the Australian people about their culture. That's not going to go down well. Eventually I made the decision and the rest is history.
"I knew from the time I made that decision that my time with Australia team was on a slippery slope. We had to be extremely successful after that for me to remain in the job. There was so much going on."
He admitted that his relations with the axed players were never the same again:
"It did sour my relationship with the four players without a doubt. I am disappointed with that. My relationship with Shane Watson was never the same. Shane is a lovely bloke and a great cricketer. My relationship with Mitchell Johnson, with whom I was very close too, was never the same. Usman Khawaja, my relationship with him got lost. James Pattinson was fine about it. But with the other three, I lost the relationship which was pretty good.
"Then we didn't do well in Champions Trophy. Again there was a quite a bit of rain involved and if it hadn't rained in the New Zealand game, we would have gone through to the semis. Then I got sacked and it was unbelievably hard. It certainly hit me so hard. Nobody wants to lose their jobs. Nobody wants to be belittled in the public. It became headlines in Australia. I had television crews parking outside my house and harassing my family. It was a terrible time.
"The day after I had lost my job, my mum died. She had cancer. So that kind of things put into context - I have just lost my job but what was even hard to put up with was that I had lost my mum. I actually didn't think about the job for a while because we flew back to South Africa and went to my mum's funeral. But then the lawsuit that happened after that - that wasn't a lawsuit, all I wanted was, 14 months were left on my contract and Cricket Australia offered me a severance package of three. I thought that was wrong. I didn't want 14 months, but somewhere in between."
Dailyhunt
Disclaimer: This story is auto-aggregated by a computer program and has not been created or edited by Dailyhunt. Publisher: Sportzwiki English