News
'Cauvery Calling' bike rally begins at Talacauvery; PM tweets support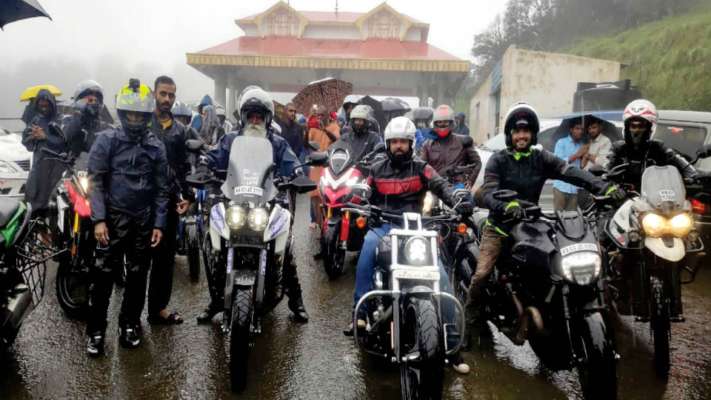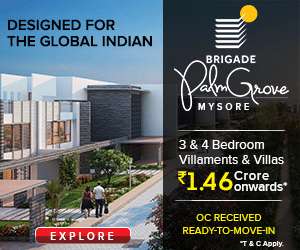 Madikeri, Sept. 4 (PS&BCT)- Sadhguru Jaggi Vasudev, founder, Isha Foundation, embarked on 'Cauvery Calling,' a 1,500-km journey traversing the Cauvery Basin in continuation of efforts for revitalising India's rivers, from Talacauvery, the birthplace of River Cauvery in Kodagu yesterday. A puja was offered at the 'Theerthakundike' in Talacauvery
The rally seeks people's support for protecting Cauvery and is aimed at revitalising the river and transforming lives of 84 million people. The rally aims to plant 242 crore trees in the basin. Sadhguru is heading a group of motorcyclists along the length of the river from its origin to its endpoint and address the public at events to be held in Kodagu, Mysuru, Mandya, Bengaluru, Tiruchi, Tanjavoor, Chennai and Thiruvarur among other places.
The rally will end in Chennai on Sept. 17. At the start of the mega event, Jaggi said as there are problems, there are solutions too. "It's time we become a part of the solution and revitalise Cauvery," he said. The rally will cover 28 districts in both Tamil Nadu and Karnataka on the Cauvery Basin.
After flagging off at Talacauvery, the rally moved to Madikeri where Jaggi Vasudev addressed a gathering at Crystal Hall. Actors Rakshit Shetty and Diganth accompanied him at the inaugural bike ride. Sadhguru said the rain was rather heavy this year. "The rain is pouring as like 100 years ago. However, the nation faces serious drinking water problem. Though the rain is better, the capacity of earth's layer to conserve water is decreasing. The earth cannot sustain the water, resulting in landslide and floods," Sadhguru said.
READ ALSO Inner Wheel to host South Zone Meet in city on Sept. 7, 8
He pointed out that River Cauvery has become thinner by 39% in the last 70 years. "The groundwater level in the river catchment area has been depleting drastically. Due to excessive deforestation in the catchment areas of the river, water is not flowing further and the river is getting dry even before reaching the sea. As a result, a drought-like situation has been arising during the months of April-May itself.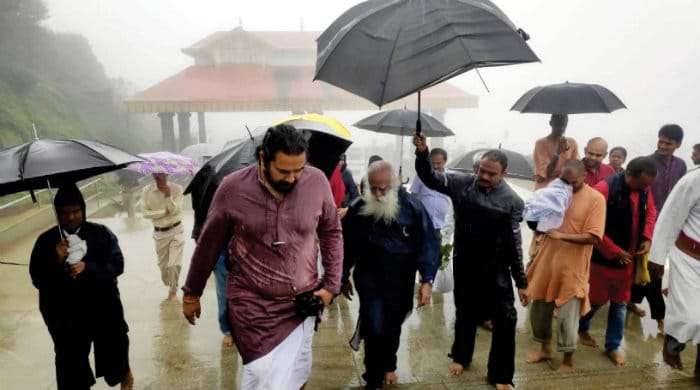 Sadhguru Jaggi Vasudev seen walking at Talacauvery amidst rain yesterday after performing puja to Theerthakundike before embarking on 'Cauvery Calling' bike rally. Also seen with him is volunteer Lohitt Urs from Mysuru.
"Nearly 47,000 farmers have committed suicide in Cauvery region in the past 10 years. Farmers always had 20 to 30 trees on their fields irrespective of the type of farming. Isha Foundation has approached the Governments of Tamil Nadu and Karnataka to provide subsidy for four years for farmers who convert to agro-forestry.
The awareness rally will continue for a month and will end in Poompuhar in Tamil Nadu. The initiative aims to enable farmers to plant 242 crore saplings in the Cauvery basin in an attempt to increase the water level of the river, said Sadhguru.
Udupi-Chikkamagaluru MP Shobha Karandlaje, who was present at the event, assured that the Centre and the State would support Sadhguru's programmes. MLA K.G. Bopaiah accompanied Sadhguru to Talacauvery and Madikeri.
Former athlete Ashwini Nachappa said: "It's our responsibility to ensure rivers are carried to our future generations." Rakshit Shetty said: "This is the river of our State and we are here to support the initiative of saving Cauvery." Air Marshal (retd) K.C. Nanda Cariappa was present.
PM tweets support
Replying to a tweet by Sadhguru Jaggi Vasudev, Prime Minister Narendra Modi tweeted at 4.13 pm yesterday conveying his wishes to 'Cauvery Calling' campaign.
READ ALSO 'Cauvery Calling' rally flagged off at Mysore Palace
"Happy to know about your effort. It will surely add to the endeavour of harnessing Jal Shakti and preventing unnecessary wastage of water," said the PM. He also wished Sadhguru on his birthday. saying, "Also wishing you a Happy Birthday! Praying for your long life and best health!"
Dailyhunt
Disclaimer: This story is auto-aggregated by a computer program and has not been created or edited by Dailyhunt. Publisher: Star of Mysore