Did You Know
People Are Shocked To See This Tree Bleeding Red Like Humans When Cut Down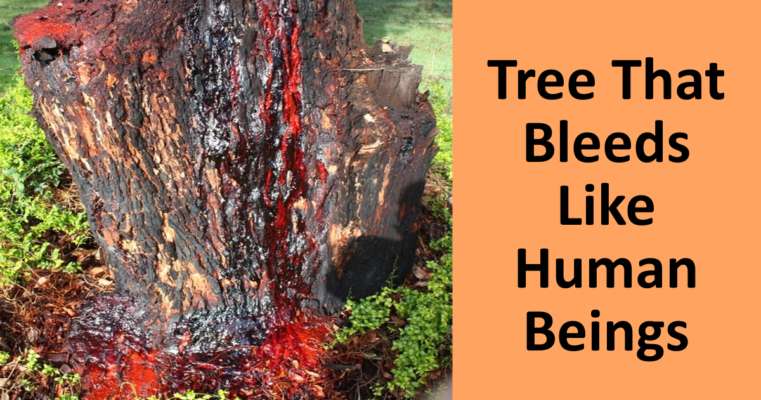 It is said that plants and trees too have emotions and can even feel the pain. But they can't scream, shout, or bleed when they are chopped down. And that is why the world is facing such a big problem of deforestation. But what if trees start to bleed when cut down. Then it might be possible that humans will somehow think twice before cutting them down and this might as well reduce deforestation to some extent. There is actually a tree in South Africa that bleeds when cut down. Let's find out here why this tree bleeds just like humans and animals.
Click here to know world's most poisonous plants
People Are Shocked To See This Tree Bleeding Red Like Humans When Cut Down
Pterocarpus angolensis is a native wild teak tree of South Africa. It is commonly known as 'Bloodwood tree'. The bloodwood tree got its name from its dark-red sap.
When you cut down one branch down, the red sap flows out of it, just like blood flows when one of the arms of human body is amputated.
When the tree receives damage, it releases a deep crimson sap that looks exactly like human blood. In fact, its sole purpose is to coagulate and seal wounds, just like our own blood does.
People from far away come to see these strange trees as it is not very normal for a plant to bleed when cut down.

These are also known as 'Kiaat', 'Mukwa' and 'Minunga'.
The local tribes believe these trees to be magical as tree's "blood" contained magical properties which can treat medical conditions like malaria, ringworm, and sharp pains. It can also be used by woman to increase their output of breast milk.
The sap of the bloodwood tree is traditionally used as a dye to color various things. Many people even call the blood-red sap of tree to be magical.
The reason behind the dark red color of its sap is a chemical called 'Tannins'. Regular plants have parts - leaves, skins, sap - that are 12 - 20% tannins.

But bloodwood has sap that is 77% tannins.
Tannis are the chemicals that make your mouth feel a little like it was washed with cleanser after you eat grapes or drink wine.
While the other trees produce white and yellowish gum, bloodwood produce red color gum.
Dailyhunt
Disclaimer: This story is auto-aggregated by a computer program and has not been created or edited by Dailyhunt. Publisher: Stressbuster