Home
Dalit Christians in TN stage protest against untouchability in Catholic Church, wants TN govt to pressurize Centre to consider Dalit Christians as SCs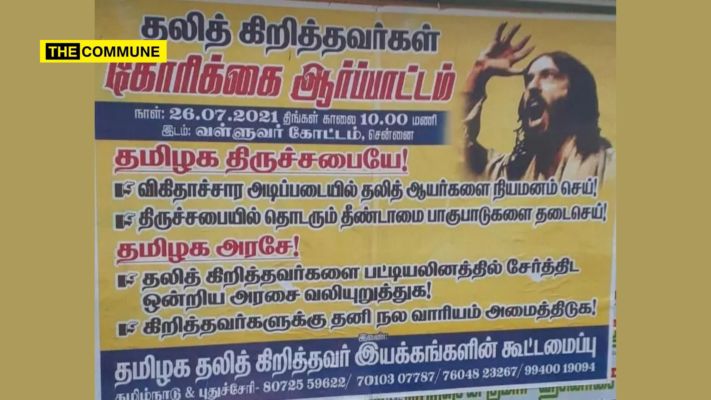 A poster stuck by the Tamil Nadu Dalit Christians Movements Association about a protest being organized in Valluvar Kottam, Chennai on 26th July 2021 against the rampant untouchability practices by the Catholic Churches in the state has grabbed eyeballs.
The poster had various demands like appointment of priests and for other higher positions in the church be undertaken on the basis of percentage of population. It is to be noted that although 70% of the Catholic Christians are Dalits, only of the 18 Bishops from Tamil Nadu is from that community.
The poster also mentions about the demand for the formation of a separate welfare board for Dalit Christians by the Tamil Nadu government.
However, what has raised concerns is the demand of considering Dalit Christians as members of Scheduled Caste. One of the points in the poster asks the Tamil Nadu government to exert pressure on the Centre to include Dalit Christians in Scheduled Caste so that they can avail reservation benefits.
This has raised eyebrows as such a move would incentivize religious conversion which is already rampant due to illegal work of Christian missionaries.
As per the Constitution of India and Indian statute, Hindu persons eligible for reservation benefits, like those belonging to Scheduled Castes, cannot avail the same benefits if they convert to Christianity or Islam.
Para 3 of the Constitution (Scheduled Castes) Order outlines that no person who professes a religion different from Hindu, Sikh or Buddhist religion shall be deemed to be a member of a Scheduled Caste.
The Supreme Court in a 2015 ruling had said, "Once such a person ceases to be a Hindu and becomes a Christian, the social and economic disabilities arising because of Hindu religion cease and hence it is no longer necessary to give him protection and for this reason he is deemed not to belong to a scheduled caste."
Click here to subscribe to The Commune on Telegram and get the best stories of the day delivered to you personally.
Dailyhunt
Disclaimer: This story is auto-aggregated by a computer program and has not been created or edited by Dailyhunt. Publisher: The Commune