Home
Expelled Catholic cardinal to be criminally charged for sexually assaulting a teenage boy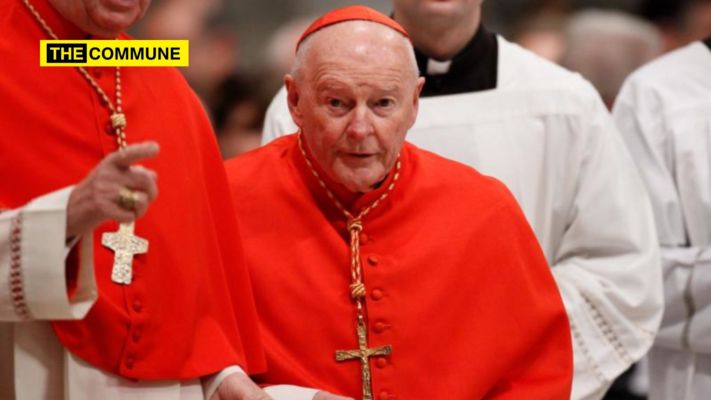 Former Roman Catholic cardinal Theodore E. McCarrick who was expelled by Pope Francis will be criminally charged with repeatedly sexually assaulting a teenage boy at the event, reports The New York Times.
McCarrick who is 91 years old has been charged with molesting a 16-year-old boy during a 1974 wedding reception and now has the distinction of becoming the highest-ranking U.S. Catholic official to be criminally prosecuted for sexually abusing a minor.
McCarrick was once an influential leader in the American Catholic Church but was expelled from the priesthood in 2019 after a Vatican investigation concluded and found him guilty of molesting both minors and adults.
It must be noted that despite strong and persistent rumors of sexual misconduct, McCarrick had risen through the church's ranks, and in 2000 Pope John Paul II appointed him the archbishop of Washington, D.C.
Pope John Paul II who was canonized a saint in 2014 and had one of the longest reigns of any Pope in recent history was informed in numerous confirmed reports that McCarrick had slept with seminarians. However, he believed in McCarrick's denials rather than the findings of a Vatican investigation.
But it was Benedict XVI, who was aware of McCarrick's sinful acts and forced his retirement in 2016 but failed to order a full canonical inquiry after receiving still further allegations and it was Pope Francis who ultimately defrocked him in 2018.
The Catholic Church in the US now faces a daunting task for hiding the sexual abuses of its priests for several decades and perhaps is also liable along with McCarrick who is already facing several civil lawsuits from men who have accused him of sexual abuse decades ago.
However, the statute of limitations in those cases has expired, preventing criminal charges but now this defrocked priest will finally face justice as the statute of limitations in the state of Massachusetts was frozen when McCarrick left the state because he was not a state resident.
The victim on whose testimony McCarrick will finally be jailed had told the police that he was molested during his brother's wedding reception on June 8, 1974, at Wellesley College in Massachusetts when McCarrick groped his genitals as they walked around campus before taking him into a small closet-like room and fondling him while saying prayers.
Click here to subscribe to The Commune on Telegram and get the best stories of the day delivered to you personally.
Dailyhunt
Disclaimer: This story is auto-aggregated by a computer program and has not been created or edited by Dailyhunt. Publisher: The Commune