Home
National Gallery of Australia to return stolen Indian artifacts taken from temples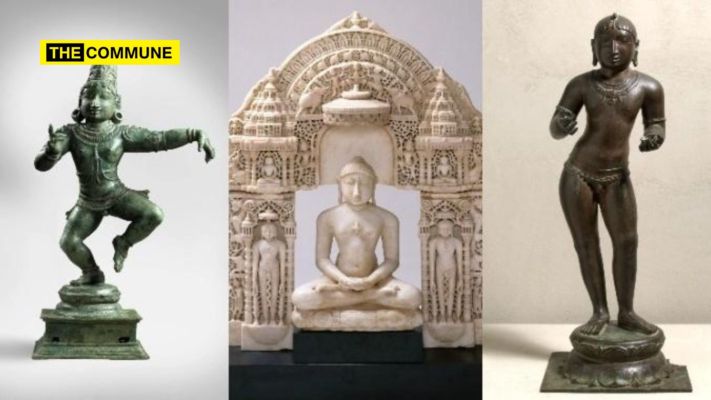 As per reports published in Swarjaya, the National Gallery of Australia (NGA) on Wednesday (29 July) announced it will return 14 artifacts to the Indian Government.
The works of art being repatriated include 13 objects connected to art dealer Subhash Kapoor through Art of the Past and one acquired from art dealer William Wolff. At present Kapoor is in prison for allegedly running a $100 million international smuggling racket.
The works repatriated include six bronze or stone sculptures, a brass processional standard, a painted scroll, and six photographs, the NGA said in a press release.
"Another three sculptures sourced from Art of the Past have also been removed from the collection. Further research will be undertaken to identify their place of origin before they are repatriated," it added.
"As the first outcome of this change, the Gallery will be returning 14 objects from the Indian art collection to their country of origin. This is the right thing to do, its culturally responsible and the result of collaboration between Australia and India. We are grateful to the Indian Government for their support and are pleased we can now return these culturally significant objects," Mitzevich added.
Mitzevich said the Gallery would continue its research, including for the Asian art collection, and resolve the status of any works of concern, and Indian High Commissioner to Australia, Manpreet Vohra, welcomed the decision by the Australian Government and the National Gallery to return the works. and said, "The Government of India is grateful for this extraordinary act of goodwill and gesture of friendship from Australia. "These are outstanding pieces: their return will be extremely well received by the Government and people of India,".
Swarajya spoke to Vijay Kumar, founder of India Pride Project, a volunteer group that was behind the identification of the stolen murthis.
"The latest round of restitutions from the NGA mark an end to our decade long battle with them for transparency and accountability of their (Subhash) Kapoor acquisitions. India owes a lot to journalists Jason Felch and Michaela Boland whose contributions were critical for this result.", Vijay Kumar said.
'The looting is not particular only to Tamil Nadu but this restitution shows that the smuggling is prevalent in Madhya Pradesh, Gujarat, Rajasthan, Uttar Pradesh, Andhra and Telangana."
"Our heritage is at risk pan-India. We hope the center and states acknowledge this and pursue the heritage crimes seriously."
The works being returned are:
• Chola dynasty (9th-13th centuries), The child-saint Sambandar, 12th century, purchased 1989
• Chola dynasty (9th-13th centuries), The dancing child-saint Sambandar, 12th century, purchased 2005
• Hyderabad, Telangana, India, Processional standard ['alam], 1851, purchased 2008
• Mount Abu region, Rajasthan, India, Arch for a Jain shrine, 11th-12th century, purchased 2003
• Mount Abu region, Rajasthan, India, Seated Jina, 1163, purchased 2003
• Rajasthan or Uttar Pradesh, India, The divine couple Lakshmi and Vishnu [Lakshmi Narayana], 10th-11th century, purchased 2006
• Gujarat, India, Goddess Durga slaying the buffalo demon [Durga Mahisasuramardini], 12th13th century, purchased 2002
• Rajasthan, India, Letter of invitation to Jain monks; picture scroll [vijnaptipatra], c. 1835, purchased 2009
• Lala D. Dayal, India, Maharaja Sir Kishen Pershad Yamin, 1903, purchased 2010
• Udaipur, Rajasthan, India, not titled ['Manorath' portrait of donor and priests before Shri Nathji, Udaipur, Rajasthan], unknown date, purchased 2009
• Guru Das Studio, not titled [Gujarati family group portrait], purchased 2009
• Shanti C. Shah, Hiralal A Gandhi memorial portrait, 1941, purchased 2009
• Venus Studio, India, not titled [Portrait of a man], 1954, purchased 2009
• Udaipur, Rajasthan, India, not titled [Portrait of a woman], unknown date, purchased 2009
Click here to subscribe to The Commune on Telegram and get the best stories of the day delivered to you personally.
Dailyhunt
Disclaimer: This story is auto-aggregated by a computer program and has not been created or edited by Dailyhunt. Publisher: The Commune