Home
India falters on Covid after a good start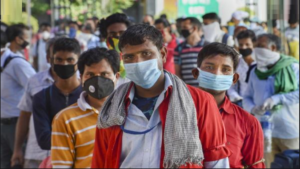 Coronavirus took nearly three months to affect 400,000 humans worldwide, but in just one week the world reported more than 400,000 cases. In India too, the situation was well under control till six weeks back, thanks to strict lockdown measures initiated by the Central and state governments. Today, it is sadly getting "out of hand" with over 9.36 lakh cases reported in India as on Wednesday and counting, and we're standing third in the list of Covid-19 positive cases after the United States and Brazil.
It compels me to question if "we have given up on corona to battle other pressing challenges like China on the LAC and got busy again playing the political game of thrones". Perhaps, it's the result of a little complacency and leaving the task half done before the "most elusive" vaccine comes as a saviour for mankind. It's time to shun the ad-hoc approach and go back to the strict mode of restriction compliance; all states must be on-board by treating it a national calamity and threat to all citizens.
The emergency situation from the East is again showing signs of the second round of Covid threatening more lives even though many are still contesting if it is "resurgence". Australian states on Tuesday tightened restrictions on movement as authorities struggle to contain a fresh outbreak of Covid-19 in the country's southeast that has pushed the national tally of cases beyond 10,000. Australia has enforced a six-week lockdown. China-ruled Hong Kong, which was in news for the draconian National security Law imposed by the Beijing administration, has seen fresh spike in Covid cases and it has affected the business, including the entertainment and leisure sector, so much so that Disney Amusement Park in Hong Kong has been shut down. Even Singapore is battling with fresh cases and on Tuesday the local administration confirmed 347 new coronavirus cases, taking its total to 46,630. There is more from that region as a city of some 250,000 in metropolitan Manila is set to go back under lockdown this week, just six weeks after emerging from a three-month lockdown. In fact, many more are returning to lockdown again.
Tokyo, for example, has recently reported hundreds of fresh cases and saw the highest number of cases reported in a single day. Many new cases are linked to the entertainment district, including 12 women who work as hostesses in 'maid cafes'.
India, meanwhile, is moving into what we have been avoiding so far — den of danger — as nearly 28,500 cases were reported in a single day on Tuesday and healthcare experts are anticipating this to go further up before what many are predicting a slump finally. The latter is just a forecast with not many authentic observations and theories made to support it. Even in many Indian states, it's back to lockdown with state capitals of Bihar and Kerala in strict lockdown while Madhya Pradesh and Uttar Pradesh have fixed days for lockdown restrictions to arrest the pandemic spread.
There are many lessons, which we failed to learn and virtually ignored as politics prevailed over prevention, which was PM Narendra Modi's mantra in the first phase of lockdown. All was well till then. But in a country like India, where prevention was the only way out to delay and balance the virus outbreak and its effect on population respectively, sadly the political class indulged in unwarranted debates surrounding the issues of livelihood, migrants and "freedom of movement" in a democracy. What have we achieved in abruptly ending lockdown restrictions at least a fortnight before it was to end? The chaos and super-spreader events like the Bandra Station (Mumbai) chaos, Anand Vihar border mess and the Markaz mayhem have failed to answer if those were genuine in nature or staged to upset the political stability and India's global recognition in fighting the pandemic?
The Modi administration was in a driver's seat then and was already getting worldwide recognition for what it did to contain the virus against all odds, including a creaking health infrastructure.
As the habit of political leadership goes, we played politics with our own people without having anything in hand and in this, both the Centre and states departed from their cooperative federalism, which was the main "medicine" to contain the virus till then. As the Centre and many states differed on lockdown and started citing the United States and many European countries on lifting of restrictions there, the Modi administration too slowed down a bit and went in the ease mode to avoid public ire. Perhaps, the trigger was the widespread reportage of migrants' mess and their stories becoming a drawing-room discussion. The government took a step back and what followed for a while led to what state of health crisis we are facing today. That was unfortunate and uncalled for.
Strict adherence to official guidelines and execution of restrictions can only help the country contain the virus and not let enter the stage as predicted by a study of MIT Sloan School of Management, which says: "India may record the highest number of fresh cases in the world by the end of next year, with 287,000 infections a day." That may not become the case, many argue with optimism. But it is also not certain that the prediction may not come true. We never thought that India would go into this stage, standing next to the US and Brazil and is fast moving to take the second spot. Still, the good news for India is that the mortality rate due to Covid-19 is the lowest in the world, at 15 deaths per million people. More than 22,000 people have died, with the recovery rate improving from 47.4% on 31 May to 62.78% on Thursday.
But that should not be the reason for the slack approach as India is also the country not being generous and open on testing. The BJP state office in Patna reported 75 positive cases; in Mumbai Raj Bhavan nearly 18 positive cases were reported after tests were done and in the Bihar Governor's house nearly 20 were found to be corona-positive. More cases will give you an idea of how reluctant we are to admit the danger of the virus on our health as we are not ready to compromise on our "freedom of movement". In one marriage in Bihar, nearly 300 people got corona-infected and it claimed the groom's life. That is touted as the super-spreader in Bihar, which is suddenly the new Covid hotspot with total cases touching nearly 20,000.
Little do we know that in our quest to enjoy our "freedom of movement", we actually threaten dozens of other lives, who become risk carriers of hundreds more, and so on. The world has started to take corona as a reality and many developed nations are gearing up to live a life with the virus, but with the utmost care, prevention and restrictions, if a certified vaccine is manufactured.
India too should realise that the pandemic is not going to end any time soon. If anything, it is accelerating. We cannot deny the threat outside our doors, on streets, in markets, and at offices. Unfortunately, we started taking life as usual and business as normal. In fact, we failed to invoke "social responsibility" in real sense. Perhaps our "irresponsible behaviour" is responsible for taking the world to the stage we are today — nearly 13 million cases, with more than 550,000 lives lost. India is blamed for adding a big share in this worldwide health disaster, which was not the case about a month ago.
A vaccine may end the pandemic and the plight of millions worldwide. But that is not coming so soon. Second, it has to be effective and made in large quantities to be made available worldwide in a real equitable manner and distributed to arrest the virus globally. We then also have to battle the pertinent question: Will it require one dose or multiple doses and how much immunity will it confer and for how long?
At a time when there are 17 vaccines doing the buzz, in truth, a vaccine is not guaranteed by the end of this year or by this time next year. Can we afford to be complacent against the virus till then? Prevention and strong selfimposed restrictions of social distancing will stand to be the SOS to keep the virus and its effect in check till then. If needed, a phase 1-like lockdown can be the answer.
The post India falters on Covid after a good start appeared first on The Daily Guardian.
Dailyhunt
Disclaimer: This story is auto-aggregated by a computer program and has not been created or edited by Dailyhunt. Publisher: The Daily Guardian