India
Coronavirus in India: Home Ministry changes state disaster fund usage rules to help stranded migrants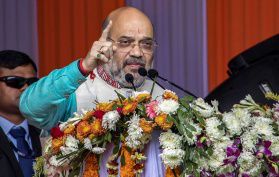 The pan-India lockdown to curb the spread of the novel coronavirus has left many people in the lurch. One of the groups that have been hit the hardest include homeless people, migrant workers and so on.
For context, following the lockdown, with flights and trains cancelled and most vehicles staying off the streets, many who work far away from home in different parts of the country have found themselves unable to return home. There have been reports that people have even opted to walk hundreds of kilometers in the absence of other modes of transport.
The notice which announces a change in the existing rules for assistance under the State Disaster Relief Fund (SDRF) said that the relief measures "would be applicable to homeless people, including migrant labourers, stranded due to lockdown measures, and sheltered in the relief camps and other places for providing them food etc".
The circular which was sent to all chief secretaries, includes temporary accomodation, food, clothing, medical care etc under the relief measures.
Ministry of Home Affairs directs States/UTs to include 'Provisions for temporary accommodation, food, clothing, medical care etc. for homeless people, inc. migrant labourers, stranded due to lockdown & sheltered in relief camps' under SDRF fund allocations in wake of COVID-19. pic.twitter.com/SG7Z8PG4fs

— गृहमंत्री कार्यालय, HMO India (@HMOIndia) March 28, 2020
On Saturday, many Congress leaders took to Twitter to ciriticise what party spokesperson Randeep Surjewala called a "human tragedy".
Rahul and Sonia Gandhi urged the government and others to help the migrants in whatever way possible, while P Chidambaram called the situation a "distressing example of the government's unpreparedness".
'Modi ji please use the power you've been given': Amid lockdown Priyanka, Rahul Gandhi pleads for stranded migrants
India has so far recorded 944 cases as per the coronavirus global case tracker that is run by the Global Cases by the Center for Systems Science and Engineering at Johns Hopkins University.
20 people who had earlier tested positive for the virus have passed away.
Prime Minister Narendra Modi had called for a lockdown to slow the spread of the virus. This went into effect on Wednesday and is slated to last till the 14th of April.
Dailyhunt
Disclaimer: This story is auto-aggregated by a computer program and has not been created or edited by Dailyhunt. Publisher: The Free Press Journal