Top news
Dear Kangana Ranaut, you used to be a 'Queen' we looked up to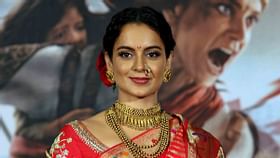 I am compelled to write this piece addressing your hypocritical stance that emerged long before Sushant Singh Rajput's death. However, it has only cemented my views about you branding yourself as a feminist when there are clearly no signs of you being one.
As a woman, I am taken aback to consider you as an ideal person to look up to, let alone be a crusader of women empowerment in a patriarchal society.
Prior to Sushant's demise I respected your stance as someone who changed the course of the industry with her films, showed us how a woman can lead the pack if given an opportunity. But all of that has gone down the drain with your digs at contemporaries calling them 'sasti copy' or 'b grade actresses'.
Taapsee Pannu hits back at Kangana Ranaut for calling her 'B-grade actress'
The entire crux of feminism revolves around women standing up for other women. I am not going to comment on your fight to seek justice for Sushant because that ship has sailed and you're not even on it.
It was unfortunate that an RS MP used the 'H' word against you. It shouldn't have happened, it is highly condemnable, and no woman should be subjected to anything of that sort.
With that being said, a basic retrospection of your actions reveal how you have time and again played the victim card to make this (Sushant's death) all about you.
From associating Sushant's death to nepotism, to rejecting even the slightest possibility of him battling depression or anxiety, it's safe to say that your IQ when it comes to speaking anything related to mental health is that of a sloth.
Do you really think that your fans are slow-witted to not notice how you're hogging the limelight for your own personal vendetta?
If there is anyone besides that lady journo on prime time who bamboozles the nation by her reporting skills, it is you who has left no stone unturned to vilify and slander women involved in Sushant's case.
Calling someone a 'soft porn star' and then defending it by saying that fake feminists equate it to a derogatory comment - doesn't show your feminist side either, given how you intended to use it as an insult in the first place.
'What is she known for? Doing soft porns': Kangana Ranaut hits back at Urmila Matondkar
Of course, we cannot expect women hating women to even remotely consider respecting the third gender.
You recently called a journalist "chauvinist sissy" and "eunuch" when he questioned your claims on sexual harassment in the industry.
What he did, was entirely wrong as well. In no way I second that approach as someone working in the same field.
'Chauvinist sissy, eunuch': Kangana Ranaut attacks journalist for questioning her claim on Bollywood's 'sexual predators'
I don't have anything to gain with your choice of words, so it is your call eventually. But to use sissy and eunuch to defile someone who doesn't fit your opinion, is distasteful and smells of hate for the LGBTQ community.
Not to mention, your admission of being a drug addict and then engaging in mudslinging on other actresses who may or may have not taken a dose, shows you're quite the pharisee in 2020.
To sum it up, I am tired of tracking your theories and what you think about Sushant, his life, his films, his career, his death, and I beg you to stop.
What would have been ideally great, is if you used your position and power to stop this malicious attack the media trial has on women.
The witch-hunt as they say, which doesn't care if a person is innocent before proven guilty.
Clearly, the women, would have hailed you as a true 'Queen', and it wouldn't have made your approach to seek justice for Sushant or yourself any less significant.
Kangana takes a jibe at Maharashtra government, slams for being 'obsessed' with her
Dailyhunt
Disclaimer: This story is auto-aggregated by a computer program and has not been created or edited by Dailyhunt. Publisher: The Free Press Journal