Travel
Falcon point: Space for birds of prey to rest, recuperate and recharge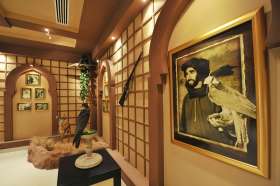 The waiting room is like any other. Sparsely decorated, it has comfortable yellow sofas, an AC, and a few magazines. A car pulls up and a man gets out with a patient.
He carries her in and they both settle down to wait their turn. Everything is normal, except the patient has a leather hood covering her eyes and is a falcon.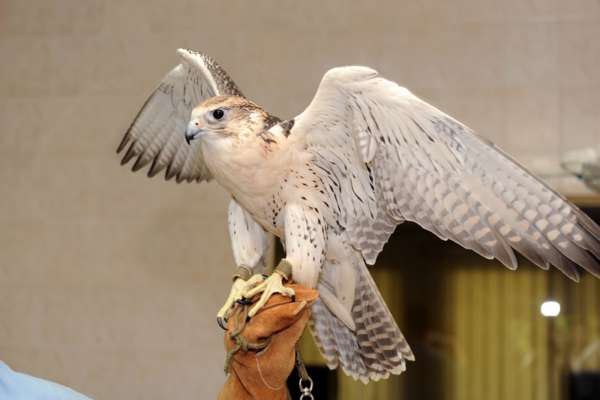 In the Emirates, if the national bird is sick, injured or just needs their talons clipped, it is taken to the Abu Dhabi Falcon Hospital (ADFH). Opened in 1999, it has seen had 110,000 patients pass through its doors.
It began as a veterinary facility and has branched out into a centre for falcon medicine, research, breeding and training. There is a lab, a pet hotel, animal shelter, a specialized avian hospital and a museum. It has now become quite a popular tourist attraction.
Star patients
At its heart, it's just like any other hospital.Though falcon-hunting is not allowed in Abu Dhabi, it is legal in other parts of the world. Patients at the hospital come in from Saudi Arabia, Kuwait and Bahrain, among other countries.
It starts at the waiting room. The birds, heads covered in customised leather hoods, have special perches. "The falcon hood keeps them calm and quiet when travelling.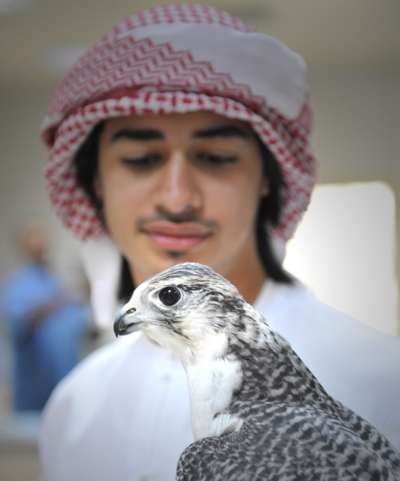 It's also a precautionary measure so they don't attack each other if they get hungry or aggressive," says Obaid al Mansoori, administrative officer, ADFH.
Obaid is leading us on a tour of the hospital. He walks us through the admission process for the birds: from the waiting room, they move into the examination room, minus their owners, where a medical team does basic tests (blood, X-rays). If the case is less urgent, the birds await treatment on another set of perches.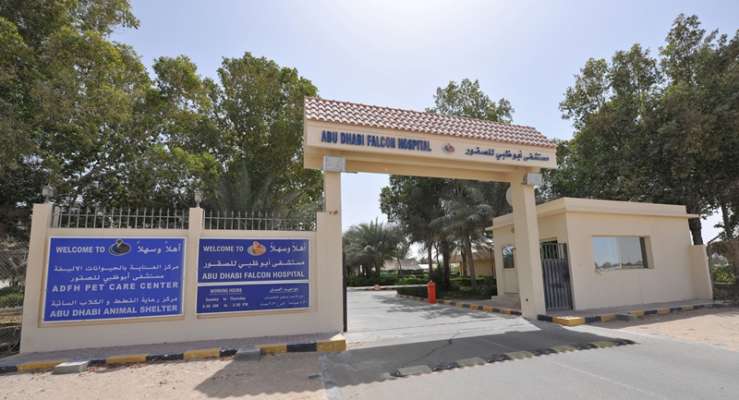 Every procedure starts with anesthesia, even if it's something as simple as clipping of the talons. To demonstrate, a senior veterinarian removes the mask from one of the falcons and places him under an anesthetic one.
Within minutes, the falcon is unconscious and once the heartbeat slows down, the procedure starts. "A common problem for many falcons who are home bred is their talons grow too long.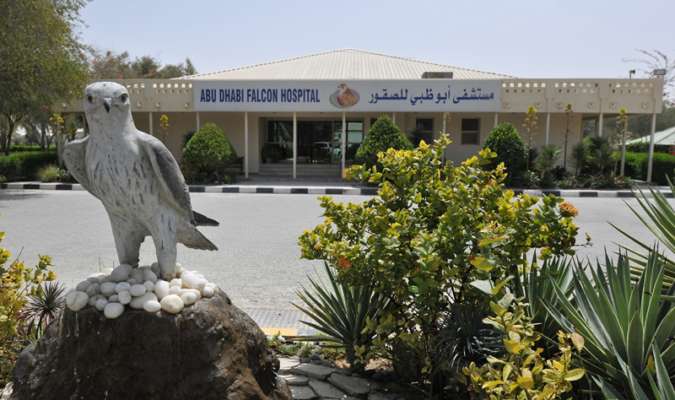 If they were in the wild, they could sharpen them on their own. Here, we have to do it," he says. The nails are clipped, filed and reshaped. There's cream applied to smoothen rough edges and finally a massage. It's just like your regular pedicure minus the anesthesia.
Critical cases are sent through to an operating room. Sick and recuperating birds are sent to air-conditioned intensive care units or wards to convalesce; some even get incubators. Yes, they are all allowed visitors. The hospital has an emergency call hotline, two technicians and doctor's on-call 24 hours a day.
A falcon in hand.
In 2007, the hospital opened itself up to tourists, walking people through its history, the different rooms, explaining the medical procedures, and allowing them the chance to get personal with these beautiful birds.
In the waiting room, the doctors remove the hood from one of the birds, a white and brown Saker called Azam. To hold him, I have to wear a thick leather glove. Azam is a heavy bird and the trick to holding (and feeding) him, is to keep my hand at eye level.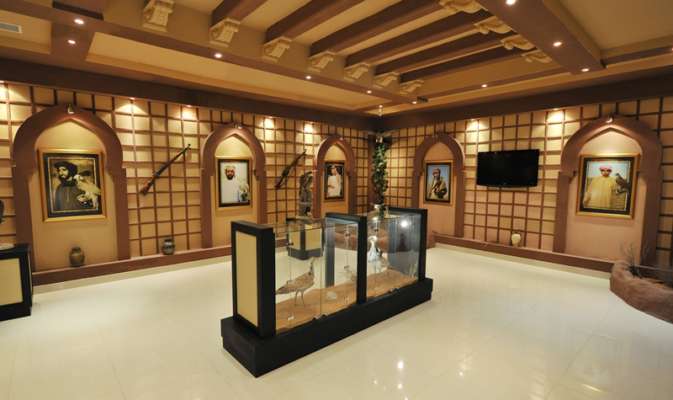 Falcons I am told, should be touched or pet on their chests; if you touch them on their backs, they think they are being attacked. The birds we meet are all pets and thus, quite docile. They are beautiful and appear quite intelligent. It's easy to see why they are revered in Emirati society.
The Bedouin tribes used them to hunt in the desert; they were one of the few birds who delivered their prey without killing it first ensuring that the subsequent death is halal.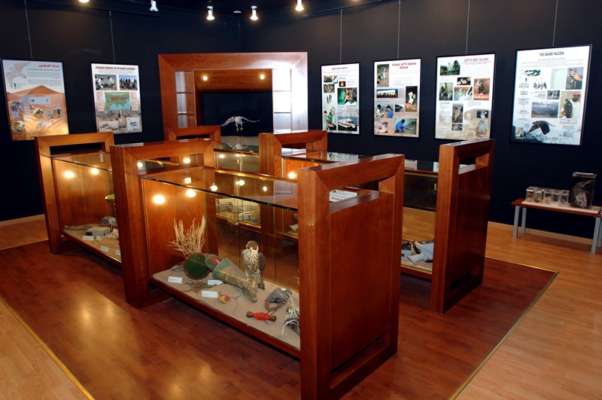 They are a symbol of pride, of history and tradition and treated as members of the family. They are all micro-chipped, and get passports; together with a health certificate can be cleared for flying (often in business class). The most popular species are the Saker (found on all official logos), Peregrine and Gyrfalcon.
Travel Tips
Getting there:
Abu Dhabi is a two to five-hour flight away from major metros like Mumbai, Delhi, Bengaluru, Chennai, and Hyderabad. Etihad is the national airline and has a substantial number of flights from across India; other options include Air India, and Emirates.
When to visit:
The best time to visit Abu Dhabi is winter months, December to March, when it's not too hot or too humid. May heralds summer and the festival of Ramzan, which brings the city to a standstill during the day.
Accommodation:
There is wide variety, from serviced apartments, starred hotels to luxury destinations. Located in the heart of the city, the five-star hotel, Dusit Thani offers comfortable rooms, delicious food and a pharmacy, convenience story and medical centre within walking distance. It is also home to an open atrium that is the third largest in the world.
Dailyhunt
Disclaimer: This story is auto-aggregated by a computer program and has not been created or edited by Dailyhunt. Publisher: The Free Press Journal